[vc_row][vc_column][vc_column_text]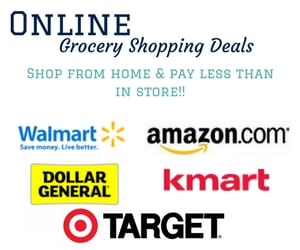 If you're too busy to get to the grocery store, there are many ways for the grocery store to come to you! Online grocery shopping is expanding at a rapid rate and the prices are getting lower! Online grocery shopping can save you time, stress, gas money when done the right way.
As a couponer that never pays full price, I never thought I would try Online Grocery Shopping! Previous it was high priced in my opinion and some still are. I will only promote the services where you can still save money when comparing to in store prices. Saving time is a given benefit but that is a different value for each of us.
With lesser value coupons being in the weekly newspaper and the limitations of 1-2 prints that some coupon printing companies are enforcing, plus the time it takes to get to the store and then find the deal you wanted to be out of stock, I have decided to start sharing some Weekly Online Grocery Shopping deals!
Online Grocery Shopping Sites:
Some of the new discounts being offered by these online merchants are making it very enticing to shop from home:
1) Instacart– sign up here and enter your zip code to see what local grocery stores such as Wegmans are available plus GET $10 off your first order!!
2) Amazon Subscribe and Save
3) Walmart Grocery– buy online and pick up at store (available in select areas)
4) Jet.com
5) Amazon Fresh Grocery (available in select areas)
6) Target.com- see new subscription choices
7) DollarGeneral.com has some great online coupon codes sometimes for pantry/laundry items
Check out all the great deals below we have been posting so you can online grocery shop and save time and money![/vc_column_text][/vc_column][/vc_row][vc_row][vc_column][vc_basic_grid post_type="post" max_items="20″ item="224339″ grid_id="vc_gid:1507732549356-6c500812-7da3-9″ taxonomies="1687″][/vc_column][/vc_row]