Game Day Prep, Easy Party Food and a Giveaway!!
We love to get together with Family and Friends when football season starts! Some groan at the idea of a party, but we try to make it as easy as possible on the host!We each bring a dish (some Easy Party Food) and whatever we like to drink. Check out our Game Day Prep List and Easy Party Food Recipes and don't forget to enter the Giveaway!
Easy Game Day Process for our Buffalo Bills Opener 2014!
Pre Game Prep:
ShoppingBecause I work full time and run this site part time, I try to pick up most of the party supplies I don't have in my Stockpile on my way home from work and one stop morning of party for fresh sandwich rolls and deli meat! I always have cleaning supplies such as Dawn dish detergent and Bounty Paper Towels to do quick counter clean ups to get the house spruced up before the party and since I am Diet Pepsi Addict and hubby is a Lays Potato Chips fan, we never have those in stockpile so I usually pick those up at Family Dollar! They always have good sale prices as you are familiar with from our Family Dollar Coupon MatchupsGame Time- Easy Party FoodWe like to have a variety of yummy snacks so take a look at some of our goodies:Appetizers:Buffalo Chicken Dip with Tostitos ScoopsTaco Dip with Tostitos Tortilla ChipsLays Chips and Buffalo must have Bison Chip Dip Cheese and CrackersHalf -Time Sandwiches and Hot DishChiliDeli Tray with RollsDesserts:Chocolate Cupcakes with Vanilla FrostingCookiesBeverages:Diet Pepsi, Gatorade, Sprite, Adult Beverages and Coffee
Half Time Festivities
Face Painting for the kidsPrint Your own Game Day NFL Banners here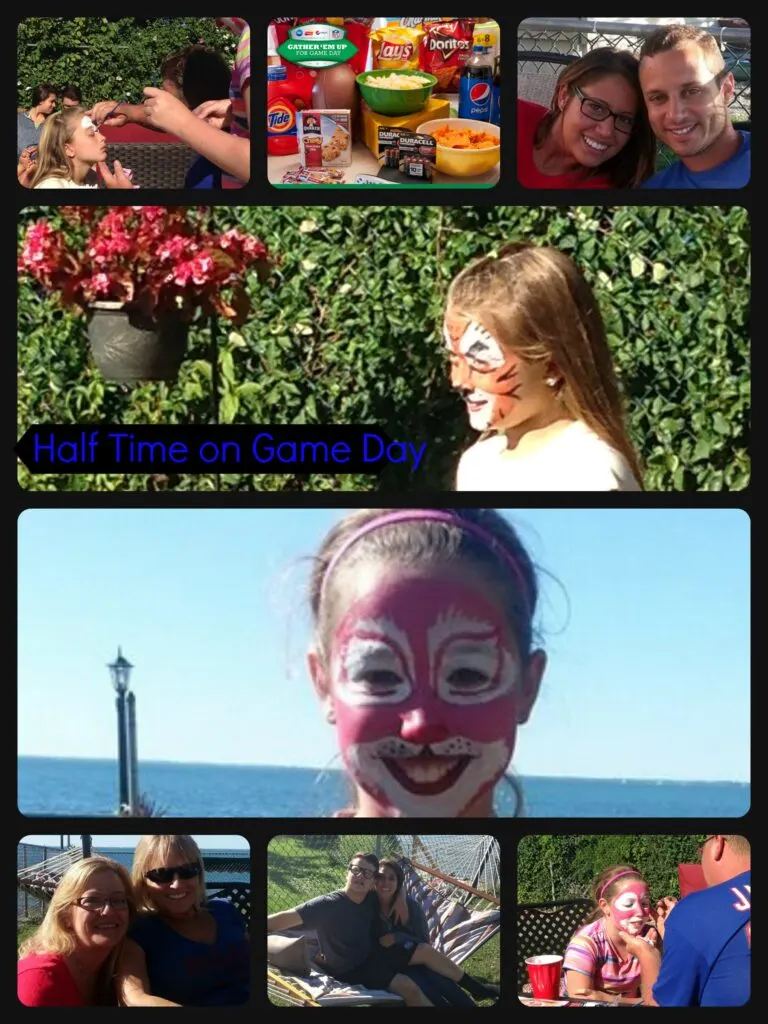 Post-Game Clean Up:
Post Game clean up is usually pretty easy as the house is clean when everyone comes! I use paper cups and plates, plastic silverware whenever possible. Dawn Dish Detergent cuts any grease on the counters and Tide and Gain are always in my stockpile to launder any dirty linens! Quick vacuum or Swiffer the floor and the house is set for Monday Back to School and Work!
Enter the Giveaway to Win a Family Dollar Gift Card & P&G Prize Pack to host your own Touchdown Party!
Win $25 Family Dollar gift card for you to give to one of your lucky readers so they can grab all the P&G and Pepsi products they need to host a touchdown-worthy party!Giveaway Starts September 19 at 11:30 pm and ends on Friday Sept 26. Winner will be chosen on Saturday September 27Enter The RaffleCopter Below:a Rafflecopter giveawayDisclaimer: I have been compensated in the form of a Family dollarGift Card and received the P&G products for freeAll opinions are my own regardless of the compensation
Topic: Easy Party Food