Have you always wondered How To Paint Oak Kitchen Cabinets?
We moved to a 1930's house on Lake Erie in a Blizzard in the middle of December and we have finally finished the entire first floor! It had last been renovated in the 60's and the house had good structure just needed some updating and redesign for our busy family! The original oven would not even fit a turkey to feed our family!
I had always wanted to paint my oak kitchen cabinets black in our last house but I was nervous to do it, so I never did. Well, in this house we were ripping out the carpet and ceramic tile and replacing them with Shaw Maple Handscraped Hardwood Floors, so I knew the cabinets could not remain an oak stain.
All of the Home Centers sell Cabinet Paint kits and special things to show you How To Paint Oak Kitchen Cabinets, but I was unsure of using the kits. I am most comfortable using standard paints and primers so that is what I did! I used to only use Behr Paint from Home Depot, but have since started shopping at Lowes so I used the Valspar Brand of paints for this project. I did not use the Valspar Signature Paint because we had left over Valspar Drywall Primer, so I used that to prime the cabinets and the Valspar Ultra Line of paint. There is a special Cabinet Primer but I did not want to waste what I had and the Paint Dept at Lowes told me it would work fine, and it did.
Step by Step How to Paint Oak Kitchen Cabinets:
1) I cleaned all the cabinets with TSP Heavy Cleaner diluted with water and a Scotch Brite Scrub Pad. This cleans any grease and polish, and the Scrub pad helps to scuff up the urethane finish that was already on the cabinets. You could also lightly sand the cabinets if desired, but I only lightly sanded the new unfinished cabinets we added for the island as a few of them had a rough finish.
2) Once dried , I began adding priming on the cabinets. We took the cabinet doors off to prime and paint and of course the handles. I was very concerned whether I should brush the paint on or use a foam roller. I had already tried rolling a different cabinet with a standard paint roller and I did not like the finish. I decided to brush the primer on and just made sure there weren't drips and there were continuous paint strokes on the cabinet doors. It also helped to fill in the grain of the oak much better than rolling and had a more natural look.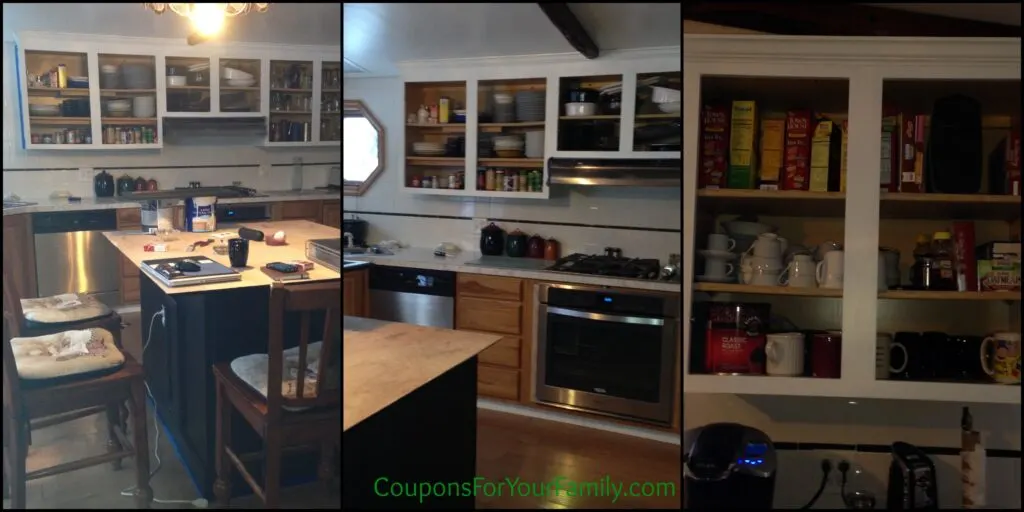 3) I let the primer dry over a couple of days so it was not possible to do this project in a weekend. I wanted to make sure it was dried and hardened before applying paint. One day would have been sufficient, but I would not paint any earlier than that. Notice the primer color looks white. It is actually grayish white which you can not see in the picture. The entire priming and painting process of this was over a few weekends.
4) Start to Paint!! The colors used on our cabinets were Valspar Ultra – color Ultra White and Valspar Ultra- color Dark Kettle Black. Both were in Satin finish as I did not want any gloss. I was unsure if the paint on the bottom cabinets was going to be black or white, so I did not have the primer tinted. If I were to do it all over, I would tint the primer to be a dark base if painting black. The black on the bottom cabinets showed numerous streaks of white showing through, but it was fine with a second coat of paint and touch ups. The upper white cabinets actually took 2-3 coats of paint as there were spots that were turning yellowish from the wood stain coming through.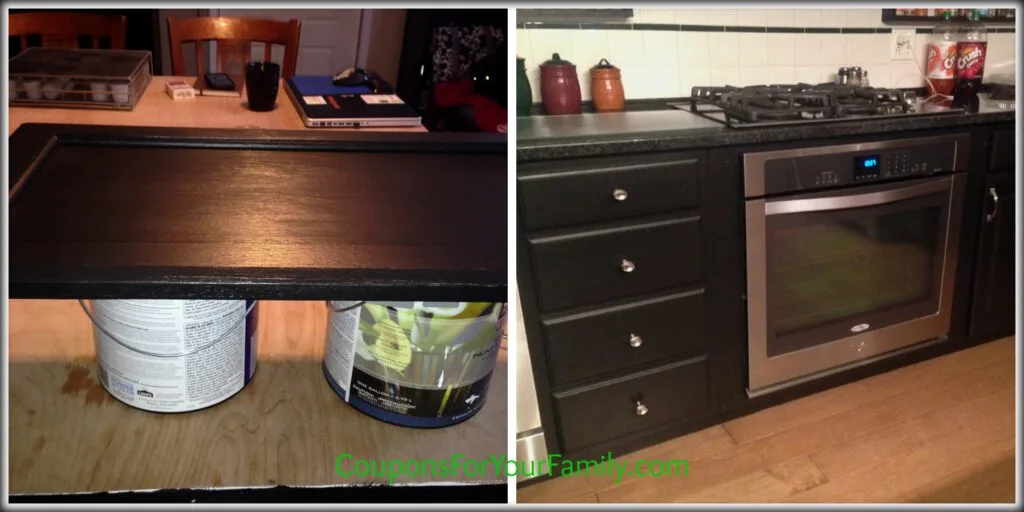 5) Most important tip I can give is not to rush through this! Allow time to dry completely between coats. You will be able to feel the difference just by touching the cabinet. If it feels soft then it is not ready to have another coat. We did not put a sealer on the cabinets, and at this time I am undecided whether we will need one. The first coat of black paint showed white scuff marks as we were using the kitchen. I believe around the island, where there is continuous scraping from legs and chairs, we will need to finish with a sealer or glaze eventually.
The cost of the priming and painting project was approximately $250 for the paint, primer and the new cabinet handles!!
The most expensive part of the room was the Black Labrador Granite Countertops including new sink installation $5400 which cost us more than our entire first floor remodel!
Other Items purchased and Saved Hundreds for Kitchen Remodel:
Lights: Pottery Barn RUSTIC GLASS 5-LIGHT PENDANT $319 less 15% coupon code= $272
Oven: Whirlpool Gold 30 in. Single Electric Wall Oven Self-Cleaning with Convection in Stainless Steel net price paid $1327 when on sale at Lowes (the store matched Lowes.com Online price $1474 plus 10% coupon)
Crown Molding added on cabinets: $30
Refrigerator: Frigidaire Gallery 23 cu. ft. French Door Refrigerator in Stainless Steel, Counter Depth paid $1850 when on sale at Home Depot- Orvilles Store matched price
Island made of (4) Lowes Unfinished Cabinets and one cabinet next to Refrigerator: on sale plus 10% of coupon= $334 less 10%= $300
In Island Mini Fridge bought on Amazon $200 Haier HBCN05FVS 150-Can Beverage Center

New Faucet– Delta 9178-DST Leland Single Handle Pull-Down Kitchen Faucet, Chrome
$176
Floor- Shaw Epic Hardwood Autumn Ridge color 216 Oat Straw (I am an employee so cannot disclose cost!)
90% of the kitchen is new with Brand Name high end products for $9495 when most kitchen remodels are $20,000-$50,000! Had we not installed granite we would have been under $5000! Most of our savings was because I shopped all sales and discounts available plus we did all of the work ourselves with the exception of the Granite.
So what do you think?
Would you Paint Your Oak Kitchen Cabinets? It is a very inexpensive way to give your kitchen a complete upgrade for under a couple of hundred dollars!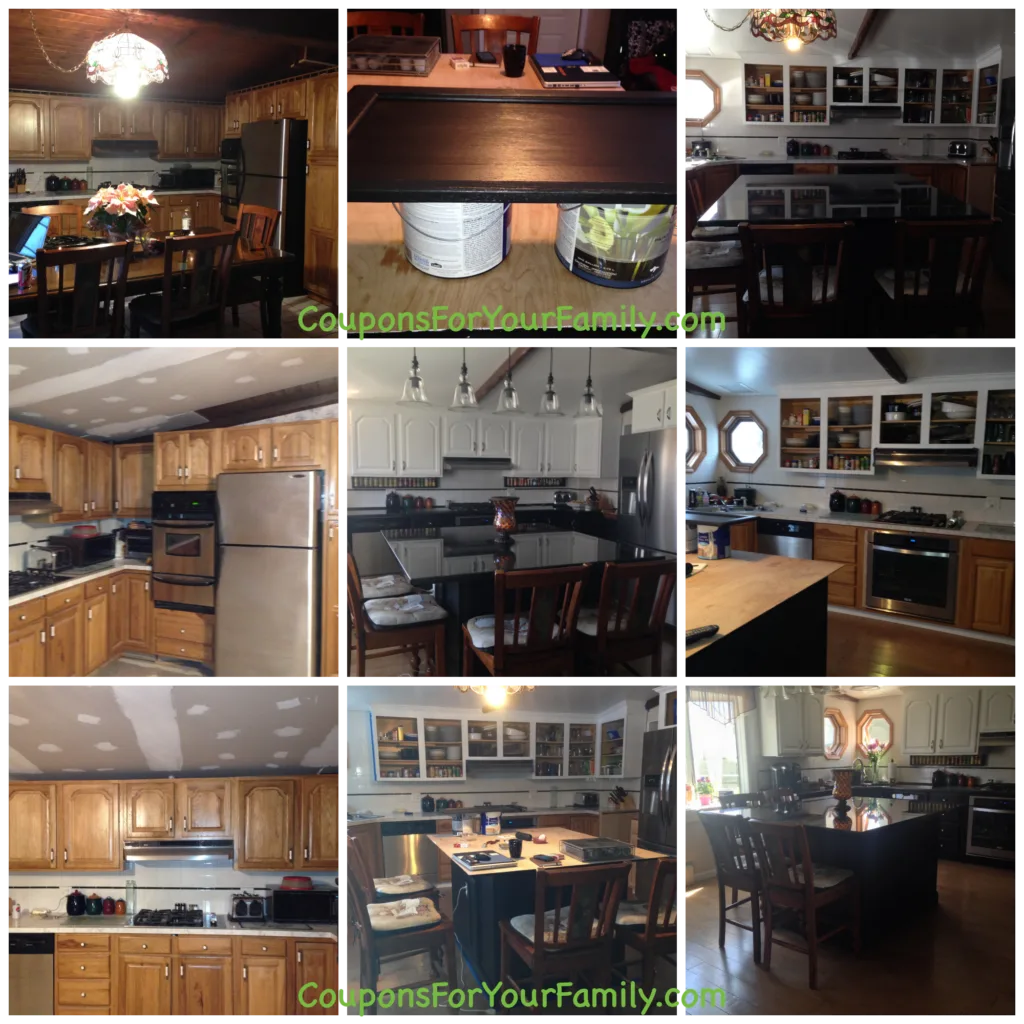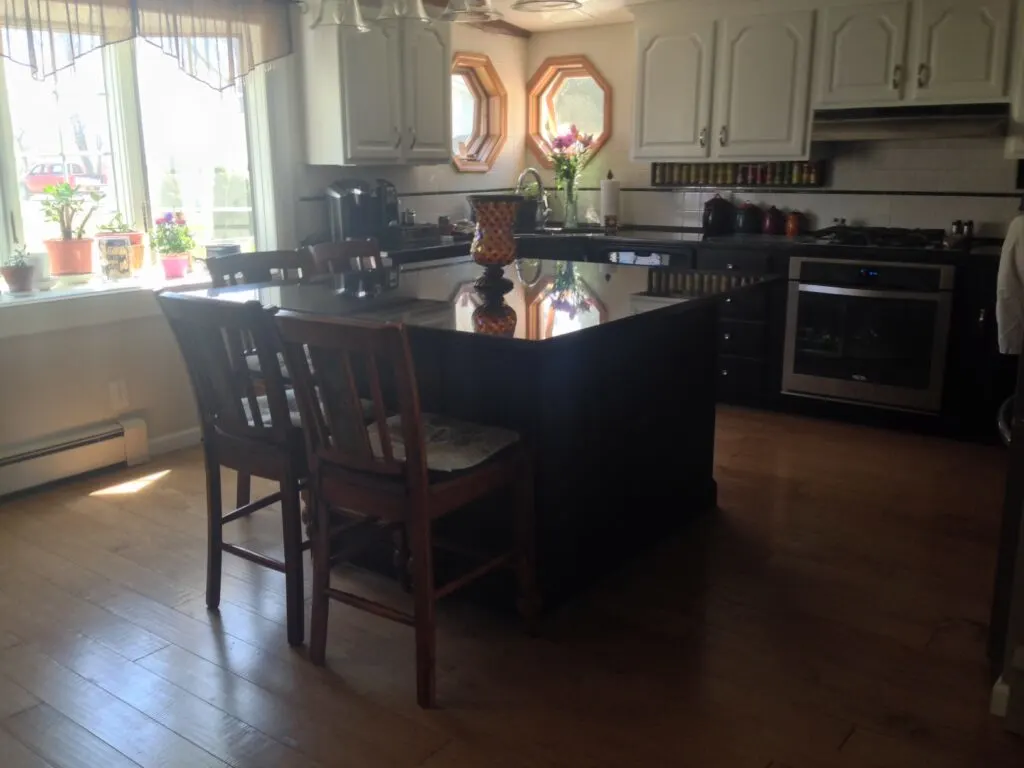 See more DIY projects and crafts, and other ways to save:
The Shabby Nest
Living Well Spending Less Thrifty Thursday
Thrifty Ideas To Inspire
Madame Deals Friday Favorites
A Life In Balance: Fabulously Frugal Thursday and Motivation Monday
Made From Pinterest: Super Saturday Linky
Topic: Do It Yourself and Save Project: How to Paint Oak Kitchen Cabinets