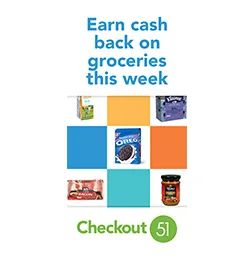 This weeks Checkout51 offers for Thurs Oct 30: Earn Cash back on groceries!
Checkout 51 is a similar app to Ibotta, where you buy a product that has a special offer, upload receipt proving you bought it and get cash back!
Checkout 51 has new offers every week beginning on Thursdays at 12:00 am. It's this easy to earn cash back! Please note…different regions have different offers. If you are not familiar with Checkout51, make sure to check out our post here– > Checkout51.com
And great news..you do not need a smartphone..you can upload the receipts via your computer instead of the smartphone app!
Here is the Checkout51 Offers that started last night at midnite:
$52.40
of savings this weekOffers valid until

11:59 PM Wednesday, November 5
Make sure to sign up for Checkout51 here!!