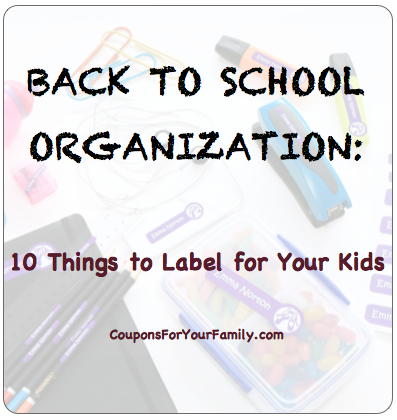 Back to School Organization was not this easy when my kids were younger!
Back to School was always a crazy time at our house when preparing for 4 boys to head off to school! It was hard enough to keep things straight in our own house, let alone sending them off to school with class sizes of 15-25 kids per class. I would always have to write the names on all of their belongings and to them, it just didn't look cool!
Bright Star Kids has provided a great alternative to labeling items. I wish Bright Star Labels had been available when I was preparing for back to school. You can personalize your labels in color and add a design or icon! I think my son would like this one even at 16:

After raising 4 boys, it seems the same items always came up missing and it became inconvenient and sometimes costly to replace items!
Here is my recommended list of 10 Things to Label for Your Kids:
1) Scissors
2) Calculators
3) Sweatshirt that is kept in school for year
4) Lunchbox
5) Highlighters/Markers
6) Pencils
7) Folders/Books-Subject and name label
8) Electronics (phones, ipod, )
9) Backpack
10) Gym Clothes
Bright Star Labels makes Back To School Organization easier with options in label sizes, colors along & 2 different types- Stick on and Iron On!
-Stick-on labels are extremely durable, hold up in dishwashers, are 100% waterproof & scratch resistant. When ready to remove them, simply peel off and no residue will be left.
-Iron-on labels are quick and easy to pop on to all your kids clothing and stay stuck in the washer and dryer.
Use this special coupon code LABELS at checkout and save 15% off plus get free shipping!
Take a look at the kits available:
Make sure to get yours here today and make your Back to School Organization an easy job!!
Save 15% off Storewide Plus FREE Delivery. Enter Code: LABELS at checkout. Min Spend $30, offer ends 15th September.
This is a sponsored conversation written by me on behalf of Bright Star Kids. The opinions and text are all mine.
Topic: Back To School Organization