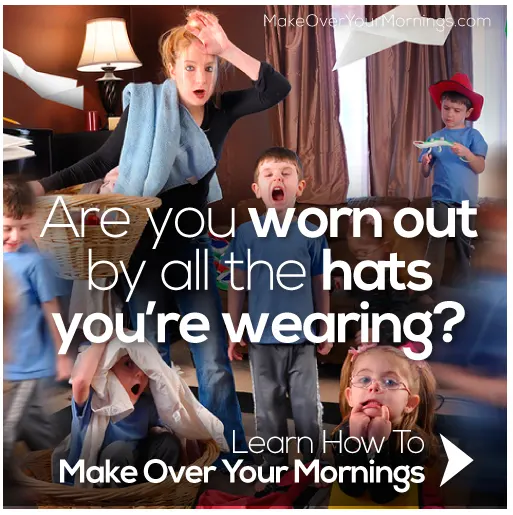 Get Organized with Make Over your Mornings!!!
I am NOT a morning person but I do try to get my priorities in line the night before so I know what direction to go in the morning!
I consider myself fairly organized, however, with working a Full time + Day Job, running my websites, and raising a blended family of 6 along with trying to keep my house clean and saving money….SOME DAYS ARE WAY OUT OF CONTROL and I sometimes feel I am missing out on the important things in life!
Crystal Paine of Moneysavingmom.com does a great job to motivate and help you get things prioritized in her new Make Over Your Mornings Course so you can be more productive, efficient and happy with all of the hats we all have to wear!!
Get Organized with Make Over Your Mornings Course — a 14-day online course that includes videos, a workbook, and step-by-step projects.
This 14-day course is designed to help you revolutionize your productivity, streamline your routines, invest your time in things that truly matter, and find more joy and peace in the process.
DON'T worry about having enough time to complete the course! The course has specifically been set up so that each day's reading and assignment can be done in just 15 minutes or less! Each of the 14 days, you'll read a short chapter, watch a short video that includes practical tips and encouragement, and a project to complete to help you implement what you've learned that day.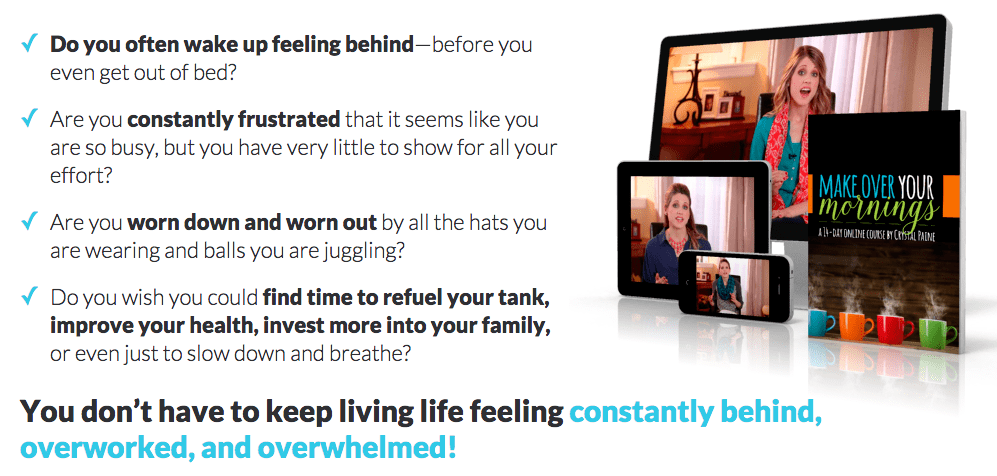 The Make Over Your Mornings Course will help you:
Develop a morning routine and before bed routine
Streamline your morning tasks
Learn how to make to-do lists that support your day
Create realistic, but stretching goals
Discover the power of accountability and how to implement it into your life
Establish internal and external motivations to create perseverance in your new routines
Find time to refuel your tank and make space in your day for things you love
Experience much more focus, organization, and clarity in your daily life
When you purchase this course, you'll get immediate access to all of the following:
14 high-quality videos with motivational encouragement
Short video clips that give you a behind-the-scenes peek into Crystal's everyday home and life
A comprehensive workbook with 14 chapters filled with practical ideas and inspirational encouragement
Daily projects to guide you on your 14-day journey and help you implement and apply what you learned from the daily video and chapter
Printable worksheets to walk you step-by-step through some of the projects and motivate you to follow through
Additional links and resources for each day, if you'd like to dig deeper on a subject
How to access the course:
The course videos and materials can be accessed via any desktop computer, laptop computer, smartphone, or mobile device. You can choose to print the workbook or download it to your computer or phone. And, it is all self-paced! Begin and end as it works for you as there are no deadlines. Plus, you'll have lifetime access to all course downloads upon purchase.
Cost of the course:
The 14 day course will normally retail for $17, however, there is a HUGE sale to take advantage of to get all of the help you need for less! Starting tomorrow, June 2nd, you can save by ordering early:
12 p.m. to 5 p.m.

– only $10!

5 p.m. – 12 a.m.

– only $13!