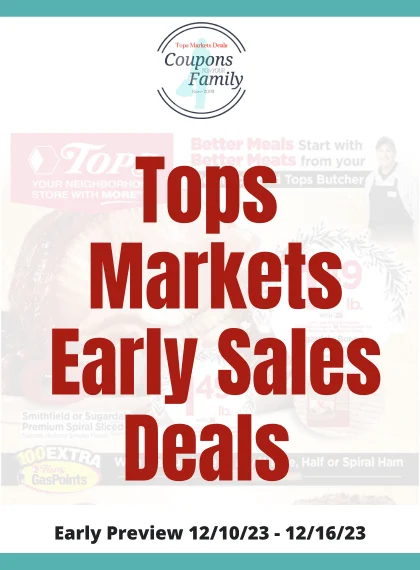 Tops Weekly Ad Scan 12/10/23 preview is live!
Have you been waiting to see next week's *️⃣ Tops Market Ad Preview?? Well, the entire *️⃣ Tops Market Weekly Ad circular starting Sunday is here– all on the same page with the Tops Ad for this week in case you still have shopping to do. Make sure to head over to scroll down and save your family money!
Both this weeks and next weeks Tops Ads are always on this same page. Just scroll down to see the current weeks ad!
This page link never changes so bookmark it for easy reference by dragging this Tops Scan link to your browser! Scroll down to see the full ad scan!
Don't forget that you can shop most of these Tops sales online and get delivery to your house with Instacart right here

Tops Weekly Ad Previews
2 Ads available. Click the links below or keep scrolling to see the current ad.
Now viewing: