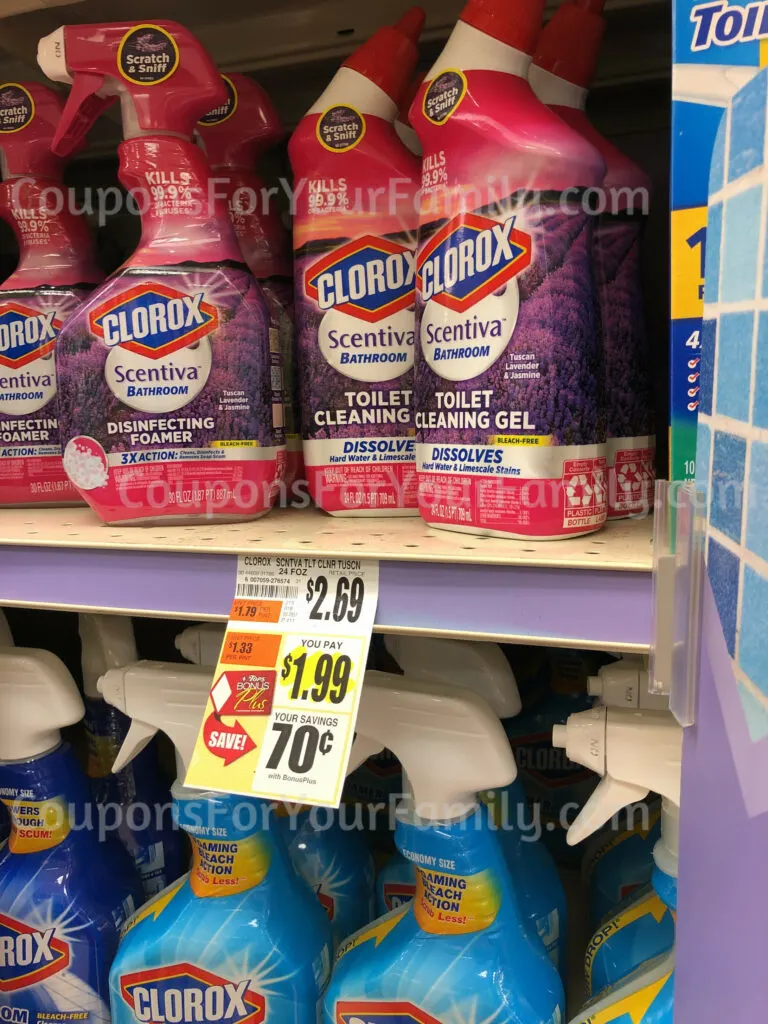 Want cheap Clorox Scentiva Toilet Bowl Cleaner? See the Tops deal this week below!
This week is Tops Dollar Doubler week, where you pair a $1/1 manufacturers coupon with Tops Doubler in ad coupon. You must have $20 minimum purchase but you can score some great deals!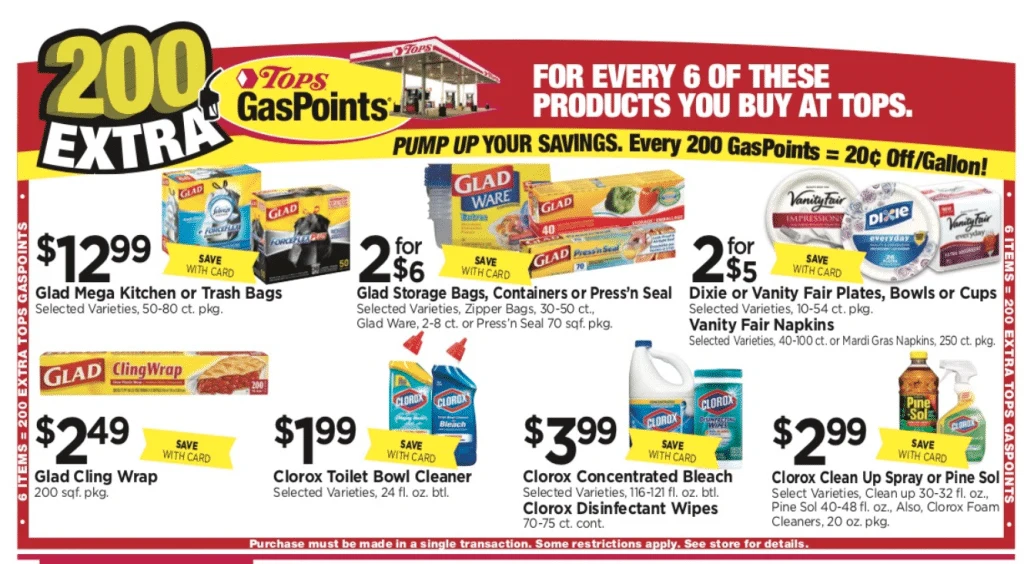 Here is the deal:
Buy (6) Scentiva Toilet Bowl Cleaners $1.99 each= $11.94
Use (3) $1.00/2 Clorox Scentiva Product – 7-8-18 SS (Expires 08/08/18) 7-8-18 SS = less $3
Stack with (3) Tops Dollar Doublers= less $3
Pay at the Register= $5.94 for 6= $.99 each
Here is the bonus= earn 200 gas points which is $5 value with max Gas fillup ($.20gal x 25 gal= $5)
Your net cost = $.94 for 6 toilet bowl cleaners = only .16 each!!!
other coupons available:
$0.50/1 Clorox Manual Toilet Bowl Cleaner clorox.com
$1.50/3 Clorox Scentiva Product – 7-8-18 SS (Expires 08/08/18) 7-8-18 SS
$0.50/2 Clorox Scentiva Product – 7-8-18 SS (Expires 08/08/18) 7-8-18 SS
NOTE: you must have over $20 purchase before manufacturer coupons so make sure to head over to our Tops Coupon Matchups here or Tops Unadvertised Deals here to buy an extra $9 of items to get over $20!
Did you see this deal yet??

I would guess probably not….Rarely do you see bloggers taking the time to post deals that they do not earn a commission from on a printed coupon. We would like to post more of these deals but for every individual post that goes on the site it costs time and money so if you want to see more deals like these posted individually please take a minute a print a few coupons from below! HOWEVER they are always in our full list of matchups 🙂 Thanks so much and hope you are saving tons this week!
What I would print- Next week Tops has Motts Fruit snacks on sale for $2- print the $.50/1 Motts fruit coupon below and hold to shop next week and get for only $1!
Coupons powered by Coupons.com
Take a peek at the rest of our Tops posts you can bookmark and check every week:
Tops Coupon Matchups- full list
Scan of upcoming Tops Ad and weekly sale preview
Tops Friendly Markets best deals of the week
Tops Coupons to scan while in store (or print)
Tops Unadvertised Deals (updated every couple weeks)
Join our NEW Tops Newsletter here for sneak peeks and to ensure you never miss a deal we posted! We are the only site to publish EVERY Tops sales deal every week matched with coupons with more than 350 items PLUS the most B1G1 prices published on our list!

How much easier can it be to save everyday?
Join our Facebook Groups to see more deals like these:
Couponing to Cut Your Grocery Bill
Couponing at Tops Markets
Couponing at Wegmans
Couponing at Save A Lot
Couponing the Dollar Stores
Couponing at Dollar Tree
Couponing at CVS, Walgreens and RiteAid
Couponing at Walmart, Target and Kmart
Sears and Kmart Steals & Deals
Printable Coupons For Free FB Group
Coupons.com Facebook Group
Freebies, Cheap Deals, Giveaways and Sweeps
Hot Online Deals