Walmart does not publish a weekly sales flyer like most stores. When they do, there is usually not a special sale price but rather their "Every Day Low Price" Thus, most of the match-ups on this list are "Every Day Low Price" items that match up well with coupons that are currently available. The prices are gathered by physically going to the store and recording prices, then matching up current coupons.
Please remember that prices on these lists may vary by location! Check your store prices when purchasing!!
[%printable-list:Walmart1-6%]
Did you know you can shop online from home at Walmart and pick up at store? Let someone else get your order together for you!!
Shop Walmart.com deals right here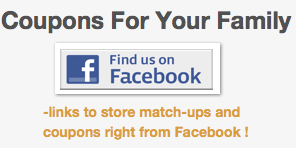 CVS Match-ups | Dollar General Match-ups | Drugstore Freebies Match-ups | Family Dollar Match-ups | Food Lion Match-ups | Giant Match-ups | Giant Eagle Match-ups | Kinney Drugs Match-ups | Kmart Match-ups | Kroger Match-ups | Organic Deals | Price Chopper Match-ups | Publix Match-ups | Rite Aid Match-ups | Save A Lot Match-ups | Target Match-ups | Tops Match-ups | Walgreen's Match-ups | Walmart Match-ups | Wegmans Match-ups