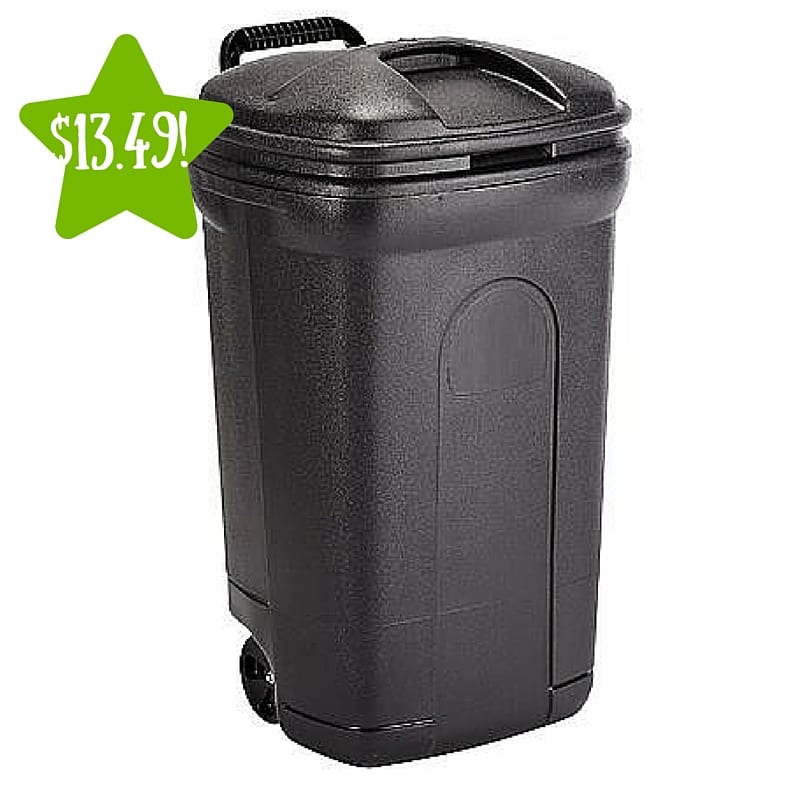 Check out the newest deal on an United Solutions 35 Gallon Trash Can with Wheels at Kmart !
How to get the best values and deals at Kmart:
Become a Shop Your Way member here and choose me as your personal shopper. As your personal shopper I can help you find gifts, deals, share exclusive promotions, send you weekly coupons AND you can contact me directly through text and emails to help you shop!! Plus you'll get 3 months of FREE SYWR Max Shipping if you are a new Shop Your Way member!
Using your Shop Your Way Rewards Card:

If shopping online make sure your member number is in your order. Must be scanned to get most deals/rewards at Kmart In store. Every 1,000 points is worth $1.00. These are easy to redeem – when you are checking out just say you'd like to pay with the rewards you have on your card. You do not have to use your points if you want to save them up
If you are in the market for a new garbage can, check out this great deal! Right now at Kmart you can get this United Solutions 35 Gallon Trash Can with Wheels for only $13.49! Please keep in mind that this offer is available for FREE in-store pickup only.
This 35 gal. trash can with wheels is the receptacle you need for trash, lawn debris and other household waste disposal. It is constructed of blow-molded plastic that will endure the weight of these items for years to come. Collecting any sort of debris in this trash can is simple thanks to its mobility features. It has wheels on the bottom for easy dragging and a handle located at the back so you can grip it easily.
You will appreciate the 35 gallon trash can's sturdy lid when it comes time to leave your trash outside overnight. It fits down snugly into the barrel and has a pushed up middle so you can overload your bin by a little bit without forcing the lid off. Never again will you have to clean up trash because critters got into your bags while you are sleeping.
35 Gal. trash can with wheels is made of blow-molded plastic designed to last
Comes with lid that sits securely down in the top of the barrel and has a handle for easy removal
Bottom has durable wheels so you can drag your trash to the curb
Handle at the back makes gripping this bin while dragging it easy
35-Gallon capacity means you can use this barrel for household trash, lawn debris and more

Check out the rest of our Kmart Steals and Deals here