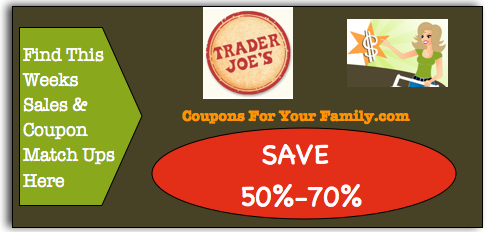 Here are this weeks BEST Trader Joes Coupon Matchups!
Trader Joe's will be opening a store on October 11th in Amherst NY!! Trader Joe's Stores do not offer weekly ads. Instead they offer the lowest possible prices on all the products they carry in Trader Joe's stores everyday.
Trader Joe's Does NOT offer store coupons but Trader Joe's will accept coupons for any manufacturer's product they carry in their stores. While most products offered in Trader Joe's stores are their private label products. Trader Joe's does carry some popular healthy name brand products.
Our weekly list will allow you to see all the items on sale and ones matched with coupons.
About Trader Joe's: Value is what Trader Joe's brings to their shoppers. And by value they mean great everyday prices on all of our great products — no sales, no gimmicks, no clubs to join, no special cards to swipe… How do they do it?
buy direct from suppliers whenever possible, bargain hard to get the best price, and then pass the savings on to their customer.
If an item doesn't pull its weight in their stores, it goes away to gangway for something else.
buy in volume and contract early to get the best prices.
Most grocers charge their suppliers fees for putting an item on the shelf. This results in higher prices… so Trader Joe's doesn't do it.
Trader Joe's keeps costs low — because every penny they save is a penny we save.
— great food + great prices = Value.
Trader Joes Coupon Matchups
Trader Joe's Organic Bartlett Pears – $2.49
Trader Joe's Orange Pumpkins – $3.49
Trader Joe's Organic Free Range Chicken, per lb – $2.69
Organic Chicken Broth, 32 oz – $1.99
Condiments, Spice & Baking
Pumpkin Bread Bread and Muffin Mix, 17.5 oz – $2.99
Country Choice Steel Cut Oats Oatmeal – $3.29
Final Price: $2.29
Trader Joe's Country Spice Granola, 16 oz – $2.49
Pure Protein Shake, 11 oz can – $2.29
Final Price: $1.29
Trader Joe's Pumpkin Waffles, 9.9 oz – $1.99
Blue Diamond Almond Breeze, 32 oz – $1.99
Final Price: $1.49
Tom's of Maine Toothpaste – $3.99
– $1.00/1 Tom's Of Main Toothpaste Or Mouthwash, Any (Excludes Trial Size & Toothpaste Under 4 Oz.) – 09-15-13 SS – Manufacturer – (exp. 10/26/13)
Final Price: $2.99
Oscillococcinum, 6ct – $9.99
Final Price: $8.99

Aldi Weekly Sales
| 
CVS Coupons 
| 
Dollar General Coupons
 |  
Dollar Tree
| 
Family Dollar Coupons
 | 
Food Lion Coupons 
 | 
Giant Coupons 
 | 
Giant Eagle Match-ups
 | 
Kinney Drugs Coupons 
 | 
Kmart Coupons
 | 
Kroger Coupons 
 | 
Martins Coupons
 |
Meijer Coupons
 | 
Organic Coupons
 | 
Pathmark Coupons
 | 
Price Chopper Coupons  
| 
Publix Coupons  
| 
Rite Aid Coupons
 | 
Save A Lot Coupons 
 |
Shop and Save Coupons
  |
 Shop For Free List
 | 
ShopRite Coupons
  |
Target  Coupons  
| 
Tops Coupons 
 | 
Trader Joes Coupon
| 
Walgreens Coupons 
 | 
Walmart Coupons 
 | 
Wegmans Coupons 
Topic: 
Trader Joes Coupon