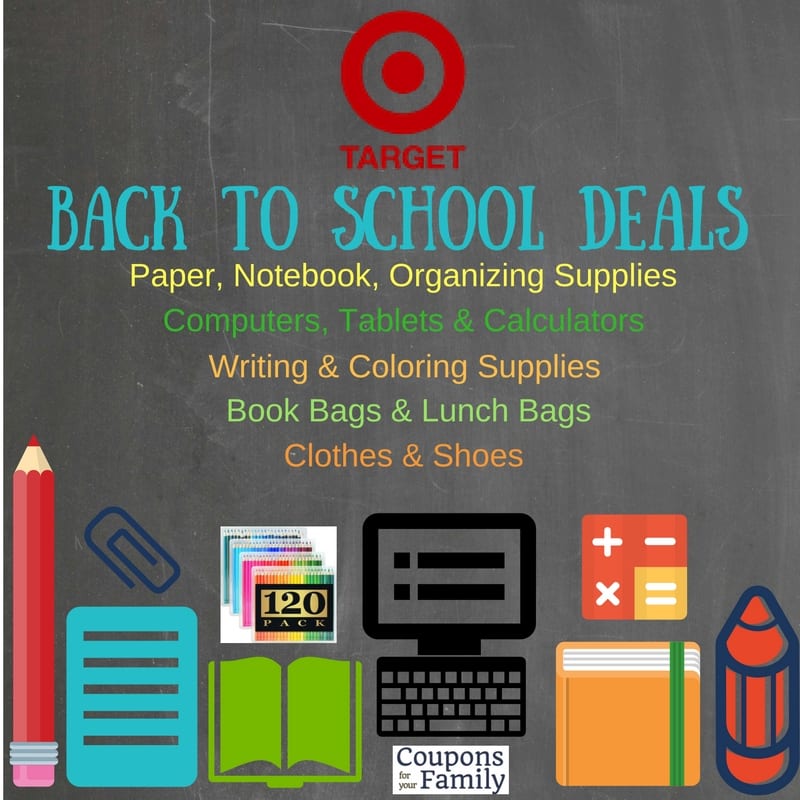 Here are this weeks Target Back to School Deals Aug 14 -20
Back to School Deals are in full swing! Even though my kids are now in college and they do not need as much, I use Back to School season as a time to stock up on office and home supplies along with what they need for college!
You can see the rest of our Back to School Deals here.
You can also buy most of these deals online and shop from home and pick up at store! Shop Target online here and automatically get the $5 Gift Card on a $30 Back to School purchase!
Target Back to School
Free $5 Target GiftCard with school supplies, backpacks and lunch bags purchase of $30 or more. Text "SCHOOL5" to 827438 for the coupon. Free $5 Target GiftCard with school supplies, backpacks and lunch bags purchase of $50 or more. Text "SCHOOL10" to 827438 for the coupon. (Excludes Electronics, Bounty paper towels, Clorox wipes & Kleenex tissue)
Includes: Select Varieties
Bondka Backpacks – $35.00
Includes: Select Varieties
CamelBak, Eddy Water Bottle, 0.4 liter – $12.00
Includes: Select Varieties
Character Backpacks – $15.00
Includes: Select Varieties
Embark Backpacks – $28.00
Includes: Select Varieties
Includes: Select Varieties
Includes: Select Varieties
Includes: Select Varieties
Includes: Select Varieties
Sierra Expedition Backpacks – $35.00
Includes: Select Varieties
Starpoint Backpacks – $28.00
Includes: Select Varieties
Studio C Backpacks – $28.00
Includes: Select Varieties
SwissGear Backpacks – $35.00
Includes: Select Varieties
Includes: Select Varieties
Trans by Jansport Backpacks – $28.00
Includes: Select Varieties
Trans by Jansport Backpacks – $35.00
Includes: Select Varieties
Elmer's Glue Sticks, 6 ct – $2.29
Fiskars 5″ Pointed Scissors – $1.47
Includes: Also available in blunt tip
Scotch 8″ Scissors – $4.00
Scotch Magic Tape, 3 pk plus bonus roll – $3.00
Organization School Supplies
Avery Heavy Duty 1.5 " Three-ring binder – $5.00
Up & Up Index Binders, 8 ct – $3.95
Five Star Flex 1″ Notebook – $7.89
$1.00/2 Five Star Products – 7-31-16 SS (exp. 09/30/16)
Out-of-Pocket Price: $7.39
Five Star Reinforced Filler Paper – $3.49
Includes: Wide-ruled, College-ruled, or graph
$1.00/2 Five Star Products – 7-31-16 SS (exp. 09/30/16)

$2.00/2 Five Star New Reinforced Filler Paper and Printer Paper Products – 7-31-16 SS (exp. 09/30/16)
Final Price: $2.49
Expo Dry Erase Markers, 4 ct – $3.49
Pilot Gel Pens, 5 ct – $3.49
Pilot Roller Gel Pens, 3 ct – $3.49
Post-it Page Markers, 10 ct – $5.00
Final Price: $4.00
USA Gold Pencils, 24 ct – $3.49
Check out more Back To School Deals here–> Back To School Deals
______________________________________________________________________
Back To School Deals from Amazon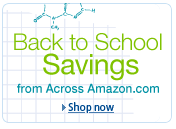 Make sure check out more Back to School
Deals on Amazon too:
Amazon Back to School Deals
Back Pack Deals

Clothing Deals for Back To School
60% off School Supplies
Binders and Accessories
School Supplies By Grade
Electronics for Back to School
Back To School Calculators
[favado_my_list]