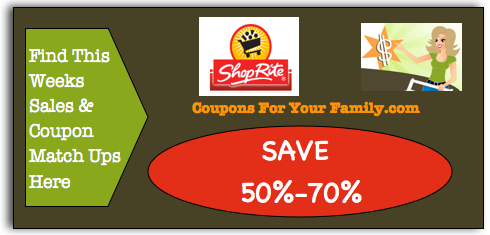 Here are this weeks TOP ShopRite Coupon Matchups Nov 8 – 14
** to view the entire list of this weeks matchups head over to see the new ShopRite Coupon Matchups page. 
If you are new here, check out the Coupon Abbreviation page to become familiar with Coupon Lingo and our How To Save Money Using Coupons page
Download the Free Favado Mobile App to get all of these matchups in your phone here–> Best Grocery List and Coupon Mobile App . The app will allow you to see all your favorite store sales whether they have a coupon or not, and let you choose the items you need PLUS show the same coupon matchups you see on our site!!

The app also includes other National and Regional Deals that we do not cover but you can choose the 10 you would like to have as your Favorites

Hence–the perfect Grocery List right on your Smart phone that will allow you to save 50-70% off!! 
Don't forget to check Coupons.com, SmartSource, and RedPlum for new coupons that came out after these matchups were completed!
A few facts about these ShopRite Coupon Matchups:
–ShopRite Coupon Policy
-These matchups are based on doubling coupons up to $.99
-Note your store's current double coupon policy. Double coupon policies vary by store. Check your store for details.
-ShopRite will double up to four identical coupons per household per day unless further restricted by the manufacturer
-ShopRite has locations in NY, NJ, CT, PA, DE, MD. Find a store near you here–>ShopRite Store Locator
Prices May Vary by Region; Limit 4 per variety
Melitta Single Serve Coffee, 5.08 oz – $5.99
Includes: Cafe De Europa
$2.00/1 Melitta Cafe De Europe Single Serve Coffee – 3-22-15 SS (exp. 06/30/15)
Final Price: $1.99
Buy 1; Use $2.00/ Coupon and $2.00/1 ShopRite Digital Coupon
Progresso Traditional Soup, 18.5 – 19 oz – $1.49
Out-of-Pocket Price: $0.82
Final Price: $0.49
Buy 3; Use $1.00/3 Coupon and $1.00/3 ShopRite Digital Coupon; Includes Upromise Rebate Savings
Condiments, Spice & Baking
Betty Crocker Cake Mix, 15.25 – 19.5 oz – $0.99
Includes: Delights or Favorites: Excludes: Angel Food & Premium Cupcake
Out-of-Pocket Price: $0.24
Final Price: Free
Buy 3; Use $0.75/3 Coupon (doubled) and $0.75/3 ShopRite Digital Coupon; Includes Upromise Rebate Savings
Betty Crocker Cookie Mix, 14 – 21 oz – $1.99
Out-of-Pocket Price: $1.24
Final Price: $0.99
Buy 3; Use $0.75/3 Coupon (doubled) and $0.75/3 ShopRite Digital Coupon; Includes Upromise Rebate Savings
Betty Crocker Frosting, 12 – 16 oz – $1.49
Includes: Ready to Spread
Out-of-Pocket Price: $0.74
Final Price: $0.49
Buy 3; Use $0.75/3 Coupon (doubled) and $0.75/3 ShopRite Digital Coupon; Includes Upromise Rebate Savings
Carnation Evaporated Milk, 12 oz – $0.99
Includes: Regular, Low Fat or Skim
$0.55/2 Carnation Evaporated Milk Cans – 11-8-15 RP; Includes 12 oz Only (exp. 12/31/15)
Out-of-Pocket Price: $0.49
Final Price: $0.24
Buy 2; Use $0.50/2 Coupon (doubled); Includes Checkout 51 Rebate Savings
Pillsbury Brownie Classics, 18.4 – 19.5 oz – $0.99
Includes: Family Size; Excludes: Purely Simple & Funfetti
Buy 2 Tostitos Tortilla Chips; Get (1) 10 – 15.5 oz jar Tostitos or Lay's Dips & Salsa FREE
Tostitos Tortilla Chips, 9 – 13 oz – $3.00
Excludes: Cantina & Baked
Final Price: $2.67
Buy 3; Use $1.00/3 ShopRite Digital Coupon; Includes FREE Dip or Salsa
Dannon Activia Greek Yogurt, 4 pk 4 oz – $1.74
Includes: Light or Fiber
Final Price: $0.74
Armour Meatballs, 14 oz – $2.49
Includes: Italian or Original
Final Price: $1.39
Buy 1; Use $0.55/1 Coupon (doubled)
Barilla Pasta, 12 – 16 oz – $1.25
Includes: Regular, Whole Grain or Veggie; Excludes: Gluten Free, Plus, Collezione, Pronto Jumbo Shells & Lasagna)
$0.55/2 Barilla Blue Box Pasta – 11-8-15 RP (exp. 01/03/16)

$0.75/1 Barilla Blue Box Pasta – 11-1-15 RP (exp. 12/26/15)
Final Price: Free
Buy 1; Use $0.75/1 Coupon (doubled)
Hefty Easy Grip Party Cups, 9 oz 30 – 50 ct – $2.49
$0.50/1 Hefty Cups Package – 10-4-15 RP; Limit 4 Like Coupons In The Same Day (exp. 12/31/15)

$1.00/2 Hefty Cups Package – 10-4-15 RP; Limit 4 Like Coupons In The Same Day (exp. 12/31/15)
Final Price: $0.99
Buy 2; Use (2) $1.00/1 Coupons and $1.00/2 ShopRite Digital Coupon
Hefty Slider Bags, 10 – 20 ct – $1.99
Includes: Freezer or Storage; Quart or Gallon
$0.50/1 Hefty Slider Bags – 11-1-15 RP; Includes 12 ct Larger Only; Limit 4 Like Coupons In Same Shopping Trip (exp. 12/31/15)

$2.00/3 Hefty Slider Bags – 11-1-15 RP; Includes 12 ct Larger Only; Limit 4 Like Coupons In Same Shopping Trip (exp. 12/31/15)
Final Price: $0.49
Buy 3; Use $2.00/3 Coupon
Reynolds Wrap Aluminum Foil, 35 – 75 sq ft – $2.99
Includes: Non-Stick, Heavy Duty or Regular; Excludes: Heavy Duty 75 sq ft
Final Price: $1.49
Buy 1; Use $0.75/1 Coupon (doubled)
Aussie Shampoo or Conditioner, 8 – 13.5 oz – $1.66
Includes: Select varieties
$1.50/2 Aussie Shampoo, Conditioner, or Styling Products – 11-8-15 RP; Excludes Trial and Travel Size; Limit of 4 Like Coupons Per Household Per Day (exp. 12/05/15)

$2.00/2 Aussie Shampoo, Conditioner, or Styling Products – 10-18-15 SS; Excludes Trial and Travel Size; Limit of 4 Like Coupons Per Household Per Day (exp. 11/14/15)

$3.00/3 Aussie Shampoo, Conditioner, or Styling Products – 11-8-15 RP; Excludes Trial and Travel Size; Limit of 4 Like Coupons Per Household Per Day (exp. 12/05/15)
Final Price: $0.66
Buy 2; Use $2.00/2 Coupon
Carmex Lip Balm, 0.25 – 0.35 oz – $0.99
Includes: Original or Healing
$1.00/2 Carmex Lip Balm Products – 10-18-15 SS (exp. 12/31/15)
Final Price: Free
Buy 2; Use $1.00/2 Coupon and $1.00/2 ShopRite Digital Coupon
Colgate Toothpaste, 5.5 oz – $2.99
3/$8.99 (or $3.59 ea); Limit 4 offersIncludes: Optic White or Enamel Health
Final Price: $0.99
Buy 3; Use (3) $2.00/1 Coupon
Colgate Toothpaste, 6.4 oz – $1.49
Includes: Whitening or Regular; Baking Soda & Peroxide; Excludes: Total, Advanced and Luminous
$0.50/1 Colgate Toothpaste – 10-25-15 SS; Includes 3 oz or Larger Only; No More Than 4 Identical Coupons For The Same Product In The Same Day (exp. 11/17/15)

$1.00/2 Colgate Toothpaste – 10-25-15 SS; Includes 3 oz or Larger; No More Than 4 Identical Coupons For The Same Product In The Same Day (exp. 11/17/15)
Final Price: $0.49
Buy 1; Use $0.50/1 Coupon (doubled)
Crest Toothpaste, 6.4 oz – $1.49
Includes: Gel or Paste
$0.50/1 Crest Complete Toothpaste; Includes 4 oz or Larger Only; Excludes Trial and Travel Size; Limit of 4 Identical Coupons Per Household Per Day

$0.50/1 Crest Toothpaste – 11-1-15 PG; Includes Toothpaste, 3 oz or Larger Only or Liquid Gel or Kids Toothpaste, 4.2 oz or Larger Only; Excludes Trial and Travel Size, Cavity, Baking Soda, and Tartar Control; Limit of 4 Like Coupons Per Household Per Day (exp. 11/28/15)

$1.00/1 Crest Toothpaste – 11-1-15 PG; Includes Toothpaste, 3 oz or Larger Only or Liquid Gel or Kids Toothpaste, 4.2 oz or Larger Only; Excludes Trial and Travel Size, Cavity, Baking Soda, and Tartar Control; Limit of 4 Like Coupons Per Household Per Day (exp. 11/28/15)
Final Price: $0.49
Buy 1; Use $0.50/1 Coupon (doubled)
Dial Body Wash, 16 – 18 oz – $2.99
Out-of-Pocket Price: $1.99
Final Price: Free
Buy 2; Use $2.00/2 Coupon; Includes Ibotta & Upromise Rebate Savings
Herbal Essence Shampoo or Conditioner, 10.1 – 12 oz – $1.66
Excludes: Naked and Wild Naturals
$1.50/2 Herbal Essences Shampoo, Conditioner, or Styling Products – 11-8-15 RP; Excludes Trial and Travel Size, Color, and Body Wash ; Limit of 4 Like Coupons Per Household Per Day (exp. 12/05/15)

$2.00/2 Herbal Essences Shampoo, Conditioner, or Styling Product – 10-18-15 SS; Excludes Trial and Travel Size; Limit of 4 Like Coupons Per Household Per Day (exp. 11/14/15)

$3.00/3 Herbal Essences Shampoo, Conditioner, or Styling Products – 11-8-15 RP; Excludes Trial and Travel Size, Color and Body Wash; Limit of 4 Like Coupons Per Household Per Day (exp. 12/05/15)
Final Price: $0.66
Buy 2; Use $2.00/2 Coupon
Listerine Floss, 30 – 55 yds – $1.49
Final Price: $0.49
Buy 1; Use $1.00/1 Coupon
TRESemme Shampoo or Conditioner, 28 – 32 oz – $2.99
Includes: Select varieties
$2.00/1 TRESemme Shampoo or Conditioner – 11-1-15 SS; Excludes Trial and Travel Size; Maximum of 2 Like Coupons In Same Shopping Trip (exp. 11/29/15)
Final Price: Free
Buy 1; Use $2.00/1 Coupon and $1.00/1 ShopRite Digital Coupon
TRESemme Stylers, 6.5 – 10.5 oz – $2.99
Includes: Select varieties; Excludes: Expert Collection, Keratin, Aerosol Hair Spray and Natural, 25 oz
$2.00/1 TRESemme Styler – 11-1-15 SS; Excludes Trial and Travel Size; Maximum of 2 Like Coupons In Same Shopping Trip (exp. 11/29/15)
Final Price: Free
Buy 1; Use $2.00/1 Coupon and $1.00/1 ShopRite Digital Coupon
Apples, Rome, per lb – $0.99
Out-of-Pocket Price: $0.99
Final Price: $0.54
Buy 1 lb; Includes Shrink and Ibotta Rebate Savings
[favado_my_list]