Ivory Soap and Carefree are on extended sale prices at Tops. Right now you can get them FREE or for $.29 with the coupons listed in the list below!!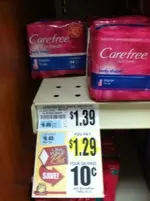 But the best deal is using the scenario below with multiple items and the Tops In Ad Coupon for $5 off $20 Health & Beauty Purchase buying Ivory Soap, Carefree, Suave & Zone Bars
There are currently no items in this list.
Print the newest coupons below: