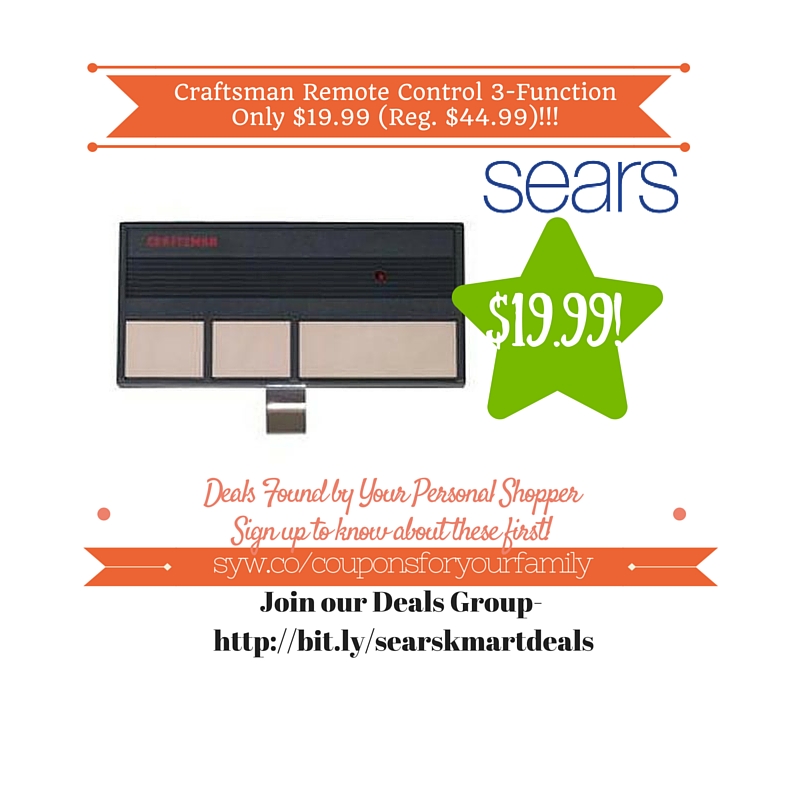 Check out the newest deal on a Craftsman Remote Control 3-Function at Sears !
How to get the best values and deals at Sears:
Become a Shop Your Way member here and choose me as your personal shopper. As your personal shopper I can help you find gifts, deals, share exclusive promotions, send you weekly coupons AND you can contact me directly through text and emails to help you shop!! Plus you'll get 3 months of FREE SYWR Max Shipping if you are a new Shop Your Way member!
Using your Shop Your Way Rewards Card: If shopping online make sure your member number is in your order. Must be scanned to get most deals/rewards at Sears In store. Every 1,000 points is worth $1.00. These are easy to redeem – when you are checking out just say you'd like to pay with the rewards you have on your card. You do not have to use your points if you want to save them up
Right now Sears has this handy Craftsman Remote Control 3-Function for only $19.99! This is a great time to replace your old remote control. Please keep in mind that this offer is ONLY available in-store so product availability may vary from store to store.
The new Remote Control 3-Function garage door opener can be used from greater distances. After a day at school or work, you're just ready to be home.You can activate the garage door before you pull into most driveways and get inside faster. An LED lights up when a signal has been sent, and also lets you know when the battery needs to be replaced, so you'll get better peace of mind that your garage door opener is operating properly.
Craftsman Remote Control 3-Function is designed to be compatible with all Craftsman Garage Door Openers built after 1993
Operate up to three different Craftsman garage door openers
LED light gives visible feedback that the signal has been sent, and also indicates when the battery requires changing
Opens garage doors from greater distances

Check out the rest of our Sears Deals here