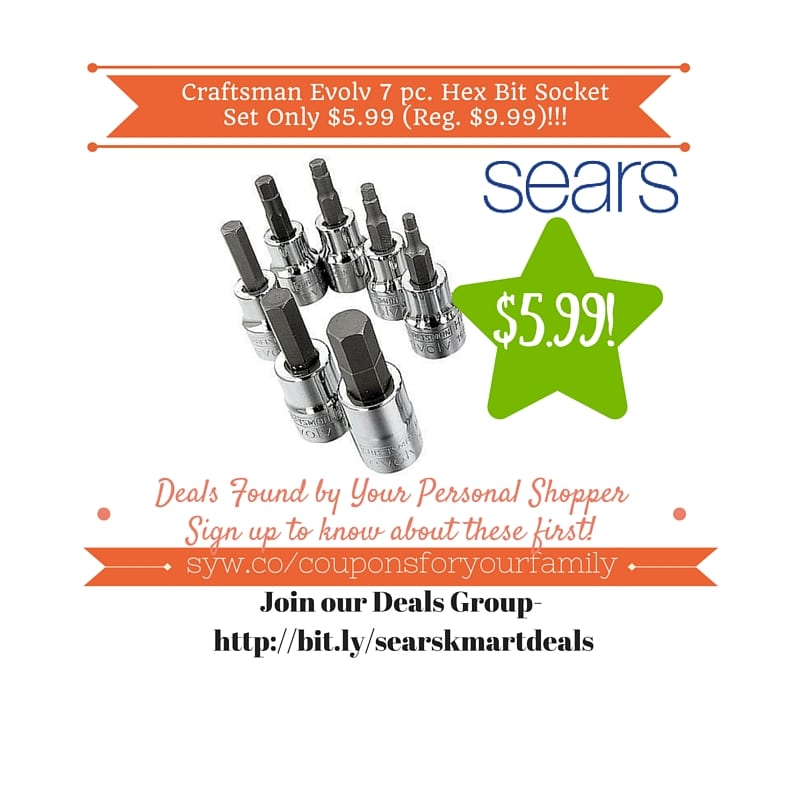 Check out the newest deal on a Craftsman Evolv 7 pc. Hex Bit Socket Set at Sears !
How to get the best values and deals at Sears:
Become a Shop Your Way member here and choose me as your personal shopper. As your personal shopper I can help you find gifts, deals, share exclusive promotions, send you weekly coupons AND you can contact me directly through text and emails to help you shop!! Plus you'll get 3 months of FREE SYWR Max Shipping if you are a new Shop Your Way member!
Using your Shop Your Way Rewards Card: If shopping online make sure your member number is in your order. Must be scanned to get most deals/rewards at Sears In store. Every 1,000 points is worth $1.00. These are easy to redeem – when you are checking out just say you'd like to pay with the rewards you have on your card. You do not have to use your points if you want to save them up
Right now Sears has this Craftsman Evolv 7 pc. Hex Bit Socket Set for only $5.99! This is a great time to add to your toll collection and these are perfect for Father's Day. Please keep inmind that his offer is for in-store pickup ONLY so product availability may vary from store to store.
Add the 7-pc. SAE hex bit socket set to your collection so that no stubborn bolt stands in your way. From working on a bike to piecing together a new furniture set or tinkering with the lawn mower, more and more bolts are hex. There are 7 different 3/8-inch standard hex bit sockets that can quickly get the job done with most ratchets. The sockets let you use a ratchet to easily up the amount of torque you can apply and work more quickly than you would with a traditional set of hex keys.
Each adapter of this 7-pc. hex bit set has a large side marking for quick identification. No more trial and error. This set comes with the most popular sizes so you will always be prepared to get the job done quickly.
Craftsman 7-pc. SAE hex bit socket set includes sizes: 1/8, 5/32, 3/16, 7/32, 1/4, 5/16 and 3/8 in.
Great for light to medium use around the house
High-quality Craftsman construction
Highly visible side markings on each size
Easy to turn with a ratchet
Craftsman Lifetime Warranty

Check out the rest of our Sears Deals here