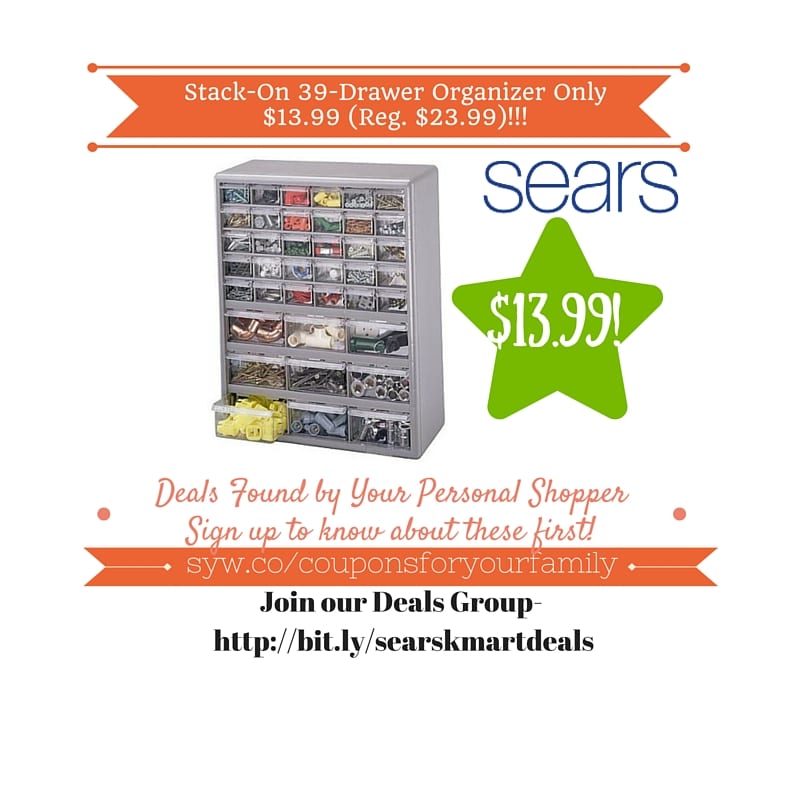 Check out the newest deal on a Stack-On 39-Drawer Organizer at Sears !
How to get the best values and deals at Sears:
Become a Shop Your Way member here and choose me as your personal shopper. As your personal shopper I can help you find gifts, deals, share exclusive promotions, send you weekly coupons AND you can contact me directly through text and emails to help you shop!! Plus you'll get 3 months of FREE SYWR Max Shipping if you are a new Shop Your Way member!
Using your Shop Your Way Rewards Card: If shopping online make sure your member number is in your order. Must be scanned to get most deals/rewards at Sears In store. Every 1,000 points is worth $1.00. These are easy to redeem – when you are checking out just say you'd like to pay with the rewards you have on your card. You do not have to use your points if you want to save them up
Right now Sears has this Stack-On 39-Drawer Organizer for only $13.99! This is a great way oy organize hardware, small tools, and more. Please keep in mind that this item is available for in-store pickup ONLY.
A contemporary heavy duty designed cabinet with a wide frame for additional strength and rigidity.
A perfect space saving solution for maximizing storage and organization
Extra-strong vertical and horizontal supports for stability and improved drawer action
Removable drawer dividers provide seemingly infinite storage options
Stop tab keeps drawer stable and prevents drawer spills
Stores easily just about anywhere for ultimate convenience

Check out the rest of our Sears Deals here