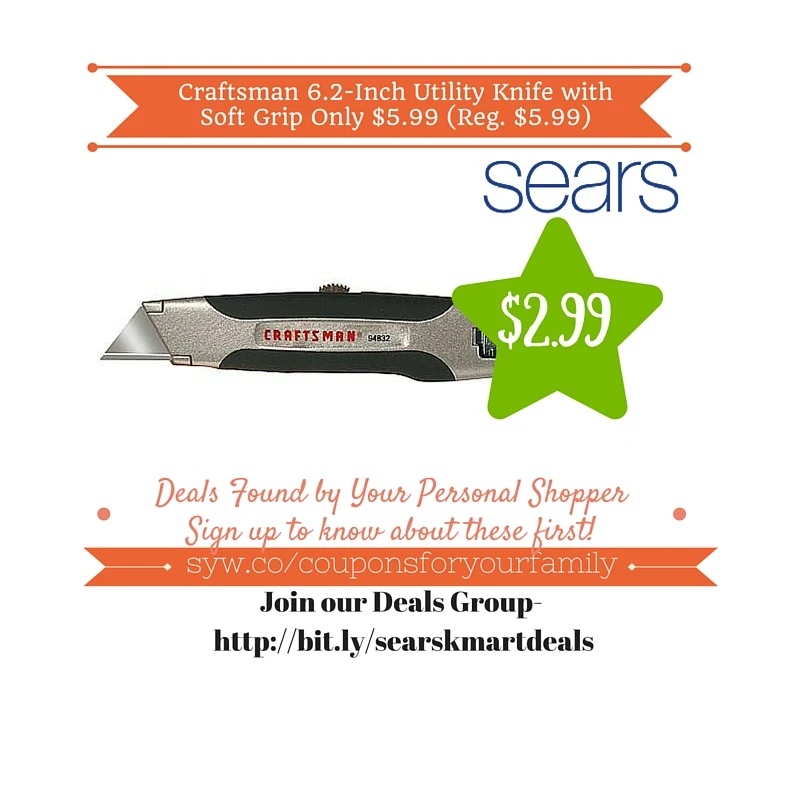 Check out the newest deal a Craftsman 6.2-Inch Utility Knife with Soft Grip at Sears !
How to get the best values and deals at Sears:
Become a Shop Your Way member here and choose me as your personal shopper. As your personal shopper I can help you find gifts, deals, share exclusive promotions, send you weekly coupons AND you can contact me directly through text and emails to help you shop!! Plus you'll get 3 months of FREE SYWR Max Shipping if you are a new Shop Your Way member!
Using your Shop Your Way Rewards Card: If shopping online make sure your member number is in your order. Must be scanned to get most deals/rewards at Sears In store. Every 1,000 points is worth $1.00. These are easy to redeem – when you are checking out just say you'd like to pay with the rewards you have on your card. You do not have to use your points if you want to save them up
Calling all handy men or women! Right now Sears has this Craftsman 6.2-Inch Utility Knife with Soft Grip for only $2.99! Plus you can get FREE shipping on orders over $35.
Uses for the Craftsman soft-grip utility knife vary, from cutting boxes and plastics to drywall and roof shingles. Whether you're a professional Craftsman or a DIY enthusiast, this hand tool is a must-own. The Craftsman utility knife is high quality with a soft grip that helps prevent hand fatigue. The knife is made of silver-painted aluminum with a soft, Santoprene cover. It is small and lightweight for ease of use on the go, from job to job.
The soft-grip utility knife has a slider, made of tempered spring metal, to give you fast access to the blades within. The knife contains three heavy-duty blades in the handle, 0.024 inches thick. In addition, universal two-notch and three-notch blades fit. A useful feature is the internal rubber fingers, which prevent spare blades from dulling or shaking. The Craftsman name proudly displays on the knife's side; trust in the brand that is well-known for the high standards it sets for its tools. It has a sleek appearance in silver and black, with a 6.2-inch length.


Check out the rest of our Sears Deals here
Join our Groups for more Savings:
Couponing to Cut Your Grocery Bill
Couponing at CVS, Walgreens and RiteAid
Couponing at Walmart, Target and Kmart
Sears and Kmart Steals & Deals
Tops Markets Hottest Deals
Wegmans Facebook Group
Printable CouponsForFree FB Group
Coupons.com Facebook Group
NEW- Freebies, Cheap Deals, Giveaways and Sweeps
NEW- Simple Living Tips
Extreme Couponing Nationwide Deals
Hot Online Deals
Topic: Sears