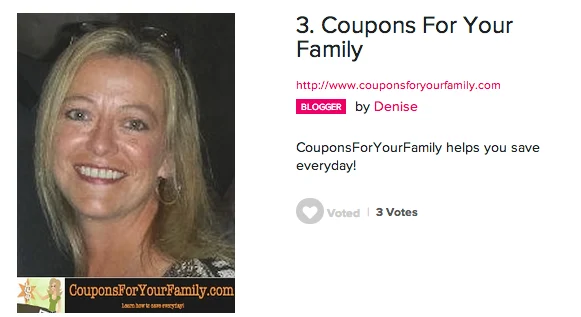 I could be in the running to be one of the Top 25 Couponing Moms!
As a mom raising 4 boys, most of you know I cannot afford to feed them without coupons!!
Hence, CouponsForYourFamily.com was born so I could share the deals at local stores to help you save for your family too!!
I am very excited that it would even be possible for myself and Coupons For Your Family to be on this list, let alone maybe be in the Top 25??
I would love to make it to the Top 25!
If our deals and coupons have ever helped save your family money would you mind helping me be in the running for the Top 25 Couponing Moms?
Would you take a moment to vote for me here ??
I would greatly appreciate it!!
If you are unaware of Circle of Moms website, make sure to check out their great Mom Communities on Parenting, Food & Fun, Shopping and tons more!
Their communities offer great places to talk about issues, questions and just plain old conversations Mom's have!
Some of the conversations going on now:
Two of my triplets may not pass first grade.
Need help with verbal abusive husband to children
I need some advice on how to deal with your OWN parents after having a baby!
Thanks so much for being loyal readers to Coupons For Your Family and for voting for me to be one of the Top 25 Couponing Moms!!
Topic: Top 25 Couponing Moms