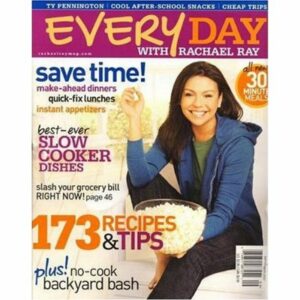 Here is today's Magazine Deal of the Day :
A one year subscription of 10 issues of Everyday with Rachael Ray is available for only $24!!

A magazine for smart entertaining, delicious food, and spur of the moment travel. In every issue of this magazine you will find easy 30-minute meals, a meal for small gatherings, Rachel's Diary, Every Day Menu Planner and much much more!Everyday With Rachael Ray is part of the Food family of magazines. It is generally sold to individuals and businesses and quite often can be found in a reception room or waiting room of a company or a professional office like a dentist, doctor, health club, gym, or beauty and hair salon. A full year magazine subscription to Everyday With Rachael Ray includes issues delivered right to your mailbox.

Retail Price $39
Sale Price $24
Topic: Magazine Deal