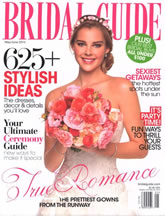 Here is the Magazine Deal of the Day :
A subscription of 6 issues of Bridal Guide is available for only $9.97!!

Bridal Guide addresses all the needs of engaged couples – from the latest news in fashion and beauty to the best registry items and hottest honeymoon destinations. It's committed to helping brides and grooms have their dream wedding on a practical budget.

Retail Price $29.70
Sale Price $9.97
Topic: Magazine Deal