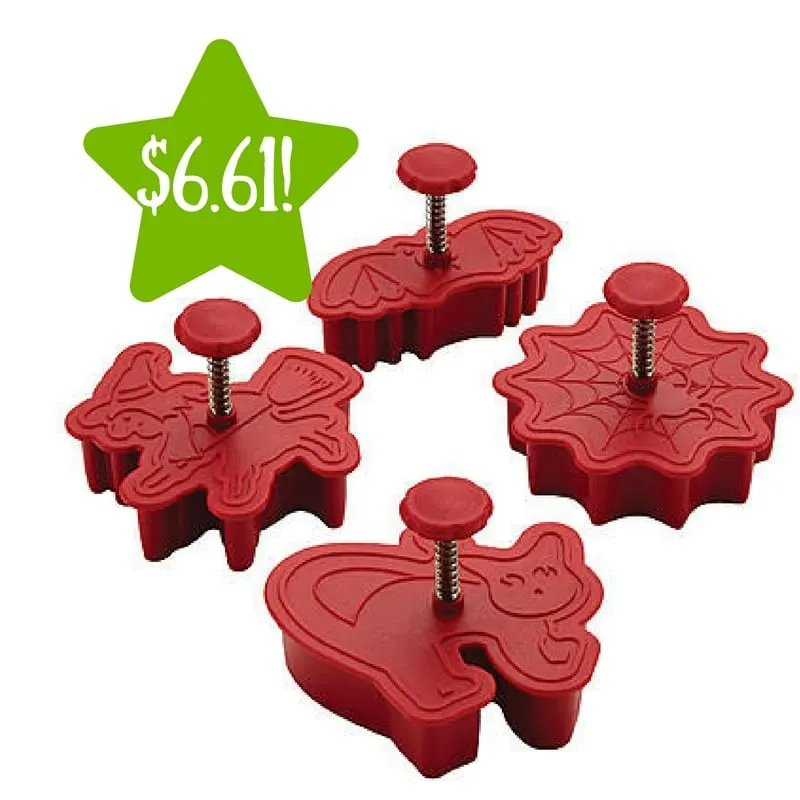 Check out the newest deal on a 4-Piece Halloween Fondant Press Set at Kmart!
How to get the best values and deals at Kmart:
Become a Shop Your Way member here and choose me as your personal shopper. As your personal shopper I can help you find gifts, deals, share exclusive promotions, send you weekly coupons AND you can contact me directly through text and emails to help you shop!! Plus you'll get 3 months of FREE SYWR Max Shipping if you are a new Shop Your Way member!
Using your Shop Your Way Rewards Card: If shopping online make sure your member number is in your order. Must be scanned to get most deals/rewards at Sears In store. Every 1,000 points is worth $1.00. These are easy to redeem – when you are checking out just say you'd like to pay with the rewards you have on your card. You do not have to use your points if you want to save them up
Right now at Kmart you can pick up this 4-Piece Halloween Fondant Press Set for only $6.61! This set is a fun way to celebrate Halloween with your kids. Plus this deal is available for FREE in-store pickup or you can get FREE shipping on orders over $30.
4-Piece Halloween Fondant Press Set Features…
Scare up some spooktacular designs on cakes, cupcakes, and more with the Cake Boss Decorating Tools 4-Piece Halloween Fondant Press Set. This fun, festive seasonal fondant press set includes four traditional Halloween-themed shapes – a bat, a witch, a cat, and a spider in its web – that take the fright out of decorating for bakers of all levels. Each fondant press is constructed from solid, durable nylon, and features a convenient spring-loaded handle to help decorators of all ages lift and move the presses around on rolled fondant, pastry and cookie dough. Make festive accents on cakes for Halloween parties for children and adults or put a seasonal touch on a pumpkin pie as a special treat. The fondant presses work especially well with other Cake Boss fondant tools and should be handwashed. This fondant press set complements many other items in the full assortment of Cake Boss Decorating Tools and the entire Cake Boss collection. Add seasonal spirit to rolled fondant for themed cakes using the Cake Boss Decorating Tools 4-Piece Halloween Fondant Press Set, and show those goblins who's the Boss!

Check out the rest of our Kmart Steals and Deals here