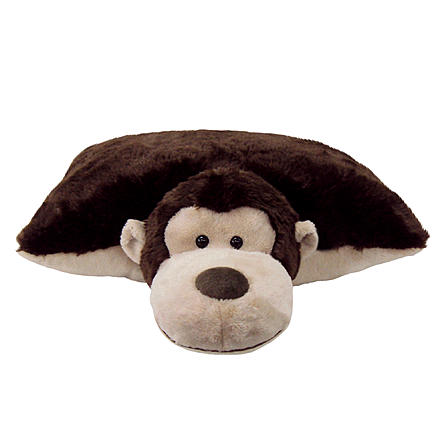 Check out the newest deal on a 15″ Plush Pillow – Monkey at Kmart !
How to get the best values and deals at Kmart:
Become a Shop Your Way member here and choose me as your personal shopper and you will get a coupon emailed to you for signing up as my client and you'll get 3 months of FREE SYWR Max Shipping.
Using your Shop Your Way Rewards Card: If shopping online make sure your member number is in your order. Must be scanned to get most deals/rewards at Kmart In store. Every 1,000 points is worth $1.00. These are easy to redeem – when you are checking out just say you'd like to pay with the rewards you have on your card. You do not have to use your points if you want to save them up
If you are planning on traveling this holiday season, this adorable 15″ Plush Pillow – Monkey, for only $6.50, is perfect for any child to play withe and take a nap on during travel. Plus you will get back $0.06 in SHOP YOUR WAY Rewards Points!
These adorable pillows will be your child's new best friend. They fold in half with velcro to create an animal body or they unfold to make a soft cuddly pillow.
Fold in half for a new best friend, lay flat for a place to rest your head
Includes velcro which holds pillow in folded position
Approximately 15″ when laying flat
Recommended ages: 3 years and up

Check out the rest of our Kmart Deals here
Find the Best Deals for Holiday shopping in our Groups below:
Kmart and Sears Steals and Deals Facebook Group here
Hot Online Deals Facebook Group here
NEW* Freebies, Cheap Deals, Sweeps and Giveaways Facebook Group here
LIKE our Black Friday and Cyber Monday Deals Page here
Topic: Kmart