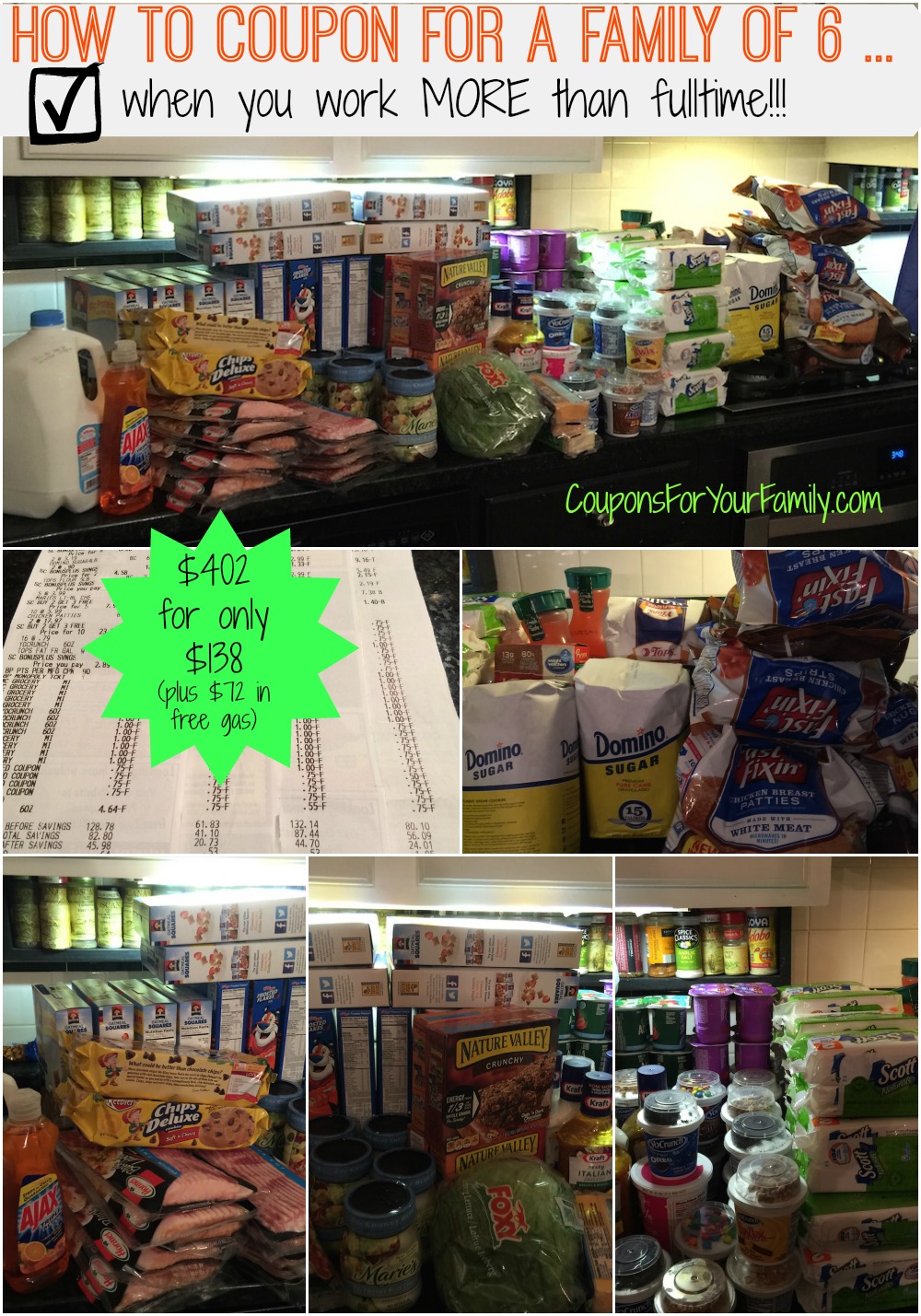 5 Easy steps to learn How To Coupon for a large family …even if you work a full time job!!
Everyone asks me how I am able to work Full Time, Coupon and Cook for my Family, plus run the site and publish deals for everyone else! Well, with running the site I am pushing myself..I would be lying if I said any different! BUT..if I was just working full time obtaining these results of more than 75% every week would be easy!! I will be trying to share my personal shopping pictures and tips more so everyone hopefully learn something that could help them save more money for their family!
I do not consider myself to be an Extreme Couponer….I just have a need to feed a family of 6 and do not want all of our hard earned income going to household item and foods. I want extra money to buy the things we want and do the things we enjoy all while not scrimping on meals!
SO with that said….
I made the above shopping trip last night at Tops Friendly Markets at 2 am! Yes..you read that right! The bacon and chicken B2G3 deals and cereal deals I could not miss. Not when I have to feed a crew like below (yes I am in there..LOL):
FACT: If you shop week to week for the meals you are going to make with out stocking up items, you will only save minimal amount using coupons or even when buying generic and will have to pay full price on items you need to feed your family.
Step One: You need to begin stocking up on the items your family regularly eats and uses and set aside a time each week to plan:
-follow blogs such as ours that cover stores you shop at. You can find the stores we cover here. Also watch daily for new printable coupons to print and hold for upcoming sales.
-join couponing facebook groups that have reader activity in them because then you are getting blogger deals and reader deals
-your goal is to eventually only buy items on sale when matched with a coupon at the stores you normally shop at so you are not making 10 trips.
STEP TWO: Know what you need and what you want
-take an inventory of what you have in your freezer and pantry, have an idea of what meals you will make , then review your stores sales and your Shopping List. I use the matchups on our site which automatically syncs with the Favado Smartphone App. You can email yourself a list to print or pull coupons from Sunday Newspaper Inserts.
STEP THREE: You need paper coupons along with printables to save 75%.
-Decide if you want to get multiple Sunday Newspapers every week or Buy Coupons from a Coupon Clipper or maybe both.
-To start with least amount of work and time, watch our Coupon Matchups and start buying coupons every week for items that have the least amount out of pocket spent- ex Free etc. However this will only stock your pantry/freezer usually. It will not give you deals on meats, fresh produce etc.
STEP FOUR: Organize Your Coupons

– we discuss this in more detail in our 10 Tips to Save 50% using coupons post. Time is money so I use the methods that require the least amount of my time. I file my Sunday inserts in manilla folder by date so I can easily pull out the ones I want to use when I see a good deal. I file my printables or purchased coupons alphabetically in an envelope with paperclips so I can thumb through them quickly.
-before going to store have your coupons in an envelope for any deals that must be bought in combination transactions
STEP FIVE: Know your Stores Coupon Policies and Rain Check details

– Because I work full time I shop 5 stores basically and have learned all of the store policies. Within each of our Coupon Matchups we list a link to that stores policy. I shop Tops Markets and Aldi weekly, Wegmans usually bimonthly, Kmart and Dollar General whenever I see a great deal. I do not go to more than 2 stores in one week. If I did not work full time I would also shop the drugstores, but I cant dedicate myself to be there every week to use the Extra Care coupons, so I only go when there is something free that I need.
– make sure to get a raincheck if your store is out of an item.
So following the above simple 5 Steps How To Coupon, I used last weeks Tops Markets sales with printable coupons and purchased Clipped coupons to fill my freezer and pantry. 
1) My cereal count was getting limited, we were down to 3 packages of bacon and completely out of quick meal/snack Chicken. Yogurt is great for breakfast or a snack. The rest purchased were good deals I knew we would use.
2) I used our Tops Coupon Matchups here (these change weekly) and purchased the Oatmeal Squares coupons from Klip2Save and Scotties Wipes coupons from My Coupon Hunter. I had a raincheck from the Yo Crunch Sale during dollar doubler week at Tops along with coupons I had purchased.  All of the rest of the coupons were printables from that weeks Tops Coupon Matchups.
3) The total retail value was $402.85 and I paid at the register only $138.17 for 105 items!!
I broke it up into 4 transactions by putting 4 Reusable shopping bags in my cart to maximize coupon doubling and Gas points.
16 cereal – mix of $1/1 and $.50/1 coupons
12 Scott Wipes- used 12 $.75/1 coupons
10 lbs Hormel Bacon – Sale B2G3 free and used (4) coupons
10 Fast Fixin Chicken – Sale B2G3 free (i had no coupons for these)
5 Maries Blue cheese- Sale B2G3- used (2) $1/1 coupons
16 Yo Crunch- Raincheck for 16 at $.50 each, used (4) $1/4 with (4) Dollar Doublers
4 Activia Yogurt 4 packs- used (4) $1/1 printable coupons
4 Dannon Light and Fit- use (4) $1/1 printable coupons
4 boxes Nature Valley Granola- $.50/1 and $.75/1 printable coupons
4 Kraft Dressing- (2) $1/2 printable coupons
2 Domino Sugar – used $.75/2 coupon
Flour- no coupon
2 Simply Lemonade – used (2) $.75/1 coupons
Milk- ibotta cash back app
1 Boca Burger- Discontinued at $2.19 used $1/1 coupon
Dish Detergent- Cash back for $.25 thru app
3 Cabot Cheese (Swiss) – $1/2 coupon
1 Friendlys Cottage cheese -$.55/1 printable
2 Keebler Cookies B1G1 – no coupons
Lettuce
4) I combined all in groups to receive the most Gas Bonus Points that Tops offered and received $2.40 per gallon in points which =  30x$2.40= $72!!
Net Cost= Out of pocket $138 less $72 in Gas= $66 for $407 in groceries!
How much easier can it be to save everyday?
Join our Facebook Groups to see more deals like these:
Couponing to Cut Your Grocery Bill
Couponing at Tops Markets
Couponing at Wegmans
Couponing at Save A Lot
Couponing the Dollar Stores
Couponing at Dollar Tree
Couponing at CVS, Walgreens and RiteAid
Couponing at Walmart, Target and Kmart
Sears and Kmart Steals & Deals
Printable CouponsForFree FB Group
Coupons.com Facebook Group
Freebies, Cheap Deals, Giveaways and Sweeps
Hot Online Deals
Topic: How to Coupon for Family of 6