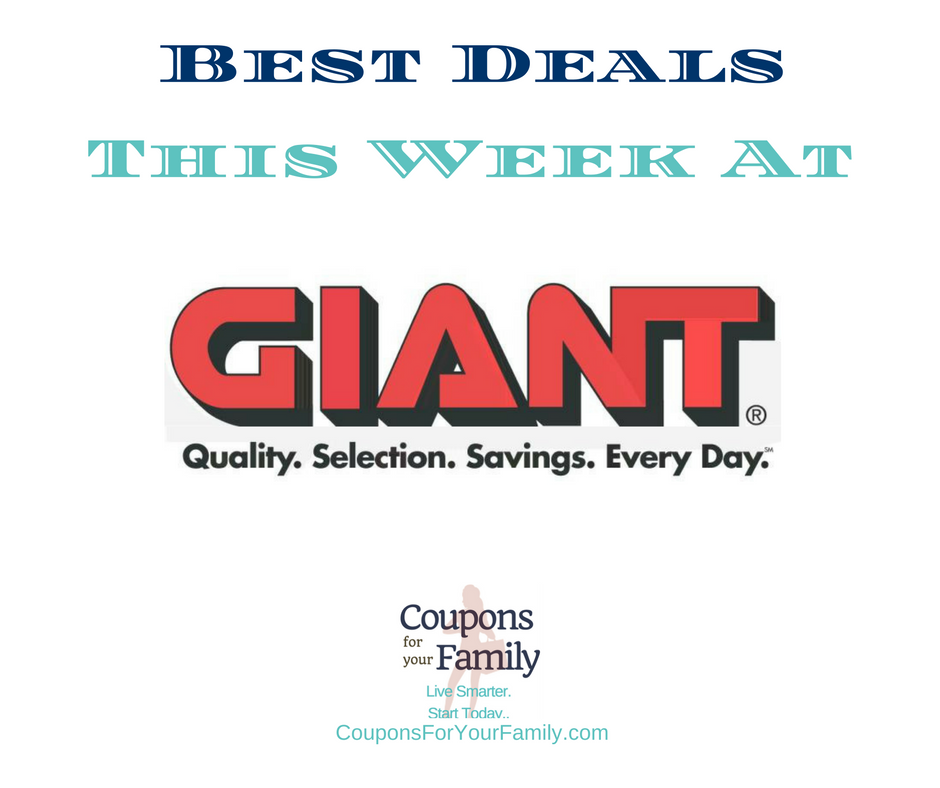 This weeks best Giant Coupons and Deals July 7 – 13

Here is a list of the best Giant Coupons and Deals that will help you save money!
View the entire list of this weeks matchups head over to see the new Giant Coupon Matchups page.
If you are new here, check out the Coupon Abbreviation page to become familiar with Coupon Lingo and our 10 Tips to Save with Coupons. Print new coupons on Coupons.com, SmartSource, and RedPlum !
Here are a few facts regarding Giant Food Stores:
-Giant Stores are located in Delaware, Maryland, Virginia, and Washington DC
-To find a location near you check out the locator here on Giant Foods website.
-Sign up for a My Giant Card to earn Gas Points, get special promotions, A+ School Rewards Cash Back, Checkout coupons and more.
–Giant Coupon Policy can be read here. Giant doubles manufacturer coupons up to $.99, only 4 identical coupons will double in one transaction, the 5th coupon would be at face value.
Download the Free Favado Mobile App to get all of these matchups in your phone here –> Best Grocery List and Coupon Mobile App . The app will allow you to see all your favorite store sales whether they have a coupon or not, and let you choose the items you need PLUS show the same coupon matchups you see on our site!!
Here are just the highlights for this week. Visit the Giant Coupon Matchups page for the rest of this weeks deals.
General Mills Cereal, 18 – 23.5 oz – B2G1
Includes: Cheerios, Multi Grain Cheerios, Rice Chex, Corn Chex, Kix, Apple Cinnamon Cheerios, Honey Nut Cheerios, Cinnamon Toast Crunch, Cocoa Puffs, Golden Grahams, Lucky Charms or Reese's Puffs
$0.50/1 General Mills Cinnamon Toast Crunch, Apple Cinnamon Toast Crunch, Strawberry Toast Crunch, Blueberry Toast Crunch
$1.00/1 General Mills Apple Cinnamon Toast Crunch, Strawberry Toast Crunch OR Blueberry Toast Crunch
$1.00/2 Big G Cereals – SavingStar eCoupon; Includes Cheerios, Cinnamon Toast Crunch, Lucky Charms, Reese's Puffs, Chex, Cocoa Puffs, Trix, Fiber One, Cookie Crisp, Golden Grahams, Kix, Total, Wheaties, Dora the Explorer, Oatmeal Crisp, Raisin Nut Bran, Basic 4, Girl Scouts , Tiny Toast , Nature Valley Boxed Cereal, Nature Valley Granola (exp. 07/30/17)

$1.00/2 General Mills Cereals – 6-4-17 SS; Includes Lucky Charms, Cinnamon, French, Blueberry, or Strawberry Toast Crunch, Reese's Puffs, Cocoa Puffs, Trix, Cookie Crisp, Golden Grahams, Kix, Dora The Explorer, Girl Scouts, or Tiny Toast Varieties Only (exp. 07/15/17)

$1.00/3 General Mills Boxed Cereal – 7-9-17 SS; Includes Cheerios, Cinnamon Toast Crunch, Chex, Lucky Charms, Cocoa Puffs, Trix, Reese's Puffs, Fiber One, Cookie Crisp, Golden Grahams, Kix, Total, Wheaties, Dora The Explorer, Oatmeal Crisp, Raisin Nut Bran, Basic 4, Girl Scouts, Tiny Toast, or Nature Valley Boxed Cereal Varieties Only (exp. 08/19/17)
Kellogg's Products – $1.99
$1.99 wyb 3 (or 2/$5)Includes: Frosted Flakes 15 oz, Apple Jacks or Froot Loops 12.2 oz Corn Pops 12.5 oz, Krave 11 – 11.4 oz, Special K Bars 4.4 – 7.38 oz, Nutri-Grain Bars 10.4 oz or Treats 4.68 – 6.2 oz
$0.50/1 Kellogg's Krave Cereal; Includes 11 oz or Larger Only; Limit of 4 Like Coupons In Same Shopping Trip
$1.00/1 Kellogg's Nutri-Grain Bars, Special K Bars or Rice Krispies Treats Crispy Marshmallow Squares; Redeem for 850 Points; Includes 5 ct or Larger Only; Limit of 4 Like Coupons In Same Shopping Trip
$1.00/2 Kellogg's Apple Jacks Cereal; Includes 8.7 oz or Larger Only; Limit of 4 Like Coupons In Same Shopping Trip
$1.00/2 Kellogg's Corn Pops, Krave, or Apple Jacks Cereals; Boost to $1.50/2; Includes 8.7 oz or Larger Only; Limit of 4 Like Coupons In Same Shopping Trip
$1.00/2 Kellogg's Froot Loops Cereal; Includes 8.7 oz or Larger Only; Limit of 4 Like Coupons In Same Shopping Trip
$1.00/2 Kellogg's Frosted Flakes Cereals; Includes 10.5 oz or Larger Only; Limit of 4 Like Coupons In Same Shopping Trip

$1.00/2 Kellogg's Cereals – 6-25-17 RP; Includes: All-Bran, Frosted Mini Wheats, Crispex, Mueslix, Rice Krispies, Special K, Smart Start, Kellogg's Corn Flakes or Raisin Bran (exp. 08/06/17)

$1.00/3 Kellogg's Cereals – 6-4-17 RP; Includes 6.7 oz or larger only (exp. 07/16/17)
Final Price: $1.49
Condiments, Spice & Baking
Newman's Own Salad Dressing, 9 – 16 oz – $2.50
Out-of-Pocket Price: $1.50
Final Price: $0.50
Buy 1; Use $1.00/1 Coupon; Includes Ibotta Rebate Savings
Icelandic Style Skyr Yogurt, 5.3 oz – $1.00
Final Price: $0.50
Barilla Ready Pasta, 8.5 oz – $1.50
$1.00/1 Barilla Ready Pasta Pouch – 6-18-17 RP (exp. 08/13/17)
Final Price: $0.50
Arm & Hammer Laundry Detergent, 43.75 – 50 oz – $1.99
Save $1.00/1 with Digital Coupon
Final Price: $0.99
Buy 1; Use Digital Coupon
Includes: Air Effects 8.8 oz, Set & Refresh 0.18 oz or Stick & Refresh or Car Vent Clip 1 ct; Excludes: First Defense and Heavy Duty
B1G1 Febreze Product – 7-2-17 PG; Excludes Unstopables; Maximum Value $3.29; Excludes Trial and Travel Size; Limit of 2 Identical Coupons Per Household Per Day (exp. 07/15/17)
Final Price: $1.49
Gain Liquid Laundry Detergent, 50 oz – $3.99
Final Price: $1.99
Nature's Promise Meat Products – 25% OFF
Cascadian Farms Organic Products, 6.2 – 16 oz – $2.50
Includes: Cereal 8.6 – 16 oz, Granola or Bars 6.2 – 8.85 oz
Final Price: $1.50
Barbasol Shave Cream, 10 oz – $1.49
$0.50/1 Barbasol Shaving Cream – 7-9-17 RP; Includes 10 oz Only (exp. 08/19/17)
Final Price: $0.49
Buy 1; Use $0.50/1 Coupon (doubles)
Alive Multivitamins – $7.99
Out-of-Pocket Price: $4.99
Final Price: $2.99
Buy 1; Use Shared Coupon; Includes Ibotta Rebate Savings
GIANT Romaine Hearts, 3 ct – $2.99
$1.47 with in-ad coupon & $25 purchase; Limit 1
Final Price: $1.47
Buy 1; Use in-ad coupon