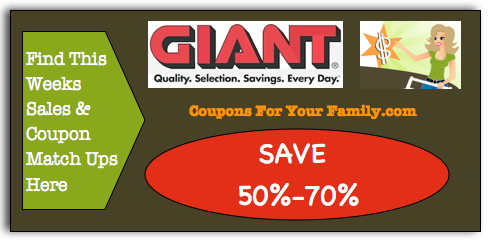 Here are this weeks TOP Giant Coupon Matchups Feb 26 – Mar 3
** to view the entire list of this weeks matchups head over to see the new Giant Coupon Matchups page.
This system will allow you to see all the items on sale and check of the items you want plus be able to add custom items on your list! If you are new here, check out the Coupon Abbreviation page to become familiar with Coupon Lingo and our How To Save Money Using Coupons page
Don't forget to check Coupons.com, SmartSource, RedPlum, Hopster.com, and Common Kindness, Shopmium, and Checkout51 for new coupons that came out after these coupon matchups were completed.
Here are a few facts regarding Giant Food Stores:
-Giant Stores are located in Delaware, Maryland, Virginia, and Washington DC -To find a location near you check out the locator here on Giant Foods website.
-Sign up for a My Giant Card to earn Gas Points, get special promotions, A+ School Rewards Cash Back, Checkout coupons and more.
–Giant Coupon Policy can be read here. Giant doubles manufacturer coupons up to $.99, only 4 identical coupons will double in one transaction, the 5th coupon would be at face value.
Download the Free Favado Mobile App to get all of these matchups in your phone here –> Best Grocery List and Coupon Mobile App . The app will allow you to see all your favorite store sales whether they have a coupon or not, and let you choose the items you need PLUS show the same coupon matchups you see on our site!!

The app also includes other National and Regional Deals that we do not cover but you can choose the 10 you would like to have as your Favorites

Hence–the perfect Grocery List right on your Smart phone that will allow you to save 50-70% off!!
Here are just the highlights for this week. Visit the Giant Coupon Matchups page for the rest of this weeks deals
Buy 6 participating products, Earn 400 Choice Rewards Points
Fiji Water, 33.8 oz – $1.67
Includes: Select varieties
$0.50/1 Fiji Water Bottle – 2-21-16 SS; Includes 500 mL Only (exp. 04/21/16)

$0.50/1 Fiji Water Bottle – 2-21-16 SS; Includes 500 mL or larger Only (exp. 04/21/16)
Final Price: $0.67
Buy 1; Use $0.50/1 coupon (doubled)
Acadia Spring Water, 35 pk 16.9 oz – $2.99
With In-Ad Coupon and $25 Additional Purchase; Limit 1Includes: Select varieties
Coca-Cola Products, 2 L – $0.99
Must buy 4Includes: Select varieties
Giant brand Italian Bread, 20 oz – $1.50
Includes: Seeded, Unseeded or Wheat
Out-of-Pocket Price: $1.50
Final Price: $1.00
Buy 1; Includes Ibotta Rebate
Buy 1 Kellogg's Special K Cereal, Get 1 Giant brand Be Well Cereal, 12 oz FREE Instantly
Kellogg's Special K Cereal, 11.2 – 12 oz – $3.19
Includes: Select varieties; Red Berries, Vanilla Almond, Fruit & Yogurt or Original
Final Price: $2.19
Buy 1; Use $0.50/1 coupon (doubled); Get FREE Be Well Cereal
General Mills Cereals, 10.9 – 13 oz – $2.50
Includes: Select varieties; Pictured: Honey Nut Cheerios
Final Price: $1.50
Buy Cinnamon Toast Crunch or Honey Nut; Use $0.75/1 coupon (doubled)
Kellogg's Cereal, 11 – 15.5 oz – $2.50
Includes: Select varieties
Final Price: $1.50
Buy 1; Use $0.50/1 coupon (doubled)
Kellogg's Pop-tarts, 6 – 8 ct – $0.99
With In-Ad Coupon and $25 Additional Purchase; Limit 1Includes: Select varieties
Final Price: $0.19
Buy 1; Use $0.40/1 coupon (doubled) and In-Ad coupon with Additional $25 Purchase
Bertolli Pasta Sauce, 18 – 24 oz – $2.00
Includes: Select varieties
Out-of-Pocket Price: $2.00
Final Price: $1.25
Buy 1; Includes Ibotta Rebate
Furmano Tomatoes, 28 oz – $1.00
Includes: Select varieties
$1.00/2 Furmano's Tomatoes – 1-24-16 SS (exp. 02/29/16)

$1.00/3 Furmano's Tomatoes – 1-24-16 SS (exp. 02/29/16)
Final Price: $0.50
Buy 2; Use $1.00/2 coupon
Condiments, Spice & Baking
Skippy Peanut Butter, 15 – 16.3 oz – $1.99
Includes: Select varieties
Final Price: $0.99
Buy 1; Use $0.55/1 coupon (doubled)
Nabisco Cookies or Crackers, 12 – 20.6 oz – $2.88
With In-Ad Coupon and $25 Additional Purchase; Limit 1
$0.75/2 Nabisco Cookie or Cracker Product – 1-17-16 SS; Includes 4.5 oz or Larger Only (exp. 02/27/16)

$1.00/3 Nabisco Cookie or Cracker Product – 1-17-16 SS; Includes 4.5 oz or Larger Only (exp. 02/27/16)
Chobani Greek Yogurt, 4.2 – 5.3 oz – $1.09
Includes: Select varieties
Final Price: $0.55
Buy 2; Use B1G1 coupon
Dannon Light & Fit Yogurt, 4 pk – $2.00
Includes: Select varieties
$1.00/1 Dannon (3) Light & Fit Single Serves or (1) Light & Fit 4 pk or Quart – 2-21-16 SS (exp. 03/31/16)
Final Price: $1.00
Stonyfield Yogurt, 5.3 oz – $1.25
Includes: Select varieties
Final Price: $0.63
Buy 2; Use B1G1 coupon
Kleenex Facial Tissues, 60 – 120 ct – $1.33
3/$4 (or $1.59 each)Includes: Select varieties
Out-of-Pocket Price: $1.00
Final Price: $0.67
Buy 3 Ultra or Lotion if included in sale; Use $0.50/3 coupon (doubled); Includes Ibotta Rebate
Perdue Fresh Chicken or Grilled Short Cuts; Mix & Match
Perdue Short Cuts, 8 – 9 oz – B1G1
Includes: Perdue
Pork, Prime Roast, Boneless, per lb – $1.49
Sausage, Italian, per lb – $1.67
With In-Ad Coupon and $25 Additional Purchase; Limit 1Sold in Value Pack – 2.5 lb
Spend $20 on participating Personal Care items, Save $6 Instantly
Listerine Dental Floss, 50 yd – $1.50
Includes: Select varieties
Final Price: $0.50
Buy 1; Use $1.00/1 coupon; Combine with other personal care products for additional savings
With In-Ad Coupon and $25 Additional Purchase; Limit 1
Mushrooms, White, 8 oz – $1.00
Blue Diamond Almond Breeze, 32 oz – $2.00
Includes: Select varieties
$1.00/1 Blue Diamond Shelf Stable Almond Breeze – 1-17-16 SS; Includes 32 oz or Larger Only (exp. 03/20/16)

$1.00/2 Blue Diamond Shelf Stable Almond Breeze – 1-17-16 SS; Includes 32 oz or Larger Only (exp. 03/20/16)
Final Price: $1.00
Buy 1; Use $1.00/1 coupon

Topic: Giant Coupon Matchups
[favado_my_list]