---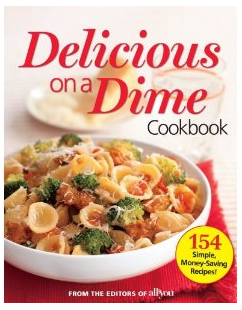 Coupons / Current Giveaways / Deals / Enter to Win / Magazines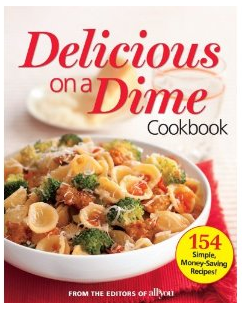 For the month of November, All You and Coupons For Your Family teamed up to offer 2 prizes for 2 lucky winners!!
One winner will win a Delicious on A Dime Cookbook and another winner will win One Year subscription to All You Magazine!!
1)Delicious on a Dime Cookbook–154 Simple, Money Saving Recipes–many less than $1 per serving!
This cookbook is great because the recipes have the cost per serving estimate for each dish.  Many complete meals for under $10 (which we know we can get less with our coupons).  It also lists hands on time estimates for each recipe, a color photo and nutritional analysis.  Each page has time and money saving tips too!
You can purchase this great Delicious on a Dime Cookbook here for only $8.69 (price subject to change on Amazon). If you purchase the cookbook and win the contest we will refund your purchase once you are notified you are a winner and email us a copy of your receipt.
2)All You Magazine Subscription plus 101 Money Saving Tips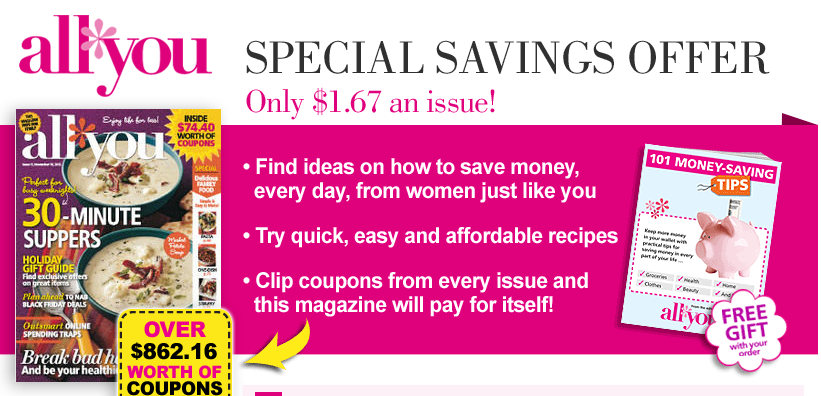 My favorite magazine is All You.  In fact right now you can subscribe to All You for only $19.97 a year and when you do you get free- 101 ways to Save as a FREE Gift!  That is only $1.67 an issue! There are over $862 worth of coupons in an annual subsription. Definitely worth the $19.97 cost per year plus each magazne is packed full of great Money Saving Articles.  Get in on this All You Magazine Deal HERE.
If you subscribe before the drawing is over and you win, we will also refund your purchase price once you are chosen as winner and email us a copy of our receipt.
Enter to win one of these great Money Saving Prizes below in the Rafflecopter
a Rafflecopter giveaway

Disclaimer: The Cookbook Giveaway portion is being supplied by ALL YOU and the subscription Giveaway is being supplied by Coupons For Your Family.
Recommended Posts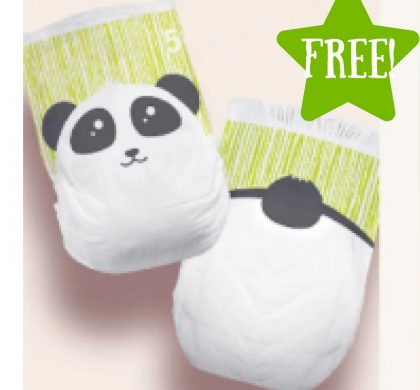 22 May 2018 - Deals, Free/Cheap, Freebies