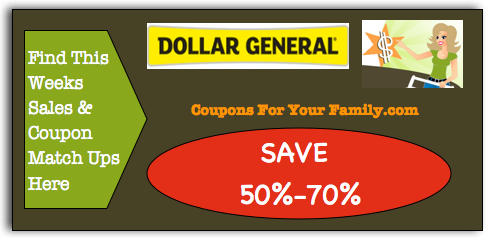 Here are some of the best Dollar General Coupon Matchups available this week.
We are now using a new coupon matchup program to help make your sales and coupon shopping even easier. This system will allow you to see all the items on sale and check of the items you want plus be able to add custom items on your list!
Quick Facts regarding Shopping at Dollar General:
Please remember that prices on these lists may vary by location! Check your store prices when purchasing!!
Download the Free Favado Mobile App to get all of these matchups in your phone here–> Best Grocery List and Coupon Mobile App .
The app will allow you to see all your favorite store sales whether they have a coupon or not, and let you choose the items you need PLUS show the same coupon matchups you see on our site!!
The app also includes other National and Regional Deals that we do not cover but you can choose the 10 you would like to have as your Favorites 

Hence–the perfect Grocery List right on your Smart phone that will allow you to save 50-70% off!!

Make sure to check our other Dollar General Coupon Posts below:
–Dollar General Ad Scan Preview when available
–Dollar General Store Coupons
–UNADVERTISED Dollar General Coupon Matchups
–Shop Dollar General Online here
–Dollar General Coupon Codes
Aldi Weekly Sales| CVS Coupons | Dollar General Coupons |  Dollar Tree | Family Dollar Coupons | Food Lion Coupon | Giant Coupons  | Giant Eagle Match-ups | Kinney Drugs Coupons  | Kmart Coupons | Kroger Coupons  | Martins Coupons |Meijer Coupons | Organic Coupons | Pathmark Coupons | Price Chopper Coupons  | Publix Coupons  | Rite Aid Coupons | Save A Lot Coupons  |Shop and Save Coupons  | Shop For Free List | ShopRite Coupons  |Target  Coupons  | Tops Coupon | Walgreens Coupons  |Walmart Coupon | Wegmans Coupons 
Topic: Dollar General Coupon