Check out the Aeropostale and Sale Items plus Aero Coupons below!!
Right now Select Aeropostale Brand Hoodies are on clearance for $11.98, Jeans for $10.99, Tees for $3.99 and more
See the outfit deal below with 30% off coupon code –Tee, Hoodie and Legging for $23 plus pay with Paypal and get 2 day shipping free: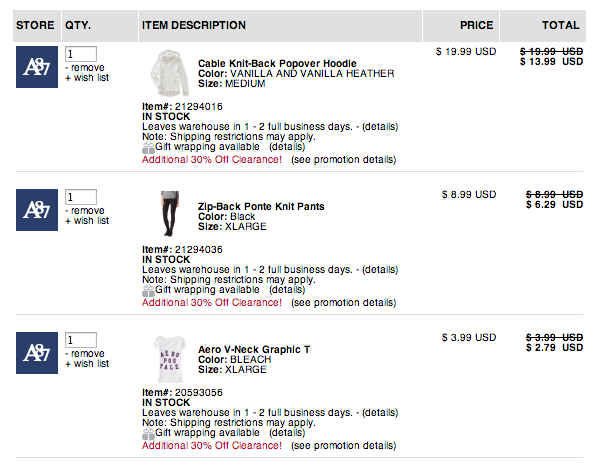 Aeropostale and Sale: Coupon Codes
Aero Coupons: Extra 30% off Clearance with Aero coupon code EXTRA30
Aero Coupons: $25 Off Orders of $100 or More at Aeropostale!
Aero Coupon: Declare Your Denim. All Aeropostale Brand Jeans: Free Shipping and Returns. Use code: NEWSIZE
Extra 40% Off Clearance at P.S. from Aero! Use Code: EXTRA40 – valid through 11/18
Free Shipping on Orders of $100 or More!
Introducing Aeropostale Brand Live Love Dream Boyfriend V-Necks! Plus Free Shipping and Pillow with Code: SHIPLLD
Shop with PayPal, Get Free 2 Day Shipping at Aeropostale!
Aeropostale and Sale: Sale Items:
Sweats for the Chilly Weather Starting at $15 at Aeropostale!
Get Active!!! New Styles added to our Activewear Sets at PS by Aero!
What's Your Fit Jeans at $16 at PS by Aero!
Graphic Tees starting at $5 at Aero PS!
Aeropostale Brand Hoodies and Sweatshirts Starting at $12 at Aeropostale!
Aeropostale Brand New Styles for Little Ones Sizes 4-6!
Shop Our NFL Zone Today at P.S from Aero!
Clearance from Aero PS up to 70% Off Online Only!
Topic: Aeropostale and Sale