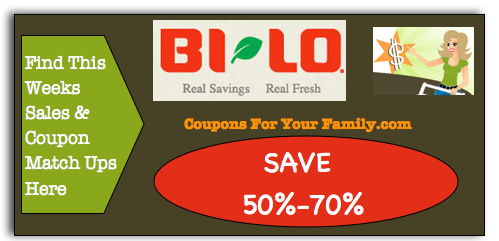 Here are this weeks TOP BiLo Coupon Matchups 
 ** to view the entire list of this weeks match-ups head over to see the new BiLo Coupon Matchups page.
We are now using a new coupon matchup program to help make your sales and coupon shopping even easier! This system will allow you to see all the items on sale and check of the items you want plus be able to add custom items on your list!
If you are new here, check out the Coupon Abbreviation page to become familiar with Coupon Lingo and our How To Save Money Using Coupons page
Don't forget to check Coupons.com, SmartSource,  RedPlum, Hopster.com, and Common Kindness, Shopmium, and Checkout51 for new coupons that came out after these coupon matchups were completed.
Quick Facts regarding Bi-Lo
–BiLo Coupon Policy
-Bi-Lo now uses eCoupons and Fuelperks. Go to the Bi-Lo site and sign in with your Bonuscard (you must be signed in to see this). You'll be able to load e-Coupons onto your card, as well as see how you're doing with FuelPerks.
-Also, Bi-Lo now accepts competitor coupons in addition to manufacturer coupons – see their new policy HERE
-Bi-Lo doubles coupons up to $.60 (So $1.20) – but does not give overage
-Find a Bi-Lo Store near you
Here are just the highlights for this week. 
Arm & Hammer Liquid Laundry Detergent, 24- 32 loads – $2.99 – B1G1
Includes: 16 – 20 ct pads
$1.00/1 Arm & Hammer Ultra Power Single-Use or Liquid Detergent – 5-18-14 SS – (exp. 06/28/14)

$3.00/2 Arm & Hammer Liquid, Powder, or Single-Use Laundry Detergent – 6-8-14 SS – (exp. 07/05/14)
Buy 2, Use $3/2 Coupon; B1G1 pricing for single item; Regularly priced $5.98
Barilla Pasta, 12 – 16 oz – $0.84 – B1G1
Excludes: Lasagna, Jumbo Shells, Manicotti or Plus
$0.55/2 Barilla Blue Box Pasta – 5-18-14 SS – (exp. 07/24/14)

$1.00/3 Barilla Blue Box Pasta – 5-18-14 SS – (exp. 07/24/14)
Buy 2, Use $0.55/2 Coupon (doubles); B1G1 pricing for single item; Regularly priced $1.67
Dole Salad Kits or Blends, 5 – 14.4 oz – $1.99 – B1G1
Use $1/1 Bi-Lo Coupon; B1G1 pricing for single item; Regularly priced $3.99
Ken's Salad Dressing, 9 oz – $1.14 – B1G1
$1.00/1 Ken's Dressing, 16 oz or Larger – 5-4-14 SS – (exp. 06/30/14)

$1.00/2 Ken's Dressing, 16 oz or Larger – 5-4-14 SS – (exp. 06/30/14)

$1.00/2 Ken's Dressing, 9 oz or Larger – 5-4-14 SS – (exp. 06/30/14)

$2.00/3 Ken's Dressing, 9 oz – 5-4-14 SS – (exp. 06/30/14)
Use $1/1 Coupon; B1G1 pricing for single item; Regularly priced $2.29
Kraft Salad Dressing, 15.8 – 16 oz – $1.64 – B1G1
Use $0.55/1 Coupon (doubles); B1G1 pricing for single item; Regularly priced $3.29
Oscar Mayer P3 Protein Packs, 2 oz – $0.99 – B1G1
Buy 2, Use $1/2 Coupon; B1G1 pricing for single item; Regularly priced $1.99
Progresso Soup, 18 – 19 oz – $1.29 – B1G1
$1.00/1 Progresso Soup Can – 5-4-14 SS – (exp. 06/28/14)
Use $1/1 Coupon; B1G1 pricing for single item; Regularly priced $2.58
Suave Shampoo or Conditioner, 22 – 22.5 oz – $1.14 – B1G1
Excludes: Kids
Buy 2, Use $1/2 Coupon AND $1/2 Rite Aid Coupon; B1G1 pricing for single item; Regularly priced $2.29
M&M Mars bites or pouches, 6 – 8 oz – $3.00
Includes: Milky Way, Snickers or 3 Musketeers
$1.00/2 Snickers, Milky Way, Milky Way Caramel, 3 Muskateers or Twix Bites (Store Coupon) – Rite Aid Video Value (May Watch Until June 28th, 2014) – (exp. 06/30/14)
$1.00/2 Mars Bites, 2.83 oz; Includes Twix, 3 Musketeers, or Milky Way Simply Caramel Bites; Must Share With Friends
$3.00/2 Mars Brand Bites, 6 oz; Includes Twix, 3 Musketeers, and Milky Way Simply Caramel; Must Share With Friends To Access

$1.00/1 Twix, Snickers, Milky Way, or 3 Musketeers Brand Unwrapped Bites Product, 6 – 8 oz; Mars brand; DND – 6-15-14 RP – (exp. 07/27/14)
Buy 2, Use $3/2 Coupon AND $1/2 Walgreens Coupon
Tide Simply Clean Detergent, 25 loads – $2.99
Buy 2, Use $2/2 Coupon AND $1/2 Target Coupon

See more matchups from Coupons For Your Family below:
Aldi Weekly Sales
| 
BiLo Coupons 
|
CVS Coupons 
| 
Dollar General Coupons
 |  
Dollar Tree
| 
Family Dollar Coupons
 | 
Food Lion Coupons 
 | 
Giant Coupons 
 | 
Giant Eagle Match-ups
 | 
Kinney Drugs Coupons 
 | 
Kmart Coupons
 | 
Kroger Coupons 
 | 
Martins Coupons
 |
Meijer Coupons
 | 
Organic Coupons
 | 
Pathmark Coupons
 | 
Price Chopper Coupons  
| 
Publix Coupons  
| 
Rite Aid Coupon
 | 
Save A Lot Coupons 
 |
Shop and Save Coupons
  |
 Shop For Free List
 | 
ShopRite Coupons
  |
Target  Coupons  
| 
Tops Coupons 
 | 
Walgreens Coupons 
 | 
Walmart Coupons 
 | 
Wegmans Coupons 
Topic: BiLo Coupon Matchups