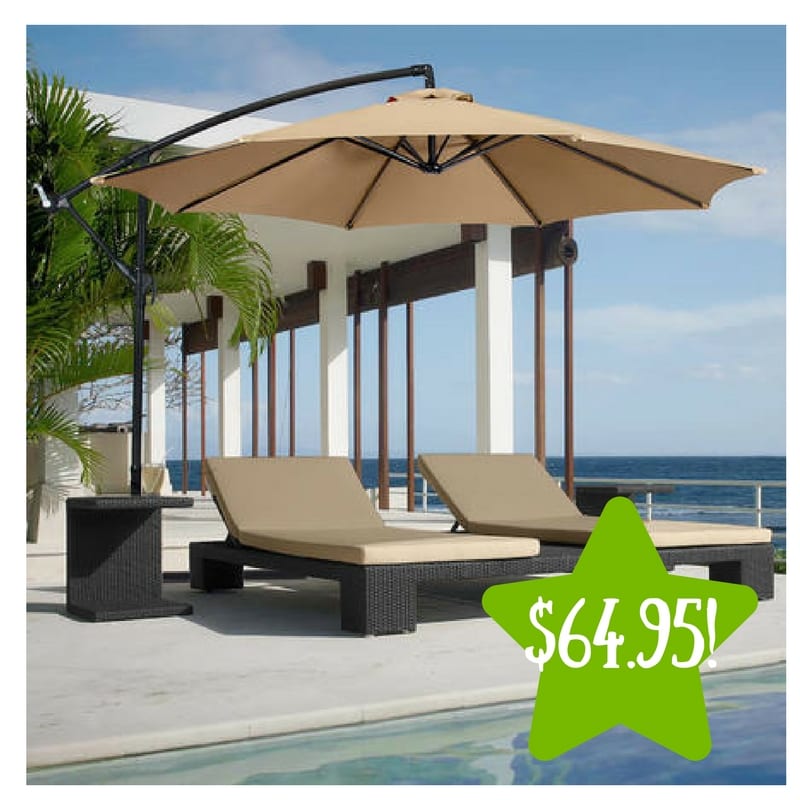 Check out the newest deal on a BestChoiceproducts 10′ Hanging Umbrella at Sears !
How to get the best values and deals at Sears:
Become a Shop Your Way member here and choose me as your personal shopper. As your personal shopper I can help you find gifts, deals, share exclusive promotions, send you weekly coupons AND you can contact me directly through text and emails to help you shop!! Plus you'll get 3 months of FREE SYWR Max Shipping if you are a new Shop Your Way member!
Using your Shop Your Way Rewards Card: If shopping online make sure your member number is in your order. Must be scanned to get most deals/rewards at Sears In store. Every 1,000 points is worth $1.00. These are easy to redeem – when you are checking out just say you'd like to pay with the rewards you have on your card. You do not have to use your points if you want to save them up
Right now Sears has this handy BestChoiceproducts 10′ Hanging Umbrella for only $64.95! This umbrella is great for any backyard. Plus shipping is FREE.
The umbrella is perfect for any outdoor area, patio, or backyard. It provides much needed shade from the bright sunny days so you can easily relax and lounge around. With the umbrella you can enjoy a cooler environment and also add style to your outdoor area. The offset umbrella features heavy-duty fabric that is specially designed for durability.
10′ Premium Tan offset umbrella designed to keep you cool and more comfortable than a traditional umbrella
Made of waterproof polyester material and has a powder coated aluminum pole, with a steel bottom frame, that is made to keep the umbrella sturdy in place
The crank operation allows for you to close the umbrella when not in use, letting you store it away for safekeeping
Use this patio umbrella outside for relaxing by the pool or to keep you out of the sun while enjoying the outdoors
Base preferably needs to be secured with patio blocks or sandbags(NOT INCLUDED)

Check out the rest of our Sears Deals here