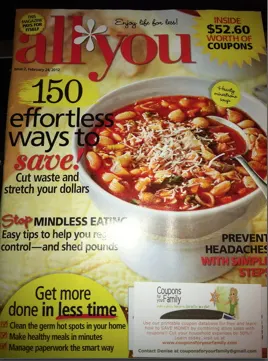 February's All You Magazine is packed with more coupons as usual!! I just received mine and love to read it cover to cover as soon as I get it!
There are a total of $52.60 in coupons -just in this issue!
The only place you can buy the All You magazine is in Walmart or through a subscription. You can subscribe for one year for a slow as $16.97!
You will have your money back in just one month of subscribing in coupon value!
Here is the list of coupons in the February issue:
$1/1 Activia Harvest Picks, exp. 3/17/12
$1/1 All You Health and Fitness Special, exp. 4/13/12
$1/1 Anacin Product, exp. 3/31/12
$1/1 Arnicare Product, exp. 12/31/13
$0.55/1 Auro Product, exp. 3/31/12
$1/1 Danimals Crunchers, exp. 3/17/12
$1/1 Disney or Marvel Vitamins, exp. 3/6/12
$0.50/2 Dole Canned Pineapple, exp. 4/30/12
$0.50/1 Egg Beaters Product, exp. 4/1/12
$2/1 E.P.T. Product, exp. 3/6/12
$1/1 Ester-C Product, exp. 3/6/12
$5/1 Flex-A-Min Supplement, exp. 3/6/12
$1/2 Glade Candle, exp. 5/31/12
$0.55/1 Glory Foods Sensibly Seasoned Vegetables, exp. 5/30/12
$0.50/1 Halls Product, exp. 3/2/12
$1/1 Hershey's Bliss, exp. 3/20/12
$1/1 Jillian Michaels Pure Protein Whey Product, exp. 3/31/12
$4/1 K-Y Date Night, exp. 3/31/12
$1 off K-Y Yours & Mine wyb All You Magazine March Issue, exp. 3/30/12
$1 off L'Oreal Paris Preference wyb All You Magazine March Issue, exp. 3/30/12
$1/1 M&M's Brand Product, exp. 2/20/12
$1/1 Mineral Ice, exp. 3/31/12
$0.50/1 Minute Rice, exp. 4/30/12
$1/1 Mrs. Paul or Van De Kamp's Parchment Bake or Bonus Pack, exp. 3/2/12
$1 off Mucinex Fast Max Liquid wyb All You Magazine March Issue, exp. 3/30/12
$1/1 Nature's Bounty, exp. 3/6/12
$0.75/1 Olivari Mediterranean Olive Oil, exp. 4/13/12
$1/1 Oscillococcinum Product, exp. 12/31/12
$3/1 Osteo Bi-Flex Soft Gels, Caplets, or Powder, exp. 3/6/12
FREE Sally Hansen Beauty Tool wyb Sally Hansen Nail Enamel, exp. 2/29/12
$1.50/1 Similasan Product, exp. 3/31/12
$2/2 Summers Eve Product, exp. 4/30/12
$0.50/1 Udderly Smooth, exp. 5/1/12
$2/1 Urinozinc Item, exp. 8/31/12
$0.75/1 Weight Watchers Cheese, exp. 4/15/12
$2.50/1 Zantac Product, exp. 11/30/12
$2/1 Zicam Product, exp. 5/1/12
Make sure to check out our post to get All You 1 year subscription for as low as $16.97 here–> All You Coupons