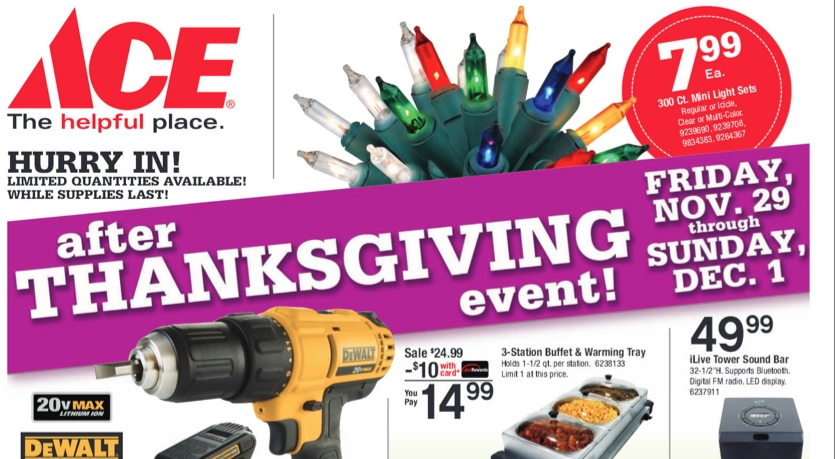 Here are the Ace Hardware Black Friday Deals for 2013!
• The Ace Hardware 2013 Black Friday ad runs from Friday, November 29, 2013 – Sunday December 1, 2013.
Special thanks to Coupons Deals and More for providing this great list of Ace Hardware Black Friday deals.
Check out the Ace Hardware Black Friday Ad scan for more details
A few items of note:
• Not all Ace Hardware stores accept manufacturer coupons. Call your store to confirm acceptance.
• Check your Entertainment Book for a $5/$25 coupon (some coupons exclude sale items, so read the fine print)
There are rebates available on the following:
1 Craftsman Slide Locking Utility Knife Set 2295798 $2.00
2 Craftsman Clench Wrench 2pk. 2366011 $5.00
3 Milwaukee M12 12.0V Li-Ion Drill/Driver 2209294/2393353 $20.00
4 Ace 38W Halogen Flood Light Bulb 3414752 $3.00
Ace 90W Halogen Flood Light Bulb 3461878 $3.00
5 GLAD ForceFlex 30 Gal. Blk. Trash Bags 50 ct. 6237762 $3.00
GLAD Tall Kitchen 13 Gal. Trash Bags 90 ct. 6237754 $3.00
• Ace rewards members can submit their rebate online
• Click here for the Ace Hardware Rebate Form
$39.99 Living Accents 6ft Folding Table, 33% Savings at AceHardware.com!
$99.99 Milwaukee M12 Series Drill Driver Kit, 23% Savings at AceHardware.com!
$19.99 Sainty International 16″ Steel Flying Fortress Art Deco Tool Box, 38% Savings at AceHardware.com!
$89.99 DeWalt 18 Volt Cordless Impact Driver, 40% Savings at AceHardware.com!
$29.99 Gemmy Inflatable Santa 7″, 50% Savings at AceHardware.com!
$19.99 Radio Flyer My 1st Scooter; 29% Savings Off the Special Online Price at AceHardware.com Only!
$119.99 J&J Seasonal 7-1/2in Multi-Colored Prelit Somerset Tree, 52% Savings at AceHardware.com!
There are two coupons that will be available in the ad:
•  Friday 11/29/13 only coupon: 20% off all regular priced itens until 10am
•  Saturday 11/30/13 only coupon: 50% off one regular-priced item under $30
•  Sunday 12/1/13 only coupon $10/$50+ regular priced merchandise purchase
• Craftsman Tool Bag Combo (13″ and 18# zippered tool bags) $9.99 – $2 ace instant savings = $7.99
(2297786, limit 1)
• Ace SAE or Metric GearWrench Set $19.99 – $10 ace instant savings = $9.99
(2194686, 2194694, limit 1 each at this price)
• DeWalt 14 piece Titanium Drill Bit Set $14.99 – $5 ace instant savings = $9.99
(2294346, limit 4 at this price)
• 3- Station Buffet and Warming Tray $24.99 – $10 ace instant savings = $14.99
(6238133)
• Peak Rechargeable LED Spotlight $24.99 – $5 ace instant savings = $19.99
(8369191, limit 1)
• Peak Jump-starter $29.99 – $10 ace instant savings = $19.99
(8339772, limit 1)
• Werner 12′ Multi-Ladder (300#, multi position) $99.99 – $10 ace instant savings = $89.99
(1202282, limit 1)
• Amaryllis Bulb Kit $4.99
(7174493)
• Hamilton Beach 6Qt Stay or Go Slow Cooker $19.99
(6237853)
• 6′ Fold in Half Table $39.99
29 1/4″H x 30″W x 72″L
(8315095)
Don't fight the crowds, get Ace Hardware Deals online here–> Ace Hardware Coupons
Shop More Deals and Gifts Below: