---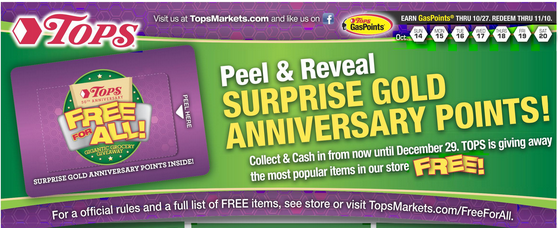 Couponing at Tops Markets and Best Deals / Deals / Freebies / Grocery Stores / How To Shop for Free / Stores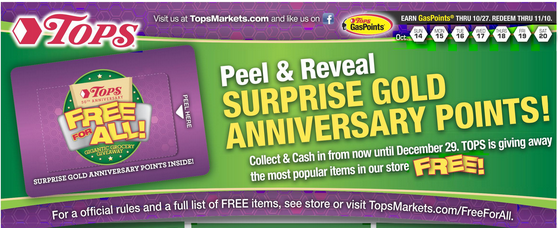 This week starting Sunday 10/14 Tops is starting a great promotion to gather free points every week to get FREE items and enter to win FREE Groceries for the year!
Here are the Details of the Tops Free for All Gigantic Grocery Giveaway.
SHOP:
Each time you shop with your Tops Bonus Plus Card, you will earn a Peal & Reveal Ticket with a surprise amount of Golden Anniversary Points  through December 29th. The store cashiers are being trained to give you your Peel & Reveal Ticket while they are cashing you out. Make sure to give the cashier back the half of the ticket that has your points on it so your points will be added to card immediately AND you will gain an entry for that weeks Grocery Giveaway of the week. Each week someone will win a YEAR's WORTH OF FREE GROCERYS, over $5000 value. There are 12 weeks of the promotion and 12 Giveaways! The other half of the ticket is supposed to also have coupons for Tops Brand items, similar to the Monopoly tickets
Plus when you shop , you earn points on specially marked purchases. Your points total will be at the bottom of your Tops Receipt or you can look them up Tops Markets.com/FreeForAll
LIMITS:
Limit one ticket per household every six hours, maximum two tickets per household per day. Purchases that consist solely of alcohol, tobacco, gift cards, milk and certain milk related products (in PA only) or office services and purchases made at TOPS' fuel stations, convenience stores or in-store Tim Hortons franchise locations are not eligible. Peel & Reveal Gold Anniversary Points tickets are available through December 29, 2012 or while supplies last. No purchase necessary. See store or visit TopsMarkets.com/FreeForAll for complete Free for All Grocery List and official rules.
For more questions and answers regarding the Free for All go here.
What Do You Get with Your Points?   FREE GROCERIES!!
I see a lot of FREE groceries in the next 12 weeks!!
Not only will you get your one free ticket with a surprise amount of points, you can plan your grocery list based on specially chosen items in the weekly ad that get you extra points. For example, the first kick off week starting October 14, if you buy 20 cans of Libby's vegetables for $10, you earn 100 points. You can then plan to chose (1) free item Loaf of Tops Bread, dozen of eggs, 1lb package of carrots, package of Birds Eye Frozen Vegetables or 1lb Tops Pasta or save them up for larger items such as Butter, Shrimp, Pepsi 24 pack and even a Turkey during limited times. See full selection of points needed and all free items above.
NOTE: You must have your Tops Bonus Card with you to redeem your points and get your FREE items. While you can use your telephone number to access your bonus card to earn points, this will not be sufficient to cash your pints in. This is to ensure the proper household is cashing in the correct points and for security measures.