A Coupon Mom has very little time to waste..Get the Favado Grocery List Mobile App to save time and money!
I have been helping to create the sore and coupon data for Tops that goes into the Favado Coupon App with a group of other bloggers to help roll out the best Grocery List App available on iPhone and Android. The app contains stores nationwide!
Even a "seasoned" Coupon Mom like me has benefited from this app during the one week beta session mainly because I saved time with the grocery comparison prices by store and I could easily choose items I needed that were on sale, from multiple stores and they are all on one list (all while I was waiting at the dentist office!)  Then later, I emailed myself the list,  looked for the items on my list that showed there were coupons, got my coupons and POOF…more money stayed in my wallet!
This app is even better for those that leave their cut coupons in the bottom of their purse until they expire

You can save money without even cutting a coupon just by buying sale price items only when you go to the store!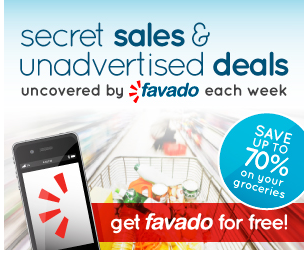 How to get the FREE  app:
Create an account at Favado. Your account will be used to find the best sales in your area!
Update: Sign up right here!!!
You will receive an email from Favado asking you to confirm your email address.
Once you have confirmed your email address, download the app from the iTunes store or Google Play (it's FREE)
Sign in to the app on your phone using the info that you used when creating your account.
Here's how to start saving immediately after downloading app and gradually up to 50-70%:
1) The app provides grocery comparison pricing by product and store–in other words, you are on on way home from work with no coupons and you need chicken breasts for tomorrows dinner. Pull out your cell phone, select your favorite stores, search by chicken breasts and the app will pull up the sale prices for your selected favorite stores! You just saved money without cutting coupons or opening a sales flyer!
2) Make your grocery list based on what you need and whats on sale within the app just with a touch of a button. See how easy it is to add to your items to your list in the video for the Aldi Deal List Video and the Target Coupon List Video.
3) Start saving money immediately by just buying sale items and you should save maybe 20-25%.  While you are getting used to the app, start saving every weeks Newspaper Coupon inserts in dated manilla folders. The app shows you where to find the coupons when available: Printable, Newspaper Inserts by date and digital coupons.
4) Email yourself your chosen grocery list. It will look like this below. The Final Price is based on the Tops Ecoupon. so all you need to do is go to your Tops app and add it to your bonus card to save. If the best deal was for a printable coupon, print it from the email. If its a Newspaper insert coupon, go to the manilla folders by date and cut it. In this case it would be the 10/13 Red Plum Insert and cut the $1/2 coupon.
Now how easy is that!!!

5) This app is better than the other grocery list apps! It shows sales for multiple stores, compares prices AND the app will show you digital store coupons if available.  You just show cashier the bar code (must go to store site). So once you email yourself the list, you add any digital coupons you need, print or cut any coupons you need!  Thats why I had you file your coupons by date. The app will tell you what date of inserts to look for so you can pull out of your manilla folder, find it and cut it! Note: some coupons are regional so your inserts may differ and you may not have a coupon listed or the value may be different.
6) Go to the store, check off your list items as you go and with coupons save up to 50-70%!!
Now everyone can be a Coupon Mom with half the leg work! Let Favado and the Money Saving Experts(yes that what they call us:) help you cut your grocery bill!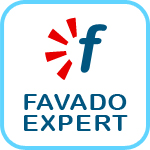 What are you waiting for–become a coupon mom and save 50-70% off with Favado here
Topic: Coupon Mom & Favado