---
Coupon Education / Coupons / How To Coupon / Uncategorized
I wanted to share how I prepare for a multiple transaction trip to Tops. This same method can be used for any store.
I first use the printable list that we offer in our match-ups by checking off the items I am going to buy and then print it. When you check an item a box comes up in the bottom right of your screen to show your list and print or email your list.
Then I pull my coupons  from my dated file folders from newspaper inserts, cut them out or I print the ones I need and put them with the proper list.
In todays case, there was an extra step to make sure I was using (4) Tops $1 Doubler coupons which were limited to 4 per transaction.
Even without the $1 Doublers, I still like to break out the transactions so I can watch to make sure I am getting the proper Gas points or Instant savings. At the drugstores when you do multiple transactions you can use your ECBs, RRs or + Up rewards on the next transactions also.
I usually have one large transaction at the end which will also include the items I need for the week such as produce, meats and misc items with coupons.
In this instance I broke them out into 5 transactions and then combined the 4th one with the large end transaction becuase I did not have Dollar doublers in the last transaction.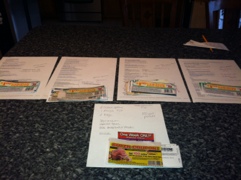 I make any notes right on the list. In the picture below the transaction only had 3 Tops $1 doublers in it so I added the 2 Dutch noodles and another $1 Doubler. I have items underlined in transaction that I am buying. If I have to adjust the scenario I put on the site then I underline items I am getting from the scenario and hand write the different item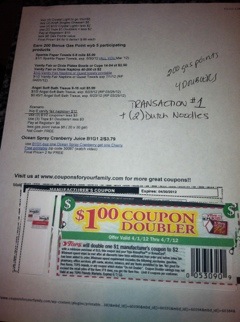 Then I use the envelopes I save from bills etc (that would get thrown out) to put my coupons in. I staple the envelope right to the list (behind it). Then I do not have coupons falling all
over and I can read my list right in my cart.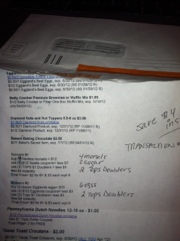 I put the items in my cart by transaction as I am shopping so I am referring to my lists often which is why I put the coupons in an envelope.
When I am in the checkout line, it is easiest to put the smallest transactions first, use the dividers between each transaction, AND put your list with coupons right on the items. I put them between items so they do not fall over etc. This way you can have all ready and waiting for cashier. Also this method allows you to make sure you do not forget to give coupons to cashier!! It is very easy to get flustered in line with all going on. This also allows for you to get all on the conveyor so you can watch the cashier scan your coupons so none are missed.
I keep my store loyalty cards all on my smartphone using Card Star– a free app and I always use a debit or credit card. So both are in my hand ready for next transaction. This avoids any fumbling for store card or money and allows you to look at your receipts to do a quick look over while still watching further transactions being scanned.
It may take me an hour to prepare for a multiple transaction trip but it is well worth it. The line moves much quicker, you will not feel flustered or unorganized and I actually had all in my cart and through checkout within 45 minutes.
I hope this helps! Some may think it is all too much but doing this saved me $141.72 today. I would have spent an hour in the store shopping without a list or coupons. So for the extra 45 minutes it is well worth my time:)
There are many ways to coupon  and by no means is this the only way people are doing it. This has just become habit for me and it is the least time consuming for me.
Adjust this method to be comfortable for you.
Use this as a guideline: print our matchups, adjust items you need or want to stock up on(our list does have a spot to type in items you need also), pull or print your coupons and go the store to save!

CVS Match-ups | Dollar General Match-ups | Drugstore Freebies Match-ups | Family Dollar Match-ups | Food Lion Match-ups | Giant Match-ups | Giant Eagle Match-ups | Kinney Drugs Match-ups | Kmart Match-ups | Kroger Match-ups | Organic Deals | Price Chopper Match-ups | Publix Match-ups | Rite Aid Match-ups | Save A Lot Match-ups | Target Match-ups | Tops Match-ups | Walgreen's Match-ups | Walmart Match-ups | Wegmans Match-ups
Recommended Posts

19 Jan 2017 - Coupons, Printable coupons