---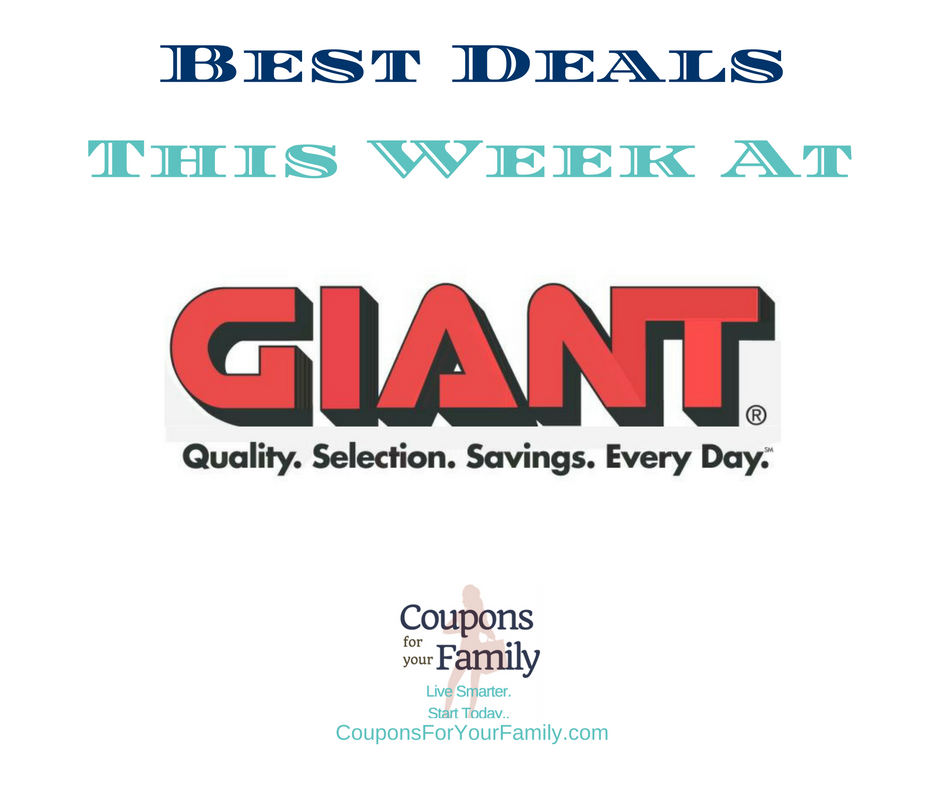 Couponing at Giant Foods and Best Deals / Grocery Stores / Stores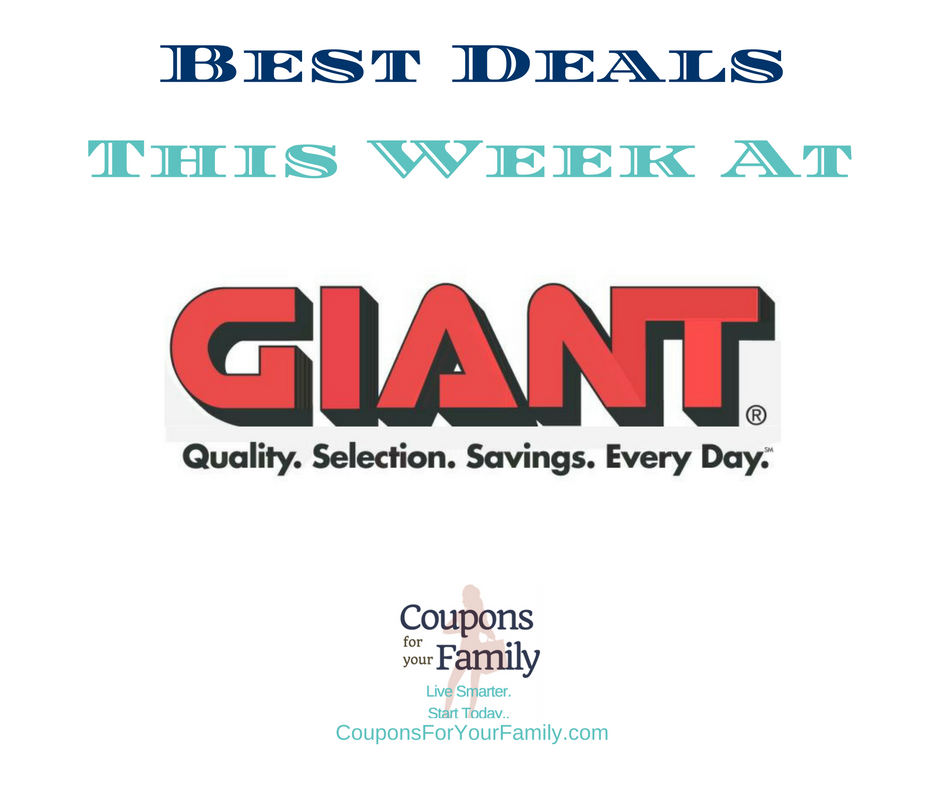 This weeks best Giant Coupons and Deals May 26 – June 1

Here is a list of the best Giant Coupons and Deals that will help you save money!
View the entire list of this weeks matchups head over to see the new Giant Coupon Matchups page.
If you are new here, check out the Coupon Abbreviation page to become familiar with Coupon Lingo and our 10 Tips to Save with Coupons. Print new coupons on Coupons.com, SmartSource, and RedPlum !
Here are a few facts regarding Giant Food Stores:
-Giant Stores are located in Delaware, Maryland, Virginia, and Washington DC
-To find a location near you check out the locator here on Giant Foods website.
-Sign up for a My Giant Card to earn Gas Points, get special promotions, A+ School Rewards Cash Back, Checkout coupons and more.
–Giant Coupon Policy can be read here. Giant doubles manufacturer coupons up to $.99, only 4 identical coupons will double in one transaction, the 5th coupon would be at face value.
Download the Free Favado Mobile App to get all of these matchups in your phone here –> Best Grocery List and Coupon Mobile App . The app will allow you to see all your favorite store sales whether they have a coupon or not, and let you choose the items you need PLUS show the same coupon matchups you see on our site!!
Here are just the highlights for this week. Visit the Giant Coupon Matchups page for the rest of this weeks deals.
Breakfast & Cereal
Kellogg's Cereal, 8.7 – 10.5 oz – $1.88
Includes: Frosted Flakes 10.5 oz, Froot Loops 8.7 oz, Apple Jacks 8.7 oz, Rice Krispies 9 oz or Corn Pops 9.2 oz
Final Price: $0.88
Buy 1; Use $0.50/1 Coupon (doubles)
Condiments, Spice & Baking
Save $2.00/3 with Digital Coupon; Buy (6) participating items, Get a Movie Ticket (up to $13)
Kraft Jet-Puffed Marshmallows, 10 oz – $1.33
$2.00/3 Nabisco Honey Maid Grahams, Kraft Marshmallows, AND Hershey's Milk Chocolate – 5-14-17 SS; Includes Honey Maid Grahams, 14.4 oz or Larger Only; Marshmallows, 8 oz or Larger Only or Hershey's, 6 pk Only (exp. 06/24/17)
Final Price: $0.67
Buy 3; Use Digital Coupon
Cookies, Snacks & Candy
Buy (6) participating items, Get a Movie Ticket (up to $13)
Nabisco Cookies or Crackers, 3.5 – 13 oz – $1.88
$1.88 wyb 3 (or 2/$5)Includes: Small Sanck Crackers, Toasted Chips or Chips Ahoy!
$0.75/2 Nabisco Cookie or Cracker Products – 5-21-17 SS; Includes 3.5 oz or Larger Only (exp. 07/01/17)
$1.00/2 Nabisco Cookie or Cracker Products – 5-21-17 SS; Includes 3.5 oz or Larger Only (exp. 07/01/17)
$1.00/2 Nabisco Wheat Thins Snacks Packages – 5-7-17 SS; Includes 8 oz or Larger Only (exp. 06/17/17)
Final Price: $1.38
Dairy
Promised Land Milk, 14 oz – $1.00
Final Price: Free
Buy 1; Use $0.55/1 Coupon (doubles to $1)
Meat, Poultry & Fish
Shady Brook Farms 93% Lean Ground Turkey, 20.8 oz – $2.99
Final Price: $1.99
Buy 1; Use $0.55/1 Coupon (doubles to $1)
$5.77 per lb wyb (3) pkgs or more (or $6.77 per lb); Sale Price Valid Friday – Monday OnlyUSDA Choice; Includes: Porterhouse, T-Bone, Ribeye or New York Strip
Natural & Organic
Dr. Praeger's Veggie Burgers, 10 oz – $3.00
Out-of-Pocket Price: $2.00
Final Price: $1.00
Buy 1; Use $1.00/1 Coupon; Includes Berry Cart Rebate Savings
Packaged Meats
Ball Park Beef Franks, 12 – 15 oz – $2.99
$1.99 with in-ad coupon & $25 purchase; Limit 1
$0.55/1 Ball Park Hot Dog Product – 4-30-17 RP (exp. 06/11/17)
Final Price: $0.99
Buy 1; Use in-ad and $0.55/1 Coupon (doubles to $1)
Personal Care
Coppertone Sunscreen, 6 – 12 oz – $3 OFF
Excludes: Stick, Trial Size and Solarcaine