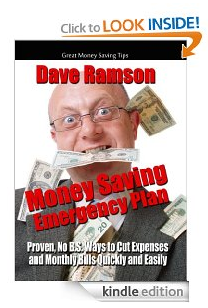 I am always looking for ways to save and so when I saw this free Ebook on Coupons Deals & More, I had to download it!  Thanks Ann for finding this one!
Money Saving Emergency Plan – Proven, No B.S. Ways to Cut Expenses and Monthly Bills Quickly and Easily (Great Money Saving Tips)
Just glancing through this book, there are great ways to cut on your expenses! Here is a description of the book:
Money management for real people. Money Saving Emergency Plan offers a no-nonsense, No B.S. approach to budgeting and personal finance. In this book, the average person will discover ways to cut expenses and save money each and every month. Noted speaker and author Dave Ramson steps outside of "theory" and "conjecture" to offer over 500 money saving tips, tricks and strategies that real people can actually incorporate into their daily lives. These are smart budgeting and money saving tactics that actually work, whether you need to cut over a thousand dollars, or maybe just fifty or one hundred dollars, per month from your monthly budget.
Dave Ramson understands that times are tough, money is tight and smart money management is essential to thriving in today's economy. The entire world is in some stage of recession, and the simple truth is that it's not going to magically end anytime soon. He understands that many of us are finding it necessary to reduce expenses in order to pay our bills and make "ends meet." Some household budget cuts are easy; others require difficult decisions that mean giving up certain lifestyle choices of which we have become accustomed. Either way, now more than ever, we all need to find new ways to save money.
This book is really for two categories of people: those who find themselves with a need to create a money plan to cut expenses quickly and drastically; and those who need a few good, sound ideas to save money each month before they find themselves in the first category. This book is NOT for those who are looking for a "magic pill;" or for those who are unwilling to make an effort to change their financial situation. Dave Ramson gives it to you straight – so be ready for a real, no B.S. look at household money management, budgeting and personal finance.
Some of the strategies in this book will sound familiar; others will be eye-opening. With over 500 real-world tips and money saving strategies, any reader will surely find plenty of proven ways to learn how to save money, reduce bills and cut monthly expenses. The end result will boost their financial health and reduce their personal stress.
Download your FREE Ebook here–>Money Saving Emergency Plan – Proven, No B.S. Ways to Cut Expenses and Monthly Bills Quickly and Easily (Great Money Saving Tips)

The book is normally $15.95 and can change at any time.
Books are only free for a limited time so if you see one free that you want make sure to download right away!!
Note Amazon prices are subject to change at any time
Other Ebooks you may be interested in for only $.99:
Circle of Friends Cookbook – 25 Slow Cooker Recipes

Poverty Prepping: How to Stock up For Tomorrow When You Can't Afford To Eat Today
How to Feed a Family of 4 or More for Less than $200 a Month
You can still download these FREE Ebooks even if you do not have a Kindle!
Reading Apps for those that do not own a Kindle:
Get your kindle below–choose the one right for you–from $79-$199: