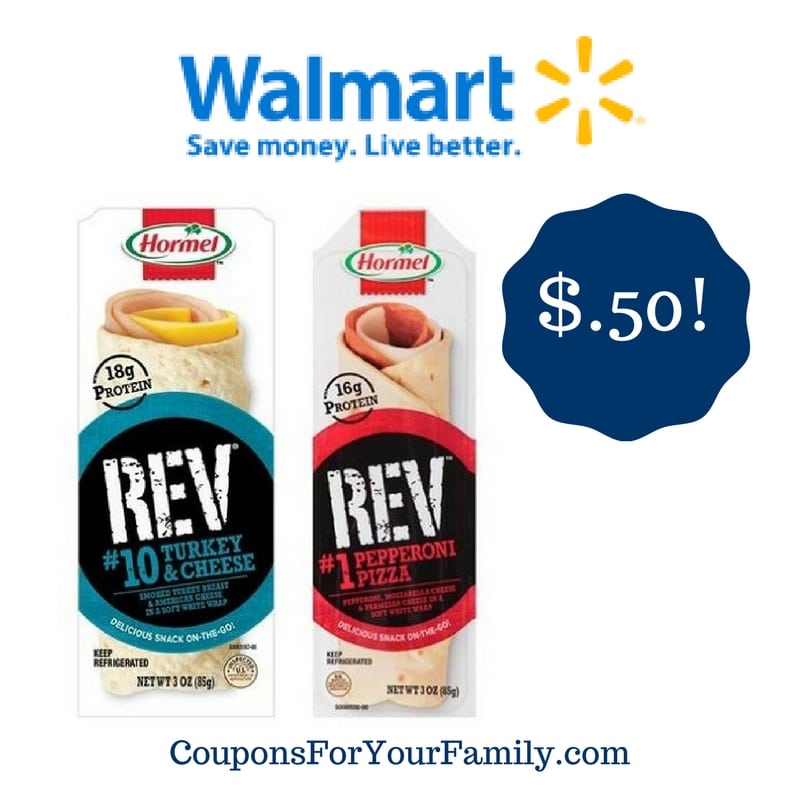 National Stores / Stores / Walmart
Cheap Hormel REV Wrap At Walmart!
Head over to your nearest Walmart to get Hormel REV Wrap for only $0.50! This is a great time to stock up!
Buy (2) Hormel REV Wrap, 1 ct $1.50
Use (2) $0.50/1 Hormel Rev product coupon
Stacks With: $1 wyb 2 Hormel REV products with Ibotta
Final Price: $0.50 each
Please remember that prices may vary by location! Check your store prices when purchasing!!
Did you know you can shop online from home at Walmart and pick up at store? Let someone else get your order together for you!!
Shop Walmart.com deals right here
Check here for more Walmart Coupons
Make sure to download the ibotta ap to save even more:


Aldi Weekly Sales| CVS Coupons | Dollar General Coupons |  Dollar Tree | Family Dollar Coupons | Food Lion Coupons  | Giant Coupons  | Giant Eagle Match-ups | Kinney Drugs Coupons  | Kmart Coupons | Kroger Coupons  | Martins Coupons |Meijer Coupons | Organic Coupons | Pathmark Coupons | Price Chopper Coupons  | Publix Coupons  | Rite Aid Coupons | Save A Lot Coupons  |Shop and Save Coupons  | Shop For Free List | ShopRite Coupons  |Target  Coupons  | Tops Coupons  | Walgreens Coupons  | Walmart Coupons  | Wegmans Coupons 
Topic: Walmart Coupon
---