How to Shop for Free!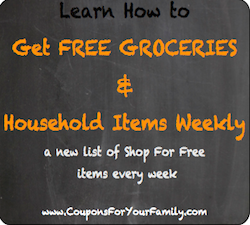 I think all of us want to be able to Shop For Free …right?
Our Shop for Free List has been updated!!
Our weekly Shop for Free List shows you the items you can get for free using coupons and where to get them! This list is an important component of how you can decrease your Grocery and Household bill immediately!
For those that have been waiting for this list, it was updated on October 21
We still have more items to add for Tops and Wegmans tonight but here is a start !! New freebies are showing up everyday!!
This weeks list has free Shampoo, Toothpaste, Nestle Pure Life Water, Birds Eye Veggies, Bush Beans and tons more.   Make sure to check out the full list
You can view the entire list we have created on our NEW How to Shop for Free List using Coupon Deals Page here. 
Because new deals are popping up continually, we will start to post this list on Monday or Tuesday and then update the list throughout the week!
So make sure to bookmark our Shop for Free List using Coupon Deals in your web browser for quick reference!

Make sure to join the following programs to save even more on your grocery and household bill:
Ibotta

SavingStar

Aldi Weekly Sales| CVS Coupons | Dollar General Coupons |  Dollar Tree | Family Dollar Coupons | Food Lion Coupons  | Giant Coupons  | Giant Eagle Match-ups | Kinney Drugs Coupons  | Kmart Coupons | Kroger Coupons  | Martins Coupons |Meijer Coupons | Organic Coupons | Pathmark Coupons | Price Chopper Coupons  | Publix Coupons  | Rite Aid Coupons | Save A Lot Coupons  |Shop and Save Coupons  | Shop For Free List | ShopRite Coupons  |Target  Coupons  | Tops Coupons  | Walgreens Coupons  | Walmart Coupons  | Wegmans Coupons 
Topic: Shop for Free List Using Coupon Deals July