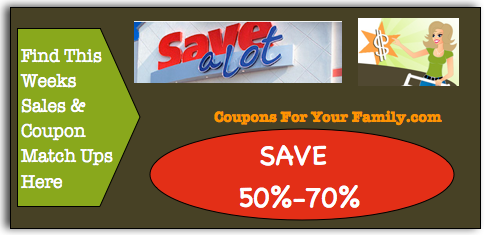 Here are this weeks TOP Save A Lot Coupon Matchups Feb 28 – Mar 13
** to view the entire list of this weeks matchups head over to see the new Save a Lot Coupon Matchups page.
We are now using a new coupon matchup program to help make your sales and coupon shopping even easier! This system will allow you to see all the items on sale and check of the items you want plus be able to add custom items on your list!
Don't forget to check Coupons.com, SmartSource,  RedPlum, Hopster.com, and Common Kindness, Shopmium, and Checkout51 for new coupons that came out after these coupon matchups were completed.
Shopping Facts about Save a Lot 
-Each Save-A-Lot store has a different coupon policy so make sure to check your store!!
-Check your local 
Save a Lot weekly ad
 here
Download the Free Favado Mobile App to get all of these matchups in your phone here–> Best Grocery List and Coupon Mobile App .
The app will allow you to see all your favorite store sales whether they have a coupon or not, and let you choose the items you need PLUS show the same coupon matchups you see on our site!!

The app also includes other National and Regional Deals that we do not cover but you can choose the 10 you would like to have as your Favorites

Hence–the perfect Grocery List right on your Smart phone that will allow you to save 50-70% off!! 
These are only the highlights of this weeks matchups. Check the full listing of Save A Lot Coupon Matchups here
This list is based on the Wilkes-Barre, PA, Save-a-Lot advertisement; prices and items available will vary slightly by region. Each store is independently run and tends to have its own coupon policy. Check with your local store for details.
General Mills Cereal, 11.5 – 12.2 oz – $1.99
Show: Cinnamon Toast Crunch, Lucky Charms, Golden Grahams, or Berry Berry Kits
$1.00/3 General Mills Big G Cereal; Listed Cheerios, Cinnamon Toast Crunch, Chex, Lucky Charms, Cocoa Puffs, Trix, Reese's Puffs, Fiber One, Cookie Crisp, Golden Grahams, Kix, Total, Wheaties, Dora The Explorer, Hershey's Cookies 'n Creme, Spongebob SquarePants, Oatmeal Crisp, Raisin Nut Bran, and Basic 4
$1.00/3 General Mills Big G Cereals; Includes Cheerios, Cinnamon Toast Crunch, Chex, Lucky Charms, Cocoa Puffs, Trix, Reese's Puffs, Fiber One, Cookie Crisp, Golden Grahams, Kix, Total, Wheaties, Dora The Explorer, Hershey's Cookies 'n Creme, SpongeBob Square Pants, Oatmeal Crisp, Raisin Nut Bran, and Basic 4

$1.00/3 General Mills Big G Cereals – 2-22-15 SS – (exp. 04/04/15)
buy (1) Lucky Charms; use (1) $0.75/1
Kellogg's Pop-Tarts, 14 – 15.2 oz – $1.79
when you redeem 850 KFR points for the $1/1 coupon
Chex Snack Mix, 8 – 8.75 oz – $1.29
$0.50/2 Chex Mix bags; Chex Mix Muddy Buddies, Chex Mix Popped, Chex Mix Xtreme, Chex Chips,Bugles, Corn Snacks,Gardetto's Snack Mix, OR Green Giant Veggie Snacks, (Chips, Puffs or Fries)

$0.50/2 General Mills Snacks, Chex Mix Muddy Buddies, Popped, Xtreme, Chips, Bugles Corn Snacks, Gardetto's Snack Mix, or Green Giant Veggie Snacks, 3.7 oz or Larger – 1-25-15 SS – (exp. 03/21/15)

$1.00/2 General Mills Snacks, Chex Mix Muddy Buddies, Popped, Xtreme, Chips, Bugles Corn Snacks, Gardetto's Snack Mix, or Green Giant Veggie Snacks, 3.7 oz or Larger – 1-25-15 SS – (exp. 03/21/15)

$0.50/2 General Mills Chex Mix Regular, Muddy Buddies, Popped, Xtreme, Chips, Bugles, Gardetto's Snack Mix or Giant Veggie Snacks, 3.7 oz or Larger – 2-22-15 SS – (exp. 04/18/15)

$1.00/2 General Mills Chex Mix Regular, Muddy Buddies, Popped, Xtreme, Chips, Bugles, Gardetto's Snack Mix or Giant Veggie Snacks – 2-22-15 SS – (exp. 04/18/15)
buy 2; use (1) $1/2
Banquet Brown n' Serve Links or Patties 6.4 – $1.19
$1.50/4 Banquet Brown N Serve Sausage (3) AND (1) Florida Orange Juice – 3-1-15 SS – (exp. 04/12/15)
must buy (3) Sausage & (1) Florida Orange Juice; prices reflects $0.37 savings per item purchased
El Monterey Burritos, 32 oz, assorted – $3.29
$1.00/1 El Monterey Signature Multi Pk Burrito or Chimichanga, 18 oz or Larger – 1-25-15 SS – (exp. 03/08/15)
use (1) $1/1
Red Baron Pizza, 20.6 – 22.95 oz – $2.99
wyb 2
Fresh Bone-In Pork Picnic Roast, per lb – $0.99
$2.50/2 Chicken or Beef, Store brand AND (1) Spice Islands Seasoning or Extract; DND – 1-25-15 SS – (exp. 03/15/15)
price reflects $1.25 off (1) lb chicken and (1) Spice Islands; must buy both products
Fresh Chicken Leg Quarters, per lb – $0.49
$2.50/2 Chicken or Beef, Store brand AND (1) Spice Islands Seasoning or Extract; DND – 1-25-15 SS – (exp. 03/15/15)
price reflects $1.25 off (1) lb chicken and (1) Spice Islands; must buy both products
Buddig Premium Lunchmeat, 7 – 9 oz – $2.49
$0.75/1 Buddig Orginal, Deli Cuts, or Premium Deli Item, 8 oz or Larger – 12-7-14 SS – (exp. 03/31/15)

$1.00/5 Buddig Original Packages, 2 oz or Larger – 12-7-14 SS – (exp. 03/31/15)
buy (1); use the $0.75/1
Farmland Roll Sausage, 12 oz Mild or Bacon – $1.19
$0.75/1 Farmland Bacon Item – 12-7-14 SS – (exp. 03/30/15)

$0.75/1 Farmland Homestyle Breakfast Sausage; DND – 12-7-14 SS – (exp. 03/30/15)
buy (1); use (1) $0.75/1
Grapes, Red or White Seedless, or Globe, per lb – $1.49