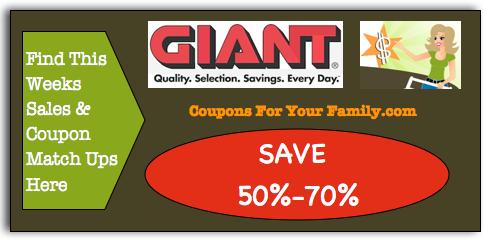 Here are this weeks TOP Giant Coupon Matchups Aug 26 – Sept 1
** to view the entire list of this weeks matchups head over to see the new Giant Coupon Matchups page.
This system will allow you to see all the items on sale and check of the items you want plus be able to add custom items on your list! If you are new here, check out the Coupon Abbreviation page to become familiar with Coupon Lingo and our How To Save Money Using Coupons page
Don't forget to check Coupons.com, SmartSource,  RedPlum, Hopster.com, and Common Kindness, Shopmium, and Checkout51 for new coupons that came out after these coupon matchups were completed. 
Here are a few facts regarding Giant Food Stores:
-Giant Stores are located in Delaware, Maryland, Virginia, and Washington DC -To find a location near you check out the locator here on Giant Foods website.
-Sign up for a My Giant Card to earn Gas Points, get special promotions, A+ School Rewards Cash Back, Checkout coupons and more.
–Giant Coupon Policy can be read here. Giant doubles manufacturer coupons up to $.99, only 4 identical coupons will double in one transaction, the 5th coupon would be at face value.
Download the Free Favado Mobile App to get all of these matchups in your phone here –> Best Grocery List and Coupon Mobile App . The app will allow you to see all your favorite store sales whether they have a coupon or not, and let you choose the items you need PLUS show the same coupon matchups you see on our site!!

The app also includes other National and Regional Deals that we do not cover but you can choose the 10 you would like to have as your Favorites 

Hence–the perfect Grocery List right on your Smart phone that will allow you to save 50-70% off!!
Here are just the highlights for this week. Visit the Giant Coupon Matchups page for the rest of this weeks deals
Pampers Easy-Ups, Super pk – Prices Vary
$10 OFF wyb 2
Mix & Match Back to School Foods; Save $10 when you spend $20 on participating products.
Juicy Juice, 8 pk 6.75 oz – $2.50
$0.55/1 Juicy Juice Product; Excludes 4-pack Juice Boxes – 5-22-16 SS; Excludes 4 pk Juice Boxes (exp. 08/31/16)

$1.00/2 Juicy Juice Products – 5-22-16 SS (exp. 08/31/16)

$1.00/2 Juicy Juice Products – 8-21-16 SS; Excluding 4 pk juice boxes (exp. 10/10/16)
Out-of-Pocket Price: $1.50
Final Price: $0.75
Buy 1; Use $0.55/1 Coupon (doubles to $!); Includes Ibotta Rebate Savings; Combine with participating items for additional savings
Pepsi Products, 12 pk 12 oz cans – $2.75
4/$11 wyb 4
Sara Lee Artesano White Bread, 20 oz – $1.67
3/$5 wyb 3 (or $1.99 ea)
$0.55.1 Sara Lee Artesano Style Bread – 6-12-16 SS; Includes 20 oz only, DND (exp. 09/10/16)

$1.00/2 Sara Lee Breads or Snack Items – 8-14-16 SS (exp. 11/30/16)

$1.00/2 Sara Lee Snack Cakes or Breads – 4-17-16 SS; DND (exp. 08/31/16)
Final Price: $0.97
Buy 3; Use (3) $0.55/1 Coupon (one doubles)
Kellogg's Cereal, 12 – 18.7 oz – $1.88
$1.88 ea wyb 2 (or $2.50 ea)Includes: Rice Krispies 12 oz, Frosted Mini Wheats 18 oz, Frosted Mini Wheats Little Bites Original 15.2 oz, Raisin Bran Crunch 18.2 oz or Raisin Bran 18.7 oz
Out-of-Pocket Price: $1.38
Final Price: $0.88
Buy 2; Use $1.00/2 Coupon; Includes MobiSave Rebate Savings
FREE Florida's Natural Orange Juice, 89 oz, when you spend $15 on participating Dannon Products.
Dannon Greek Yogurt Drink, 7 oz – $1.00
Includes: Oikos or Light & Fit
$1.00/3 Dannon Oikos Yogurt – 7-31-16 SS; Includes (3) Single Serve Cups or Drinks; (1) 4 PK; OR 1 qt Only (exp. 09/30/16)
Final Price: $0.50
Buy 2; Use $0.50/2 Coupon (doubles)
Dannon Yogurt, 5.3 – 6 oz – $0.50
Includes: Regular or Light & Fit; Excludes: Greek
$0.50/1 (3) Dannon or Dannon Light & Fit Singles or (1) Dannon Light & Fit 4 pk – 7-24-16 SS (exp. 09/15/16)

$0.75/1 Dannon Light & Fit Regular Products – 8-21-16 SS; Includes (1) 4 pk or (3) Single Serve Cups (exp. 09/19/16)
Final Price: $0.17
Buy 3; Use $0.50/3 Coupon (doubles)
Heluva Good Dips, 12 oz – $1.50
$0.55/1 Heluva Good Dips – 6-26-16 SS; Includes 12 oz or Larger (exp. 09/26/16)

$1.00/2 Heluva Good Dips – 6-26-16 SS; Includes 12 oz or Larger Only (exp. 09/26/16)
Final Price: $0.50
Buy 1; Use $0.55/1 Coupon (doubles to $1)
Haagen-Dazs, 1 pint – $2.50
$1.00/1 Haagen-Dazs – 6-26-16 SS; Includes 14 oz or Larger Cartons Only or 3 Pk Ice Cream Only (exp. 08/31/16)
Final Price: $1.50
Barilla Pasta, 12 – 16 oz – $1.00
$0.55/2 Barilla Blue Box Pasta Products – 8-14-16 RP (exp. 10/09/16)

$1.00/3 Barilla Blue Box Pasta Products – 8-14-16 RP (exp. 10/09/16)
Final Price: $0.50
Buy 2; Use $0.55/2 Coupon (doubles to $1)
Earn 500 Choice Rewards Points wyb any (7) products
Sparkle Paper Towels, 6 Big or 8 Regular Rolls – $4.00
Final Price: $3.00
Hefty Slider Bags, 10 – 20 ct – $1.50
4/$6 wyb 4 (or $1.99 ea)
$1.00/2 Hefty Slider Bags – 6-26-16 RP; Includes 12 ct or Larger Only; Limit of 4 Like Coupons In Same Day (exp. 08/31/16)

$1.00/2 Hefty Slider Bags – 7-31-16 RP; Includes 12 ct or larger (exp. 09/30/16)

$2.00/3 Hefty Slider Bags – 6-26-16 RP; Includes 12 ct or Larger Only; Limit of 4 Like Coupons In Same Day (exp. 08/31/16)

$2.00/3 Hefty Slider Bags – 7-31-16 RP; Includes 12 ct or larger (exp. 09/30/16)
Final Price: $0.83
Purex Crystals In-Wash Fragrance Booster, 18 oz – $1.50
Purex Liquid Laundry Detergent, 43.5 – 50 oz – $1.50
Low Fat Chicken, per lb – 33% OFF
Includes: Breasts, Tenders, or Cutlets
Buy (2) participating Hormel Products, Get (1) Sargento Sliced Cheese, 6.6 – 8 oz, FREE
Hormel Natural Choice Lunch Meat, 8 oz – $3.50
$0.75/1 Hormel Natural Choice Deli Sandwich Meat – 8-21-16 SS (exp. 10/17/16)

$1.00/2 Hormel Natural Choice Deli Sandwich Meat – 8-21-16 SS (exp. 10/17/16)
Final Price: $2.50
Buy 1; Use $0.75/1 Coupon (doubles to $1)
Mix & Match Meat; Save $5 wyb (4) participating products
Smithfield Ham, Boneless, Steaks, 8 oz – $2.00
Final Price: $0.75
Buy 4; Includes Instant Savings
Smithfield Sliced Bacon, 16 oz – $4.00
$1.00/2 Smithfield Bacon – 7-24-16 RP; DND (exp. 09/30/16)
Final Price: $2.25
Buy 4; Use (2) $1.00/2 Coupons; Includes Instant Savings
Always Pantyliners, 20 ct – $1.00
Final Price: Free
Buy 1; Use $0.75/1 Coupon (doubles to $1)
Crest Toothpaste, 6.4 oz – $1.00
$0.50/1 Crest Toothpaste – 8-28-16 PG; Includes 3 oz or Larger Only; Excludes Twin Packs; Excludes Trial and Travel Size; Limit of 4 Identical Coupons Per Household Per Day (exp. 09/10/16)
Final Price: Free
Buy 1; Use $0.50/1 Coupon (doubles)

Topic: Giant Coupon Matchups