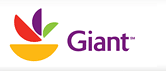 Here are this weeks Giant Coupon Matchups!
-Giant Stores are located in Delaware, Maryland, Virginia, and Washington DC
-To find a location near you check out the locator here on Giant Foods website.
-Sign up for a My Giant Card to earn Gas Points, get special promotions, A+ School Rewards Cash Back, Checkout coupons and more.
-Giant Coupon Policy can be read here. Giant doubles manufacturer coupons up to $.99, only 4 identical coupons will double in one transaction, the 5th coupon would be at face value.
 Giant Coupon Matchups
Print your coupons right here without leaving the page! Just scroll through the coupons:

Aldi Weekly Sales| CVS Coupons | Dollar General Coupons |  Dollar Tree | Family Dollar Coupons | Food Lion Coupons  | Giant Coupon  | Giant Eagle Match-ups | Kinney Drugs Coupons  | Kmart Coupons | Kroger Coupons  | Martins Coupons |Meijer Coupons | Organic Coupons | Pathmark Coupons | Price Chopper Coupons  | Publix Coupons  | Rite Aid Coupons | Save A Lot Coupons  |Shop and Save Coupons  | Shop For Free List | ShopRite Coupons  |Target  Coupons  | Tops Coupons  | Walgreens Coupons  | Walmart Coupons  | Wegmans Coupons 
Topic: Giant Coupon
Make sure to sign up for our Daily Newsletter here so you never miss a deal!
{ 0 comments }