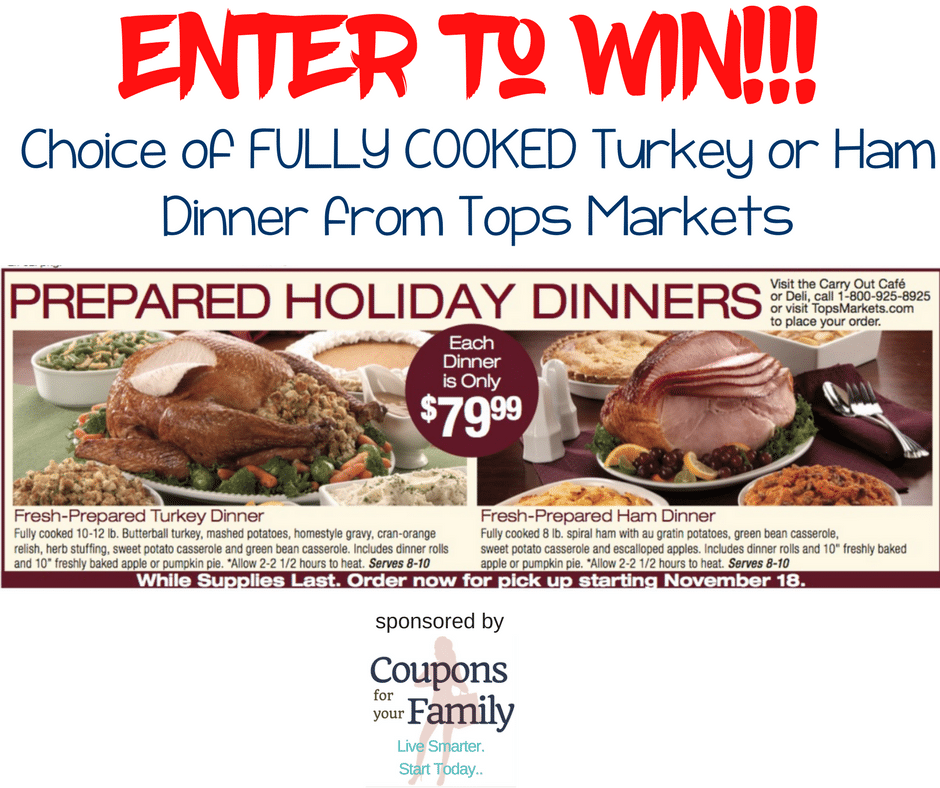 Couponing at Tops Markets and Best Deals / Grocery Stores / Stores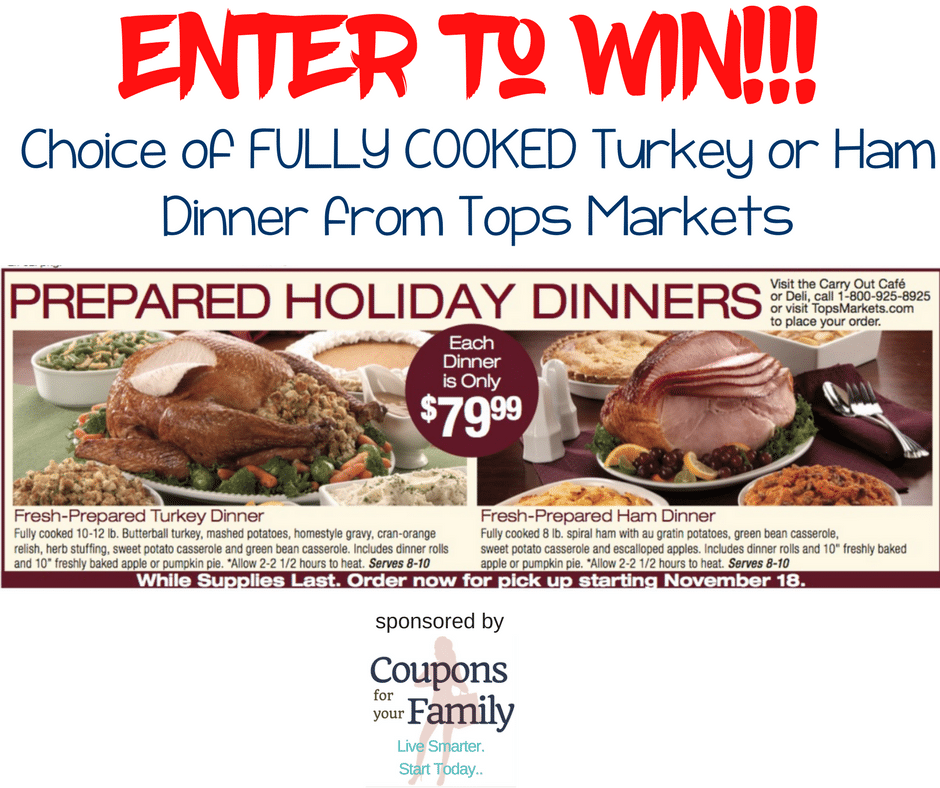 Win a Free Thanksgiving Dinner!!
Enter to win a FREE COOKED Turkey or Ham Thanksgiving Dinner here!!
So while I was on break today at work I asked members of our Couponing at Tops Markets Group if they would be interested in winning a FREE COOKED Turkey or Ham Dinner from Tops and the response was overwhelming!
So …..members of our Couponing at Tops Markets group have been entering all day to win by sharing the group and the Dinner Giveaway with ther friends all over social media!!
This is a great opportunity to help one family to have a fully cooked Thanksgiving Dinner AND to get them involved in helping to learn how to save money for their families EVERY SINGLE DAY by folllowing the deals in our facebook group!!
As most of my regular readers know, I work out of the home all day so  I am not able to share every single deal as they are released.  Thats why I do a full list of Tops Coupon Matchups over the weekend for you to review all of the deals in one list. By being a member of our Couponing at Tops Facebook Group, you have numerous amount of Tops shoppers sharing deals and hauls all day long and can ask questions to help you save money! Our group members are AWESOME!! Also, both myself and D'anna from SmartQpnClips.com are sharing deals from our sites as we can!!
So what are you waiting for??!!! Enter to win a FREE FULLY COOKED Ham or Turkey Dinner from Tops Markets!
Here is how to enter:
Join our Couponing at Tops Markets Group here
Go to the pinned post via Mobile or Desktop and see the actual Giveaway thread or by clicking here
When on the giveaway thread, add a friend to the group or share the post via Social Media (numerous entries are ok!!) and add comment with friends name tagged that was added to the group or how you shared on Social Media
 I will select the winner via Random Org on Saturday between 12-1 pm. This way if you win you can order your dinner of choice from Tops Markets on Saturday AND I can get the winner gift card for $80 in the mail same day to cover your family meal!!
Our group has weekly coupon and/or gift card giveaways and helps families learn how to save everyday at Tops Markets! Your going to love our group!!
This giveaway is sponsored by CouponsForYourFamily.com and is no way affiliated with Tops Friendly Markets. I will mail a gift card for $80 to cover the cost of a fully cooked ham or turkey entire meal from Tops. If you win the giveaway ending on Saturday you should immediately call your local Tops and place your order before they are sold out. The winner will receive the gift card from me before Weds to be able to pick up your dinner at Tops!
Join our NEW Tops Newsletter here for sneak peeks and to ensure you never miss a deal we posted! We are the only site to publish EVERY Tops sales deal every week matched with coupons with more than 350 items PLUS the most B1G1 prices published within our list!

How much easier can it be to save everyday?
Join our Facebook Groups to see more deals like these:
Couponing to Cut Your Grocery Bill
Couponing at Tops Markets
Couponing at Wegmans
Couponing at Save A Lot
Couponing the Dollar Stores
Couponing at Dollar Tree
Couponing at CVS, Walgreens and RiteAid
Couponing at Walmart, Target and Kmart
Sears and Kmart Steals & Deals
Printable CouponsForFree FB Group
Coupons.com Facebook Group
Freebies, Cheap Deals, Giveaways and Sweeps
Hot Online Deals
---