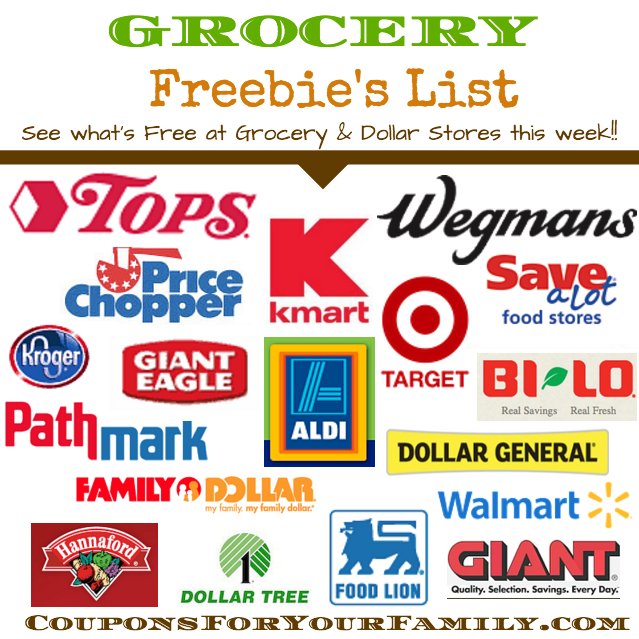 Couponing at Giant Eagle and Best Deals / Couponing at Tops Markets and Best Deals / Couponing at Wegmans and Best Deals / Deals / Dollar Tree / Free Samples & Coupons / Free/Cheap / Freebies / Grocery Freebie Weekly List / Grocery Stores / ShopRite / Stores / Target

Check out the Free Groceries you can get this week March 11 – 17! Every week we all visit the grocery store so why not use grocery coupons from Coupons.com and Sunday insert coupons to get FREE GROCERIES!!! Filling your linen closet and pantry with freebies FIRST every week is the secret to cutting your household expense in half!!
Having each weeks Grocery Store Freebies on one list is much easier to collect your coupons, get organized and to get to the store!! If your store does not have enough stock on the shelves, make sure to ASK FOR A RAINCHECK! As long as your coupon is not expiring you can wait for stock to come in. Sometimes stores will even accept expired coupons with a raincheck.
Look at the free groceries available this week:
Grocery Stores
Tops Friendly Markets – Gas Points (03/11-03/17)
Save an extra $3 instantly wyb 5 participating items
Final Price: Free
Buy 5: use (5) $.50/1 – only 4 will double: after $3 instant savings
Lysol Disinfecting Wipes, 35 ct
$1.50
Buy 5: use (5) $.50/1 – only 4 will double: after $3 instant savings
Final Price: Free
Chobani A Hint of Greek Yogurt, 5.3 oz
$1.00
Page 4
Excludes: Greek Yogurt Drinks
Final Price: Free
Chobani Flip Yogurt, 5.3 oz
$1.00
Page 4
Excludes: Greek Yogurt Drinks
Final Price: Free
Chobani Greek Yogurt, 5.3 oz
$1.00
Page 4
Excludes: Greek Yogurt Drinks
Out-of-Pocket Price: $0.00
Final Price: Free
Buy (1); Use $0.75/1 Coupon (Doubled);' Includes Ibotta Rebta
StarKist Chunk Light Tuna, 2.6 – 3 oz pouch
$1.00
Includes: Chunk Light Tuna Salad and Regular or Low Sodium In Water Chunk Light Tuna
$0.00
Buy (1); Use $0.75/1 Coupon (Doubled);' Includes Ibotta Rebta
Final Price: Free
Buy (1); Use FREE Chobani Coupon
Chobani Greek Yogurt, 4 – 7 oz
$1.00
Includes: Greek, Flips or A Hint Of
Buy (1); Use FREE Chobani Coupon
Final Price: Free
Buy (2); Use (2) $0.55/1 Coupons (Doubled) and $1.00/2 ShopRite Digital Coupon
Silk Soy Yogurt, 5.3 oz
$1.25
Includes: Soy or Almond
Buy (2); Use (2) $0.55/1 Coupons (Doubled) and $1.00/2 ShopRite Digital Coupon
Final Price: Free
Buy (1); Use $0.75/1 Coupon (Doubled)
Sprayway Glass Cleaner, 19 oz
$1.49
Limit 4
Buy (1); Use $0.75/1 Coupon (Doubled)
Final Price: Free
Buy (1); Use $0.75/1 Coupon (Doubled)
LA Looks Styling Gel, 20 oz
$1.49
Includes: Select Varieties
Buy (1); Use $0.75/1 Coupon (Doubled)
Price Chopper (3/11 – 3/17)
Final Price: Free
Chobani Greek Yogurt Drinks, 10 oz
$1.50
Final Price: Free
Chobani Smooth Yogurt, 2 ct
$1.50
Meijer – Ohio (3/11 – 3/17)
Final Price: Free
Buy 1; Use FREE Coupon
Chobani Greek Yogurt, 5.3 oz
$1.00
Excludes: Flip
Buy 1; Use FREE Coupon
Giant Food Stores LLC (3/9 – 3/15)
Fage Crossovers Yogurt, 5.3 oz
Free with Digital Coupon
Prices Vary
Buy 1; Use Digital Coupon
Buy Any (10) Participating Frozen Food Items; Save $10.00 INSTANTLY
Final Price: Free
Buy 1; Use $1.00/1 coupon
Campbell's Soup, 10.5 – 11 oz
$1.00
Includes: Select varieties
Buy 1; Use $1.00/1 coupon
Final Price: Free
Buy 1; Use FREE coupon
Chobani Greek Yogurt, 4 pk
$3.34
Includes: Select varieteis
Buy 1; Use FREE coupon
Hannaford Bros. Co. (3/11 – 17)
Final Price: Free
Chobani Flips Greek Yogurt, 5.3 oz
$1.00
Includes: Select varieties
National Stores
---