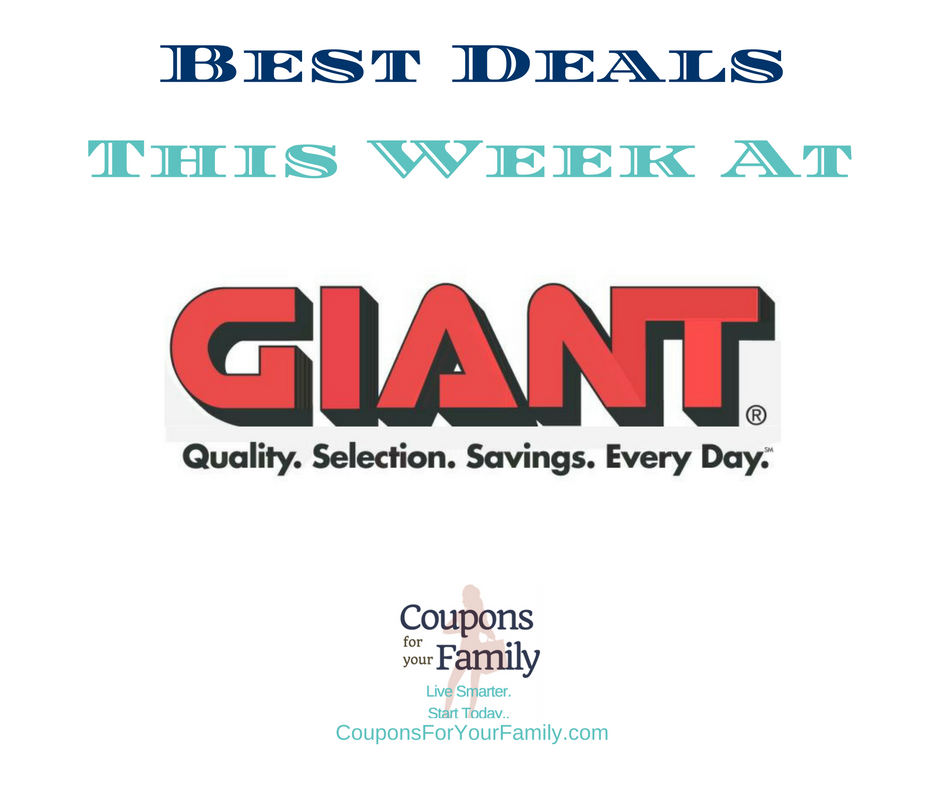 Couponing at Giant Foods and Best Deals / Grocery Stores / Stores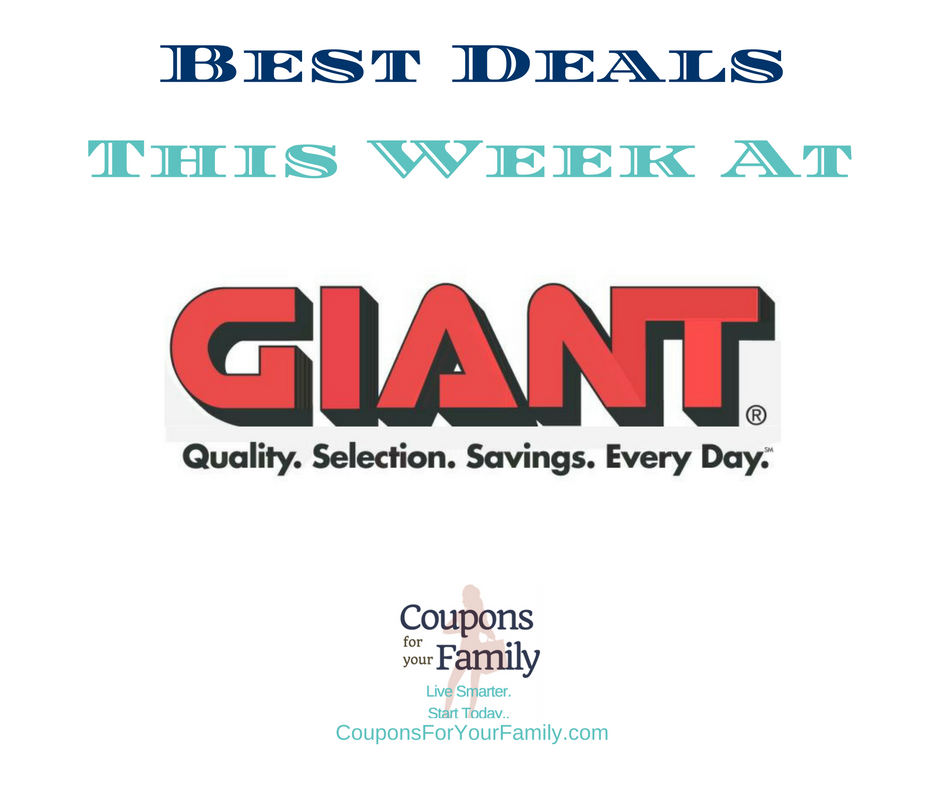 This weeks best Giant Coupons and Deals March 24 – 30

Here is a list of the best Giant Coupons and Deals that will help you save money!
View the entire list of this weeks matchups head over to see the new Giant Coupon Matchups page.
If you are new here, check out the Coupon Abbreviation page to become familiar with Coupon Lingo and our 10 Tips to Save with Coupons. Print new coupons on Coupons.com, SmartSource, and RedPlum !
Here are a few facts regarding Giant Food Stores:
-Giant Stores are located in Delaware, Maryland, Virginia, and Washington DC
-To find a location near you check out the locator here on Giant Foods website.
-Sign up for a My Giant Card to earn Gas Points, get special promotions, A+ School Rewards Cash Back, Checkout coupons and more.
–Giant Coupon Policy can be read here. Giant doubles manufacturer coupons up to $.99, only 4 identical coupons will double in one transaction, the 5th coupon would be at face value.
Download the Free Favado Mobile App to get all of these matchups in your phone here –> Best Grocery List and Coupon Mobile App . The app will allow you to see all your favorite store sales whether they have a coupon or not, and let you choose the items you need PLUS show the same coupon matchups you see on our site!!
Here are just the highlights for this week. Visit the Giant Coupon Matchups page for the rest of this weeks deals.
$0.99 wyb 4 (or $1.89 ea)
Bisquick Biscuit Mix, 40 oz – $2.99
$1.99 with in-ad Coupon & $25 purchase; Limit 1
Final Price: $0.99
Buy 1; Use in-ad and $0.50/1 Coupons (doubles)
Save $5 wyb (5) participating products in a single transaction
Hormel Canned Chicken, 5 oz – $1.25
Final Price: $0.25
Buy 5; Includes Instant Savings
Condiments, Spice & Baking
McCormick Taco Seasoning, 0.75 – 1.62 oz – B1G1
Save $5 wyb (5) participating products in a single transaction
Sargento Shredded Cheese, 6 – 8 oz – $2.50
Final Price: $1.50
Buy 5; Includes Instant Savings
Dannon Yogurt, 5.3 – 6 oz – $0.50
Excludes: Greek Yogurt
$0.50/3 Dannon or Light & Fit Single Serve Cups – 3-26-17 SS (exp. 04/26/17)
Final Price: $0.17
Buy 3; Use $0.50/3 Coupon (doubles)
Gorton's Seafood Products, 6 – 24.5 oz – 40% OFF
Save $0.50 per gallon when you buy any (5) participating products with a minimum $25 purchase in a single transaction with your BONUSCARD.
Shout Trigger, 22 oz – $1.99
$0.50/1 Shout Product – 3-12-17 SS; Excludes Trial and Travel Size (exp. 04/23/17)
Final Price: $0.99
Buy 1; Use $0.50/1 Coupon (doubles)
Manischewitz Matzos, 5 lb – Prices Vary
FREE With in-ad coupon & $50 purchase; Limit 1
Streit's Matzos, 5 lb – Prices Vary
FREE With in-ad coupon & $50 purchase; Limit 1
Kettle Chips, 8.5 oz – $2.00
3/$6 wyb 3 (or $3 ea)
Final Price: $1.50
Save $5 wyb $15 of participating Unilever Items in a single transaction
AXE Shampoo or Conditioner, 12 oz – $5.00
$2.50/1 AXE Hair Care Product – 3-19-17 RP; Excludes Trial and Travel Size; Maximum of 2 Identical Coupons In Same Shopping Trip (exp. 04/16/17)
Final Price: $1.67
Buy 3; Use (2) $2.50/1 Coupons; Includes Instant Savings
Dove Dry Spray Antiperspirant – $5.49
$2.00/1 Dove Dry Spray Antiperspirant Product – 3-5-17 RP; Excludes Trial and Travel Size; Maximum of 2 Identical Coupons In Same Shopping Trip (exp. 04/02/17)

$2.00/1 Dove Men+Care Dry Spray Antiperspirant Product – 3-5-17 RP; Excludes Trial and Travel Size; Maximum of 2 Identical Coupons In Same Shopping Trip (exp. 04/02/17)
Final Price: $1.82
Buy 3; Use (3) $2.00/1 Coupons; Includes Instant Savings
Dove Women's Hair Care, 5 – 12 oz – $3.50
Includes: Shampoo or Conditioner 12 oz or Stylers 5 – 9.25 oz
$3.00/2 Dove Hair Care Products – 3-19-17 RP; Excludes Men + Care and DermaCare; Excludes Trial and Travel Size; Maximum of 2 Identical Coupons In Same Shopping Trip (exp. 04/08/17)
Final Price: $1.30
Bbuy 5; Use (2) $3.00/2 Coupons; Includes Instant Savings
---