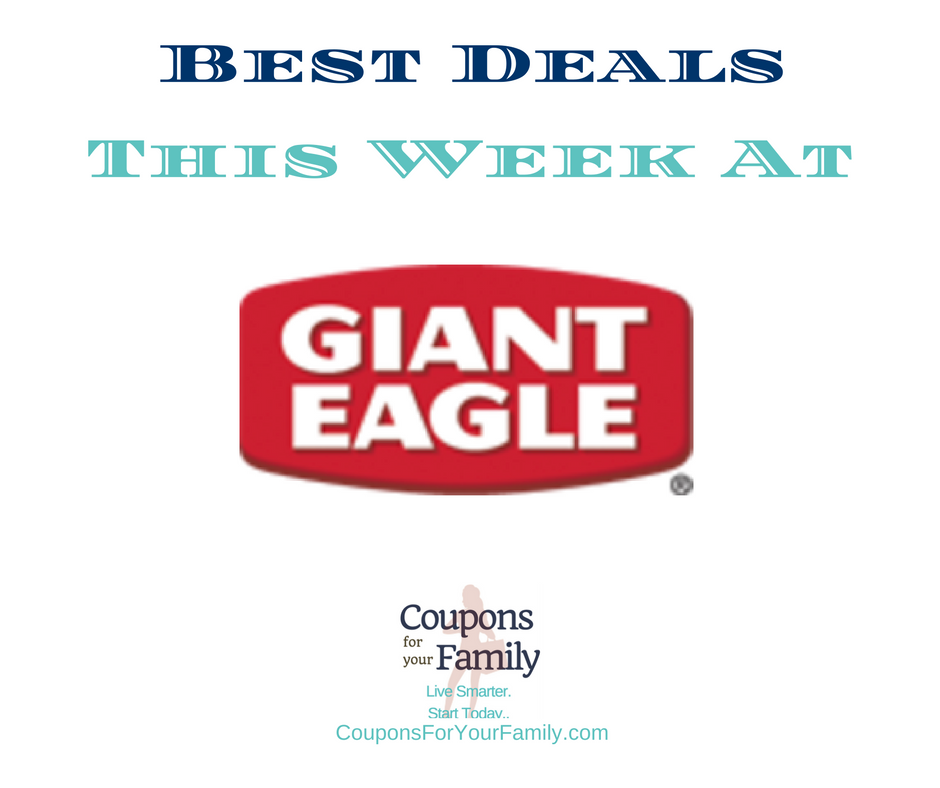 Couponing at Giant Eagle and Best Deals / Grocery Stores / Stores
This weeks Giant Eagle Weekly Ad Coupon Deals June 22 – 28
Every week, we publish the best Giant Eagle Weekly Ad coupon deals to help your family save money! Watch for this post every week showing the best deals and make sure to head over to see every weekly sale deal on the Giant Eagle Coupon Matchups page.
Quick Facts shopping Giant Eagle:
-Coupons double up to $.99
-find the full Giant Eagle Coupon Policy here
–Fuel Perks- earn savings on your Gas
–10 ways to save at Giant Eagle here
Double Coupons Up to 99 cents. Earn $0.20 off per gallon of fuel for every $50 you spend throughout the store.
Includes: Select varieties
$0.55/1 Silk Milk – 5-14-17 RP; Includes 1/2 gal or Larger Only (exp. 07/14/17)
Final Price: $2.89
Buy 1, Use $0.55/1 coupon (doubled)
Fiber One Bars, 4.1 – 8.94 oz – $2.50
Includes: Select varieties
$0.50/1 Fiber One Bars – 6-11-17 SS (exp. 08/05/17)

$0.50/2 Fiber One Bars, 90 Calorie Snacks, Protein Chewy Bars, Streusel Bars, Cheesecake Bars, Cookies, or Layered Chewy Bars – 5-7-17 SS (exp. 07/01/17)

$1.00/2 Fiber One Bars – 6-11-17 SS (exp. 08/05/17)

$1.00/2 Fiber One Bars, 90 Calorie Snacks, Protein Chewy Bars, Streusel Bars, Cheesecake Bars, Cookies, or Layered Chewy Bars – 5-7-17 SS (exp. 07/01/17)
Final Price: $1.50
Buy 1, Use $0.50/1 coupon (doubled)
General Mills Cereal, 11.25 – 20.5 oz – $2.50
Includes: Select varieties
$1.00/2 General Mills Cereal; Includes Cheerios, Cinnamon Toast Crunch, Lucky Charms, Reese's Puffs, Chex, Cocoa Puffs, Trix, Fiber One, Cookie Crisp, Golden Grahams, Kix, Total, Wheaties, Dora the Explorer, Oatmeal Crisp, Raisin Nut Bran, Basic 4, Girl Scouts, Tiny Toast, or Nature Valley Boxed Cereal Only
$1.00/2 General Mills Cereal – SavingStar eCoupon; Includes Cheerios, Cinnamon Toast Crunch, Lucky Charms, Reese's Puffs, Chex, Cocoa Puffs, Trix, Fiber One, Cookie Crisp, Golden Grahams, Kix, Total, Wheaties, Dora the Explorer, Oatmeal Crisp, Raisin Nut Bran, Basic 4, Girl Scouts, Tiny Toast, or Nature Valley Boxed Cereal Only (exp. 06/29/17)

$1.00/2 General Mills Cereals – 6-4-17 SS; Includes Lucky Charms, Cinnamon, French, Blueberry, or Strawberry Toast Crunch, Reese's Puffs, Cocoa Puffs, Trix, Cookie Crisp, Golden Grahams, Kix, Dora The Explorer, Girl Scouts, or Tiny Toast Varieties Only (exp. 07/15/17)

$1.00/3 General Mills Cereals – 6-18-17 SS; Includes Cheerios, Cinnamon Toast Crunch, Lucky Charms, Reese's Puffs, Chex, Cocoa Puffs, Trix, Fiber One, Cookie Crisp, Golden Grahams, Kix, Total, Wheaties, Dora The Explorer, Oatmeal Crisp, Raisin Nut Bran, Basic 4, Girl Scouts, Tiny Toast, or Nature Valley Boxed Cereals (exp. 07/29/17)

$1.00/2 General Mills Cereal – Upromise Rebate; Includes Cheerios, Cinnamon Toast Crunch, Lucky Charms, Reese's Puffs, Chex, Cocoa Puffs, Trix, Fiber One, Cookie Crisp, Golden Grahams, Kix, Total, Wheaties, Dora the Explorer, Oatmeal Crisp, Raisin Nut Bran, Basic 4, Girl Scouts, Tiny Toast, or Nature Valley Boxed Cereal Only
Final Price: $1.50
Buy 1, Use $0.50 coupon (doubled)
Condiments, Spice & Baking
Keebler Pie Crusts, 4 – 9 oz – $2.00
Includes: Select varieties
Final Price: $1.50
Buy 2, Use $0.50/2 coupon (doubled)
Vlasic Relish, 9 – 10 oz – $0.99
Includes: Select varieties
$1.00/2 Vlasic Pickles, Peppers, or Relish – 5-14-17 SS (exp. 07/15/17)

$1.00/2 Vlasic Pickles, Peppers, or Relish – 6-18-17 SS (exp. 08/19/17)
Final Price: $0.49
Nabisco Nilla Wafers, 8.8 – 16 oz – $2.50
Includes: Select varieties
$0.75/2 Nabisco Cookie or Cracker Products – 5-21-17 SS; Includes 3.5 oz or Larger Only (exp. 07/01/17)

$0.75/2 Nabisco Cookie or Cracker Products – 6-25-17 SS; Includes 3.5 oz or Larger Only (exp. 08/05/17)

$1.00/2 Nabisco Cookie or Cracker Products – 5-21-17 SS; Includes 3.5 oz or Larger Only (exp. 07/01/17)
Final Price: $1.75
Buy 2, Use $0.75/2 coupon (doubled)
Wewalka Bistro Pizza Dough, 7.8 oz – $1.89
Final Price: $0.89
Yoplait Dippers, 4.59 – 4.63 oz – $1.25
Includes: Select varieties
$0.50/1 Yoplait Dippers – 5-14-17 SS (exp. 07/08/17)

$1.00/10 Yoplait Dippers – 5-14-17 SS (exp. 07/08/17)
Final Price: $0.25
Buy 1, Use $0.50/1 coupon (doubled)
Success Rice, 14 oz – $2.19
Includes: Select varieties
$0.50/1 Success Rice Product – 3-26-17 RP (exp. 07/17/17)

$1.00/2 Success Rice Product – 3-26-17 RP (exp. 07/17/17)
Final Price: $1.19
Buy 1, Use $0.50/1 coupon (doubled)
Buy $20 or more in participating cleaning products, Save $5 OYNO
Lysol Toilet Bowl Cleaner, 24 oz – $2.00
$0.50/2 Lysol Toilet Bowl Cleaners – 5-14-17 SS; Includes 24 oz or larger Only (exp. 07/11/17)

$0.50/2 Lysol Toilet Bowl Cleaners – 6-18-17 SS; Includes 24 oz Only (exp. 07/31/17)
Final Price: $1.50
Buy 2, Use $0.50/2 coupon (doubled)
Buy 2 participating paper products, Save $2 instantly
Angel Soft Bath Tissue, 16 Double Rolls – $5.99
$0.45/1 Angel Soft Bathroom Tissue – 6-4-17 RP (exp. 07/04/17)

$1.00/2 Angel Soft Bathroom Tissue – 6-4-17 RP (exp. 07/04/17)
Final Price: $4.09
Buy 2, Use (2) $0.45/1 coupons (doubled); Includes: Cash back group savings
Comet Cleanser, 14 oz – $1.00
$0.35/1 Comet Powder Cleanser – 5-21-17 SS; Includes 14 oz or Larger Only (exp. 06/30/17)
Final Price: $0.30
Buy 1, Use $0.35/1 coupon (doubled)
Colgate Mouthwash, 500 mL – $3.50
Includes: Select varieties
$2.00/1 Colgate Mouthwash or Mouth Rinse – 6-25-17 SS; Includes 400 mL or Larger Only (exp. 07/08/17)
Final Price: $1.50
Buy 1, Use $2.00/1 coupon

---