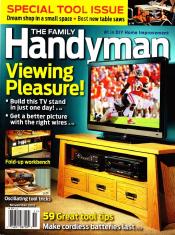 Here is one of todays Magazine Deal of the Day :
A one year subscription of 12 issues of Family Handyman is available for only $4.49!!

Enter Coupon Code 1319 During Checkout = $4.49!!
About :
Family Handyman Magazine is for people who take an active interest in home improvement, yard and garden care, maintenance and repair, and remodeling. Family Handyman also features information on woodworking, auto maintenance, energy efficiency, and decorating.
Topic: Magazine Deal
Make sure to sign up for our Daily Newsletter here so you never miss a deal!
{ 0 comments }