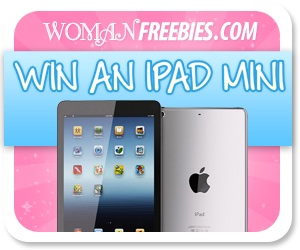 WomanFreebies.com is an awesome site that offers daily freebies and coupons.
Make sure to sign up here for their daily email of great freebies and then come back here to enter their awesome IpadMini Giveaway. Giveaway ends on November 30th.
This would be a great Christmas Gift!!
Win an iPad Mini
Prize Description:
Win the newest addition to the iPad Line up! The mini has a 7.9-inch display that allows you to:
• View web pages in Safari. 
• Listen to a huge library of songs in iTunes. 
• See where you are and what's around you using Maps. 
• Flick through your photos and watch videos in vivid detail. 
• Wave hello to the family on a FaceTime call.
Make sure to sign up for our Daily Newsletter here so you never miss a deal!